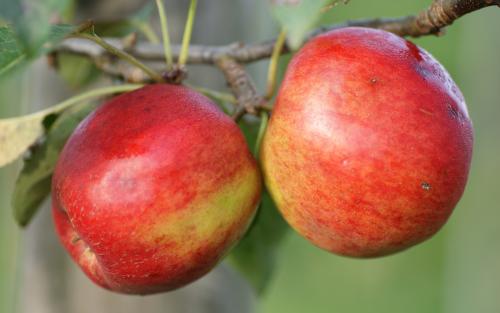 Small to medium. Very bright mid-range red over yellow. Extremely crisp. Very good, rich flavor. Sweet/sharp flavor, spicy. Originally known as Coop 39.
Also known as
Crimson Crisp apple identification images
All images copyright Orange Pippin unless otherwise stated.
USDA identification images for Crimson Crisp
The identification paintings in the USDA Pomological Watercolor Collection span the years 1886 to 1942.
Citation: U.S. Department of Agriculture Pomological Watercolor Collection. Rare and Special Collections, National Agricultural Library, Beltsville, MD 20705.
Parents and other ancestors of this variety
Visitor reviews
29 Jul 2023 

James

Haven't harvested any fruit yet but the tree seems to have a scab infection, where it has been advertised as "scab immune ". Hoping this is due to transplant stress and not going to be a future problem

18 Jun 2023 

Steven

My first year Crimson Crisp trees are doing great. They do, however, seem to be very sensitive to powdery mildew. I have already applied two mildew treatments. Hopefully they will show more resistance as they grow and develop. Anyone else notice powdery mildew sensitivity with Crimson Crisp?

08 Oct 2020 

Jason

WISCONSIN, United States

Brilliant red color. Right from the orchard they had a classic sour apple taste (like a Jolly Rancher with less sweet). Too tart to be good eating but should pair well with peanut butter or caramel. Ten days later much of that tartness has been replaced with sweetness. Great eating apple now with a classic flavor, good sweetness and just enough tartness for me.

23 Jan 2020 

C. Campbell

CALIFORNIA, United States

This is my all-time favorite during its brief season. We get our apples from Prevedelli Farms, and I look forward to Crimson Crips all year.

21 Dec 2019 

Christy Lancaster

FLORIDA, United States

LOVE LOVE LOVE them!! Crisp firm & slightly sweet!! Finally found them on a trip recently in Iowa. Usually buy Fugi but this is our new fav. Hope to find them again soon.

01 Nov 2019 

Homer

CA, United States

Very beautiful red, tart, tannin with tannic taste of skin still left on the tongue. I won't be buying these but if your pallet is less on the sweet side and more to the tart/tannic then you may want to try it though I still prefer the Jazz apple in that category.

25 Sep 2019 

Matt

MARYLAND, United States

Just found this for the first time at a farmers market near me. Honeycrisp were my all time favorite, but I think the crisp texture along with being a *little* bit less sweet than honeycrisps May put these out on top

24 Oct 2018 

Leslie

MI, United States

I discovered Crimson Crisps two years ago while on a trip to Upstate New York. I fell in love with this apple, and it's my new favorite! We returned to NY earlier this month and I was able to buy more. They're a wonderful eating apple, and they keep extremely well. I live in Michigan and have recently learned a few orchards near me are starting to grow this variety, so I am hoping I'll start seeing them offered locally in the next couple years.

10 Oct 2017 

David

United Kingdom

Outstanding firm crisp texture and rich tart flavour. Doesn't quite have the complexity of a top-notch cox orange pippin but certainly one of the best available commercially grown apple varieties.

28 Sep 2017 

Judy Sanders

PA, United States

Update--I won't be buying this one again because the grower has priced it at $70 per bushel, with all other "normal" apple varieties priced at the regular $30 per bushel. Definitely NOT worth more than twice the price of any other apple, as it is a very small fruit (when you're peeling for pies it's a pain) and while the flavor was good, it's still not as good as Melrose or Winesap and it didn't keep as well.

21 Sep 2017 

Judy Sanders

PA, United States

Crunchy, juicy, flavor is complex sweet plus tart with somewhat metallic aftertaste. Great in pie but on the small side (more peeling and coring work).

07 Oct 2016 

Steven Husted

PENNSYLVANIA, United States

Bought these for the first time several weeks ago. They are fantastic.

16 Sep 2016 

Jessica

NY, United States

'Tis apple season! I purchased this lovely red apple from the Prospect Hill stand at the Friday Union Square Farmer's Market. I found it diamond hard and tart as a sour pucker.

10 Oct 2015 

Jennifer Quick

PA, United States

I love this apple! It has such a complex, rich flavor and is very, very crisp. Beats Honey Crisp hands down.

29 Sep 2015 

Kim Markworth

WASHINGTON, DC, United States

Met this apple last year and it was love at first bite. For years I've preferred Honey Crisp (like everybody by now), but it's over between us, Honey, you've been trumped by the Crimson! I think you tasting notes are right on. Just yesterday, after sharing Crimson Crisp with a friend (who loved it as well), I said it's like spiced cider in solid apple form. Such a beautiful red, and just as crisp as my former appley love, but even better texture and taste. Gotta have 'em! (They don't stick around long enough for me to comment on their shelf life.)

21 Sep 2014 

Jon

CT, United States

I tasted one yesterday and found it to be sweet and crisp. The color was very red.

15 Mar 2014 

Gil Schieber

WASHINGTON, United States

CC is very tasty crisp, hard, red, holds on the tree tight, even when fully ripe. Keeps into February crisp even at 40 deg garage, 1/2 flavor then, almost indistinct from Pixie Crunch. Excellent for espalier because of long holding , clear red and NO Scab

24 Sep 2012 

Jasmine

United States

My new favorite apple.

07 Feb 2012 

Ted S.

PA, United States

My tree of this variety sadly only produced one apple this year, but what an apple it was! I hope my tree will share many more of these crisp, sweet, slightly tart, juicy delights with me the coming season. This apple has an outstanding texture.
Tree register
Spring blossom records for this variety
2022 season
2016 season
2014 season
2013 season
2012 season
Record your blossom dates in our Fruit Tree Register - more >>.
Harvest records for this variety
Origins
Species: Malus domestica - Apple
Originates from: United States
Introduced: 1995
Developed by: Rutgers Fruit Research and Development Center
Identification
Country of origin: United States
Period of origin: 1950 - 1999
Fruit colour: Crimson
Annual cycle: Deciduous
Flesh colour: Cream
Fruit size: Average
Using
Picking season: Mid
Keeping (of fruit): 3 months or more
Flavour quality: Very good
Flavour style (apples): Sweet/Sharp
Juice style: Sweeter
Cropping: Good
Fruit persistence: Ripens over a period
Food uses: Eating fresh
Food uses: Juice
Picking month: September
Wildlife: RHS Plants for Pollinators
Growing
Gardening skill: Beginner
Flowering group: 3
Pollinating others: Average
Ploidy: Diploid
Vigour: Slightly small
Growth habit: Upright
Self-fertility: Not self-fertile
Climate
Climate suitability: Temperate climates
Climate suitability: Mild damp climates
Cold-hardiness: Cold-hardy
Summer average maximum temperatures: Cool ( 20-24C / 68-75F)
Summer average maximum temperatures: Warm (25-30C / 76-85F)
Other qualities
Disease resistance: Good
Scab (Apple and Pear): Very resistant
Cedar apple rust: Some resistance
Powdery mildew: Some susceptibility
Fire blight: Some susceptibility
Where to buy trees
The following tree nurseries offer Crimson Crisp apple trees for sale:
Where to buy fresh fruit
The following orchards grow Crimson Crisp:
United States
Georgia

Illinois

Indiana

Iowa

Maine

Michigan

New Hampshire

New York

Ohio

Pennsylvania

Virginia

Washington

Wisconsin