Calville Blanc d'Hiver apple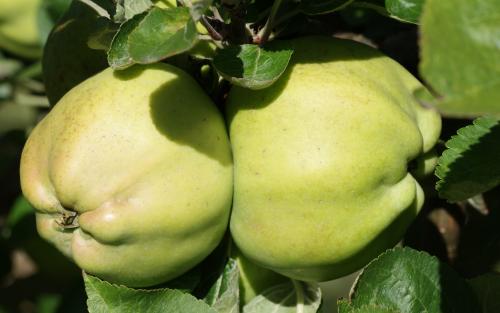 The ugly exterior of this mis-shapen apple belies a sublime interior. Calville Blanc is the perfect apple for making the classic French "tarte aux pommes" - but it is equally at home providing the filling for all kinds of English or American apple baking.
Unlike the famous English Bramley cooking apple, Calville Blanc keeps its shape when cooked. If cut into small pieces before cooking it will dissolve into a rich sharp textured puree.
Calville Blanc is a very old apple, known from Normandy in France in the early 1600s. Unusually for an apple with such a Gallic name, it has become quietly popular amongst discerning apple enthusiasts in the UK and North America.
Here is a link to a book by Jacques Medecin, a former mayor of the French city of Nice, which we understand includes a recipe for cooking with Calville apples - Cuisine Nicoise.
Thanks also to Beth at Loxosceles for telling us that Calville Blanc was grown by US president Thomas Jefferson in his garden at Monticello in the 1770s. More info at Twinleaf Journal.
If you like cooking with apples then Calville Blanc d'Hiver is a truely great apple which deserves its place in your orchard or garden - and your kitchen.
Calville Blanc d'Hiver apple identification images
All images copyright Orange Pippin unless otherwise stated.
USDA identification images for Calville Blanc d'Hiver
The identification paintings in the USDA Pomological Watercolor Collection span the years 1886 to 1942.
Citation: U.S. Department of Agriculture Pomological Watercolor Collection. Rare and Special Collections, National Agricultural Library, Beltsville, MD 20705.
Visitor reviews
03 Jun 2023 

George Stewart

Superb for tarte tatin

24 Apr 2022 

e

I see this as the most beautifully shaped of all apples. Old French variety that is crisp and delicious.

03 Sep 2020 

Ron Martinez

NM, United States

I grafted this variety onto a very old pippin several years ago and it has now produced fruit for the second year. It is a hard apple with not much taste through the end of August but as we approach the fall I will see how it ripens and stores. Calville Blanc seems to be reasonably late blooming and frost tolerant as our last frost is the end of May. It is one of few varieties that has survived the last two seasons while the rest did not bear fruit because of the late spring frost. I grow it at an elevation of 7,800 feet in the Rocky Mountains of Northern New Mexico. Temps can get down to about -30*F for a couple of weeks each January so if grown on a hardy rootstock, it is a survivor. Looking forward to baking this ugly gem.

14 Sep 2016 

Ken Limón

CA, United States

We have a 25 year-old tree (among our 120) that has not produced for 3 years. But this year, it is loaded. We're expecting to pick toward the end of September. A local bakery and "farm-to-table" restaurant will be the beneficiaries!!

01 Jun 2016 

Michael Morton

OHIO, United States

I have 3 Calville Blanc d"Hiver trees near Cincinnati, Ohio. Versatile heirloom that goes back at least to 16th century France. I have 8 trees in total. I have a relaxing, rewarding, backyard orchard where inhabe fallen quite in love.with growing apples.

08 May 2016 

Marc S. Mouton

LOUISIANA, United States

4 yr old tree, 1st year with Apple bearing.

13 Oct 2015 

Randall Surface

PA, United States

I've already learned a lot from this site ...am very interested in the vitamin C content of the Calville blanc D'hiver.

05 Oct 2015 

Lyn Newman

MANCHE, France

We have one in our garden in Normandy, France. It crops extremely heavily every other year - not the prettiest looking apple but cooks well and has a good flavour.

16 Oct 2014 

Joshua

OHIO, United States

Our tree is growing and producing well in Toledo, Ohio. The apples are amazing! Multiple use makes it all the better.

26 Jan 2013 

Ed

WASHINGTON, United States

I didn't have high hopes for this apple as far as taste goes, but after trying one, I was very pleasantly surprised. I already had one planted in my orchard, but after trying it, am glad I have one to enjoy in the future.

20 Apr 2012 

Marc Llewellyn

NSW, Australia

This apple is THE apple for the French Tarte tatin. It holds it's shape and is amazing as a cooker.

15 Nov 2009 

Cat

ONTARIO, Canada

Siloam Orchards in Ontario carries this apple (as well as many other historical apple varieties).

25 Oct 2009 

Anna

NY, NY, United States

Calville blanc is currently available from Samascott Orchards in greenmarkets in NYC (Union Square on Fridays) . It truly makes a fabulous tarte tatin- keeps it's shape even as it absorbs the caramel and gets translucent, has a distinct sweet, tart flavour.

05 Oct 2009 

Rachel Sessum

WASHINGTON, United States

There is a grower in my area that sells scionwood "sticks" of most of their apple trees, including this variety. In fact, they have 150 varieties of apples. If you want to grow your own, you can buy a stick for just a couple of dollars and graft it to a tree yourself. I have not had this apple yet, but it was recommended to me and I am planning on heading up to the orchard to pick some in about a week. I am glad to find all of these wonderful comments about it! Here is the grower in my area in case anyone is interested. http://www.skagitvalleyfruit.com/products.html

13 Nov 2008 

Marsha

CA, SONOMA, United States

I have a Calville Blanc which I bought from Trees of Antiquity. I just picked the last three apples off the tree on November 12th. Some brown spots from insect damage, I believe, but I find it a delicious eating apple. They kept all right in my refrigerator for over a month.

03 Oct 2008 

Ellisons Orange

BONNERS FERRY, IDAHO, United States

Ellisons Orange is thought to be a cross of Calville Blanc and Cox Orange Pippen. Like Calville Blanc, Ellisons Orange does not turn brown when cut and keeps its shape when cooked.

01 Sep 2008 

Larry Brookes

BERKELEY, ALAMEDA CTY, CALIFORNIA, United States

The apple tree is very vigorous and requires heavy pruning after going dormant - if it does, here! It produces far too many apples for the tree so has a very heavy fruit drop. The fruit must be ripe to use, here usually late October early November. It does not keep particularly well. It is very high in Vitamin C so does not discolor readily. Perfect for Tarte Tatin, but also with meats such as pork and duck. Very useful in the kitchen, best when cooked. It is subject to apple coddling moth, however.

13 Apr 2008 

Margery Collins

VERMONT, United States

These superb apples are available from growers in my area. We love them for baked apples, pies, dumplings etc. The flavor and texture are incomparable. I am looking for a tree since I know they grow here well.
Tree register
Spring blossom records for this variety
2020 season
2019 season
2017 season
2016 season
2015 season
2014 season
2013 season
2012 season
2011 season
Record your blossom dates in our Fruit Tree Register - more >>.
Harvest records for this variety
2017 season
2016 season
2015 season
2013 season
2012 season
2011 season
Origins
Species: Malus domestica - Apple
Parentage: Unknown
Originates from: France
Introduced: 1500s - late
UK National Fruit Collection accession: 2002-037
Identification
Country of origin: France
Period of origin: 1550 - 1599
Fruit colour: Green
Fruit colour: Green - light
Flower colour: Pink - light
Leaf colour: Green
Popularity: Best sellers
Annual cycle: Deciduous
Using
Picking season: Late
Keeping (of fruit): 1-2 months
Flavour quality: Exceptional
Flavour style (apples): Aromatic
Cooking result: Keeps shape
Discoloration of fruit: No discoloration (Good for drying)
Cropping: Good
Fruit persistence: Persistent
Food uses: Culinary
Food uses: Juice
Food uses: Hard cider
Food uses: Traditional cooker
Picking period: mid-October
Wildlife: RHS Plants for Pollinators
Growing
Gardening skill: Average
Flowering group: 4
Pollinating others: Average
Ploidy: Diploid
Vigour: Average vigour
Precocity: Precocious
Bearing regularity: Regular
Fruit bearing: Spur-bearer
Attractive features: Attractive flowers
Self-fertility: Not self-fertile
Climate
Cold hardiness (USDA): (4) -30F / -34C
Climate suitability: Temperate climates
Summer average maximum temperatures: Cool ( 20-24C / 68-75F)
Summer average maximum temperatures: Warm (25-30C / 76-85F)
Other qualities
Disease resistance: Average
Cedar apple rust: Some susceptibility
Where to buy trees
The following tree nurseries offer Calville Blanc d'Hiver apple trees for sale:
Where to buy fresh fruit
The following orchards grow Calville Blanc d'Hiver:
United States
Colorado

Connecticut

Iowa

Kansas

Kentucky

Maine

Michigan

Montana

New Hampshire

New York

Washington

Wisconsin
Canada
Australia