Pixie Crunch
TM

 apple

Pixie Crunch™is a trademark of Purdue University.

Last updated 16 Feb 2014.



Small, sweet flavored, crisp and juicy apple. Greenish-yellow base color with 90-100% red-purple overcolor.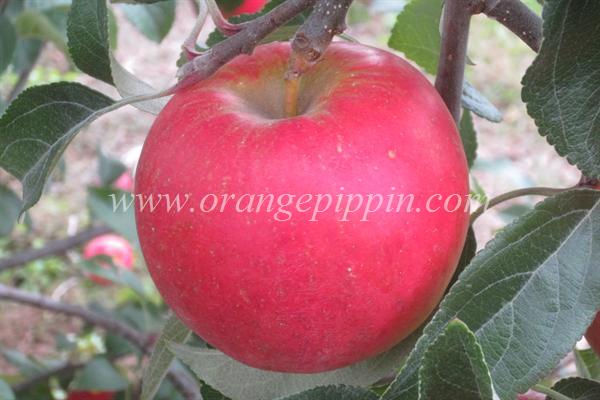 Origins
Species: Malus domestica
Parentage: PRI 669-205 x PCF 2-134
Originates from: United States
Introduced: 1993
Developed by: PRI (Purdue, Rutgers, Illinois Co Op)
Orange Pippin Cultivar ID: 1840
Identification
Fruit colour: Red / Green
Fruit shape: Round
Using
Uses: Eat fresh
Flavour quality: Very good
Flavour style: Sweet/Sharp
Harvest period: Mid season
Use / keeping: 1-2 months
Growing
Cropping: Good
Flowering period: Mid-Late season
Flowering group: 4
Fertility: Self-sterile
Vigour: Average growth
Bearing regularity: Biennial tendency
Gardening skill: Average
Fruit bearing: Spur-bearer
General disease resistance: Good
Climate
Climate suitability: Temperate climates
Climate suitability: Tolerates cold winters
Climate suitability: Warm climates
Disease resistance
Scab  - Very resistant
Mildew  - Some susceptibility
Fireblight  - Some susceptibility
Cedar apple rust  - Very susceptible
Relationships to other varieties
Parents and other ancestors of this variety:
References and further reading about this variety
PRI Coop 33 variety description  1993
Author: PRI
Fruit tree register
Do you have a tree of this variety in your garden or orchard? If so please register the details here and contribute to our international register of fruit trees.
The following Pixie Crunch trees have been registered - click the name to view more details of each tree.
You can also view these trees on a map.
United States
Latest Spring blossom records for this variety
2013 season
May  2013  - tree owned by Cheri in PLOVER, United States
May  2013  - tree owned by Tom in PERRYVILLE, United States
10th April  2013  - tree owned by Gil in SNOHOMISH, United States
2012 season
May  2012  - tree owned by Tom in PERRYVILLE, United States
April  2012  - tree owned by Cheri in PLOVER, United States
Record your blossom dates in our Fruit Tree Register - more >>.
Latest harvest records for this variety
2013 season
2nd week October  2013  - tree owned by Gil in SNOHOMISH, United States
2nd week October  2013  - tree owned by Cheri in PLOVER, United States
2012 season
September  2012  - tree owned by Tom in PERRYVILLE, United States
Where to buy apples
United Statesmap >