Granny Smith apple
Perhaps the most instantly recognisable of all apple varieties and one of the most widely known, Granny Smith is also one of Australia's most famous exports.

Granny Smith pre-dates the modern approach to apple development and marketing. Like all the best old varieties it has a bizarre history, being discovered in Austrialia in the 1860s as a seedling growing in the remains of a rubbish tip. The true parentage is still unknown but is possibly French Crab. The discoverer - a Mrs Maria Smith (sometimes referred to as Mary Smith but see note below) - found that the apple was versatile for cooking and eating, and was involved in spreading its popularity. In an inspired piece of marketing she called the new apple Granny Smith. By the 1960s Granny Smith was practically syonymous with 'apple' and the variety was used by the Beatles as the logo for their company 'Apple Records'.

Granny Smith was one of the original staple supermarket varieties, and one of the first international varieties, a role for which it was well suited. The tough skin and amazing keeping qualities meant it could easily be shipped around the world. It requires a warm climate to ripen properly, and performs well in the main apple-growing regions of the southern hemisphere. In the northern hemisphere it is grown in France and the warmer zones of North America. The trademark apple-green skin requires warm days and nights - we have seen Granny Smiths grown at a relatively high altitude in central France which develop a blush because of the cold night temperatures towards the end of the growing season.

There is only one word to describe the flavour of Granny Smith: acidic. It is an uncompromising crisp hard apple with a very sharp taste. However, served slightly chilled it can also be very refreshing, and works well in salads. The flavor sweetens in storage. Nevertheless, its share of the international market is on the decline, with supermarkets preferring to sell bi-coloured varieties with a sweeter flavour.
Update: Granny Smiths in Central California, from Axel in Santa Cruz
Here in coastal Central California apples can remain on the tree well into February. Our nights get quite cool, mid 30's to mid 40's, but we rarely experience freezing temperatures. Daytimes are usually in the 50's to low 60's. In that climate, Granny Smiths go from being green to turning completely yellow and looking almost like Golden Delicious. What is more significant is how the fruit tastes. The acidity definitely mellows significantly, and it then takes on an amazing balanced flavor. I can't imagine anyone ever selecting such an apple and promoting it unless they got to taste it in this form, because when it's fully ripe, it's simply one of the best, crunchiest, most balanced table apple I've eaten.

We have several apples growing in this area that are very late ripening, e.g. January and February. Lady Williams, Pink Lady, Hoover, Hauer pippin and Granny Smith all come to mind. These are all essentially inedible in November, and don't become tasty until January, Some will also mellow on the tree, but the BRIX goes way up if left on the tree. Of course, in our climate, some apple trees retain their leaves all the way into January. I have one tree called 'Sweet Valentine' named for the fact that the fruit ripens on valentine's day. It was discovered locally as a rootstock seedling shoot in an abandoned orchard.

It is said that the best apples are the ones that ripen when the leaves begin to turn and fall off. The theory has it that the nutrients that went to the leaves go to to the apples. I've tasted Fujis left on the tree, and they develop an incredibly sweet water core, almost like eating pure honey - too sweet for my taste, but it is a fun experience.

For us, since our apples grow into January, it makes the late apples the best quality apples we can grow. Unfortunately, no one in commercial apple growing cares, because the entire fruit growing industry is bent on only one thing: getting the first fruit to market to get the highest possible price. The end result is that a lot of these amazing late varieties are simply forgotten, or they don't let them ripen properly, as is the case with the granny smith.
Further insight into the origins of Granny Smith from Steve Goard of Sydney, Australia
Granny Smith is my great,great,great,great,grandmother, and her name was not Mary! Her name was Maria Ann Smith, nee Sherwood, (pronounced the same way as diva Mariah Carey), 1800-1870, married to Thomas Smith, 1797-1876. The orchard was located in Eastwood, now in the City of Ryde, Sydney. It is most probable that 'French Crab' apples were from wooden crates purchased at the Sydney Markets, after selling her produce, to facilitate transporting the next crop of fruit from her orchard (and I would say it was more likely the 'compost' heap rather than 'rubbish tip'!). Technically it is called a 'sport' which means a reproducing hybrid; the original term dates back to the time of Jane Austen. And 'YES' they are my favorite apples!!!
Granny Smith parentage - update
We have now had the opportunity to study a French Crab apple tree at the UK National Fruit Collections (thanks to FAST for faciliating this). The similarity with Granny Smith is quite striking - not just that distinctive green color but also the way the fruits seem to be hidden within the depths of the tree canopy. We can't comment on the exact relationship, but it seems clear it is very close.
Last updated 20 Feb 2012.
The most instantly-recognised of all apples, and perhaps Australia's most famous export.
Origins
Species: Malus domestica
Parentage: Possibly French Crab and Rome Beauty
Originates from: Australia
Introduced: 1860s
Orange Pippin Cultivar ID: 112900
Identification
Fruit colour: Green
Bultitude apple group: 2. Green, smooth, sweet
Using
Good for eating fresh
Good for cooking
Cooking result: Keeps shape
Flavour style: Sharper
Ripening period: Very-Late season
Use / keeping: 3 months or more
Growing
Cropping: Heavy
Flowering period: Mid season
Flowering group: 3
Fertility: Self-fertile
Triploid: No
Good pollinator: Yes
Vigour: Average growth
Biennial tendency
Precocity: Precocious
Climate
Suitable for warm climates
Low-chill requirement 

600 hours
Disease resistance
Cedar apple rust  - Some resistance
Scab  - Some susceptibility
Mildew  - Some susceptibility
Fireblight  - Some susceptibility
Pests
Woolly aphid  - Some susceptibility
References and further reading
Cedar-Apple Rust  
Author: Stephen Vann, University of Arkansas, Division of Agriculture (FSA7538)
Rated as resistant - control only needed under high disease pressure.
Granny Smith identification photos from official fruit collections
UK National Fruit Collection
©Crown Copyright
more >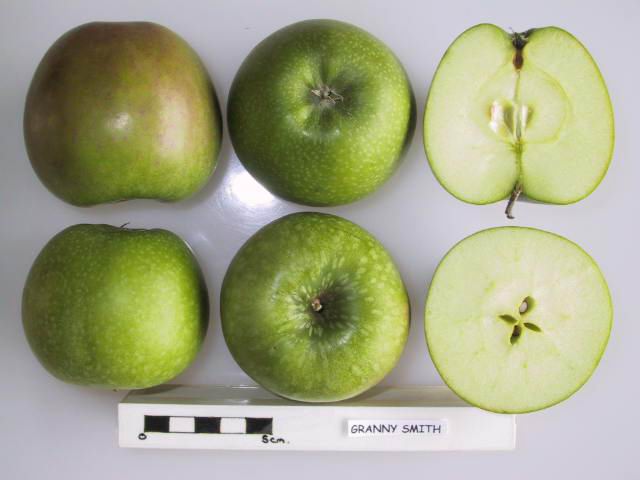 Granny Smith identification photos from website visitors
Granny Smith showing red coloration which can arise in some climates


Granny Smith


Fruit tree register
Do you have a tree of this variety in your garden or orchard? If so please register the details here and contribute to our international register of fruit trees.
The following Granny Smith trees have been registered - click the name to view more details of each tree.
You can also view these trees on a map.
United States
United Kingdom
France
Canada
Australia
New Zealand
Japan
India
Latest Spring blossom records for this variety
2013 season
10th May  2013  - tree owned by Albany in CASTLETON, United States
April  2013  - tree owned by Matt in SALEM, United States
2012 season
2011 season
14th April  2011  - tree owned by Bill in LANDERS, United States
April  2011  - tree owned by Leslie in KELOWNA, Canada
2010 season
2009 season
October  2009  - tree owned by Sue in CHRISTCHURCH, New Zealand
29th March  2009  - tree owned by Martin in LAKEPORT, United States
Record your blossom dates in our Fruit Tree Register - more >>.
Latest harvest records for this variety
2013 season
3rd week April  2013  - tree owned by Matt in SALEM, United States
2012 season
3rd week September  2012  - tree owned by Charlie in SANTA FE, United States
2011 season
2nd week October  2011  - tree owned by J.P.Curry in STURGEON, United States
3rd week September  2011  - tree owned by Martin in LAKEPORT, United States
1st week September  2011  - tree owned by Leslie in KELOWNA, Canada
2010 season
3rd week September  2010  - tree owned by Martin in LAKEPORT, United States
1st week September  2010  - tree owned by Leslie in KELOWNA, Canada
1st week August  2010  - tree owned by Bill in LANDERS, United States
2009 season
4th week September  2009  - tree owned by Martin in LAKEPORT, United States
Where to buy apple trees
The following fruit tree nurseries offer Granny Smith apple trees for sale:
Where to buy apples
United Statesmap >
Switzerlandmap >