Ellison's Orange apple
Ellisons Orange is an early (c1905) cross of Cox's Orange Pippin, and without doubt one of the most significant Cox-style apples. Its depth and range of flavour are in the same league as its parent.

Its uniqueness comes from the strange aniseed flavour which can arise after picking - a facet of the Cox-family aromatic complexity which is not apparent in its parent. In a good year, and soon after picking, the aniseed is subdued or absent and some authorities claim Ellisons Orange can be as intense as Cox. In a bad year though, or grown in the wrong conditions, it can be quite unpleasant. The trick is to remember that Ellisons Orange, unlike most of the more complex apple varieties, is actually a mid-season apple, ripening in the UK in September. Also, like other mid-season varieties, it does not keep especially well.

If you don't like aniseed do not let this put you off because you would be missing a unique taste experience. Straight from the tree the aniseed flavour is barely detectable, and Ellison's Orange has such a glorious richness of flavour that it is "essential reading" for anyone with an interest in apples. After a few days the aniseed is slightly more apparent - but merely as a liquorice undertone to a whole array of different fruit flavours.

Visually Ellisons Orange fits the bill as a classic English variety. The flesh is quite soft, somewhat pear-like in texture, and juicier than Cox. Ellisons Orange is certainly a good way in to the Cox-style flavour. Although Cox is readily available in supermarkets from both UK and New Zealand suppliers, it is difficult to get examples which truly reflect its flavour potential - supermarket Cox apples are usually pleasant but do not really live up to the reputation. Ellisons Orange on the other hand - if you can find it - is a more reliable variety.

Ellisons Orange was developed from Cox's Orange Pippin by Rev. Ellison in Lincolnshire, England, at the start of the 20th century. Its other parent is believed to be one of the Calville varieties, originating in France and thought to be very old.

Ellisons Orange has always been moderately popular as a Cox-style apple which is easier to grow than its disease-prone parent. As a result it can sometimes be found at farmers markets or in old traditional orchards. It is also much easier to grow in the garden than Cox - and picked straight from the tree is the best way to enjoy the incredible intense flavours without over-dosing on the aniseed.

Ellisons Orange is an English classic that can undoubtedly claim a place in the first rank of apple varieties.
Last updated 02 Jan 2011.
One of the best offspring of Cox's Orange Pippin, with a distinct aniseed flavor.
Origins
Species: Malus domestica
Parentage: Cox's Orange Pippin
Originates from: Lincolnshire, England, United Kingdom
Introduced: 1890
Orange Pippin Cultivar ID: 101900
Identification
Bultitude apple group: 7. Flushed / striped, some russeting, sweet
Growing
Flowering period: Mid-Late season
Flowering group: 4
Fertility: Partially self-fertile
Triploid: No
Vigour: Average growth
Climate
Blossom frost-resistance: Good resistance
Other qualities
RHS Award of Garden Merit 

1993
Relationships to other varieties
Parents and other ancestors of this variety:
Ellison's Orange identification photos from official fruit collections
ARS GRIN
©Copyright

UK National Fruit Collection
©Crown Copyright
more >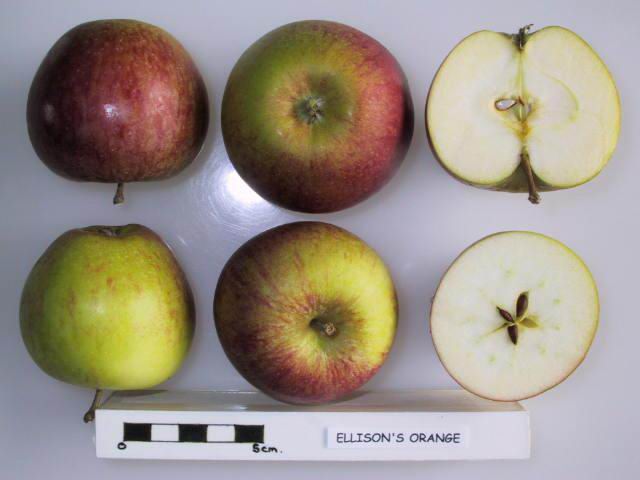 Ellison's Orange identification photos from website visitors
Ellisons Orange


Fruit tree register
Do you have a tree of this variety in your garden or orchard? If so please register the details here and contribute to our international register of fruit trees.
The following Ellison's Orange trees have been registered - click the name to view more details of each tree.
You can also view these trees on a map.
United States
United Kingdom
Switzerland
Latest Spring blossom records for this variety
2012 season
2011 season
12th April  2011  - tree owned by James in York, United Kingdom
2010 season
2009 season
18th April  2009  - tree owned by N. in CAMBRIDGE, United Kingdom
4th March  2009  - tree owned by James in York, United Kingdom
Record your blossom dates in our Fruit Tree Register - more >>.
Latest harvest records for this variety
2012 season
3rd week October  2012  - tree owned by Andrew in St Saviour, United Kingdom
2011 season
2010 season
1st week October  2010  - tree owned by Steve in POOLE, United Kingdom
3rd week September  2010  - tree owned by James in York, United Kingdom
2009 season
Where to buy apple trees
The following fruit tree nurseries offer Ellison's Orange apple trees for sale:
Cummins Nursery
United States  More >>
Where to buy apples
United Statesmap >
United Kingdommap >