Elstar apple
Elstar is another successful offspring of Golden Delicious, developed in the Netherlands in the 1950s. It is a popular easy-eating dessert apple, widely grown in Europe but less well-known in the UK or North America. There are a number of commercial sports, including Elista and Valstar.
Elstar has a distinctive appearance - difficult to describe but quite apparent once you have seen it. The skin is marbled, often with a soft sheen to it. It also lacks the perfect smoothness of many modern varieties.
The underlying colour is golden yellow but overlaid with deep red. There is also a "sport" known as Red Elstar, where the red colour usually covers the entire surface with only the occasional peep of yellow.
The flavour can be more intense than is often the case with other Golden Delicious offspring. It retains the appealing sweetness - usually described as 'honeyed' in most apple text books - but with a good balance of acidity.
Elstar is definitely a crunchy apple, but not as crisp or hard as some - definitely the softer side of crunchy. The flesh is lemon-white.
In most Golden Delicious offspring it is the other parent which provides the essential counter-balance to offset the sweet blandness of Golden Delicious. In the case of Elstar this is Ingrid Marie, a variety which originates from Denmark. Although not a widely-known apple, it lends a bit of oomph to the mix - inherited from its own parent, Cox's Orange Pippin. The result is Elstar, which is probably one of the best Golden Delicious offspring.
Visitor comment: "We ate one just after a Russet and noticed how much sweeter and jucier it was (although the Russet will always be one of my favourite apples), a bit like drinking a glass of apple juice, a hint of pear about it too." Rebecca, East Sussex.
Last updated 06 Mar 2011.
One of the best Golden Delicious offspring, the sweet/sharp flavor is more reminscent of Cox's Orange Pippin.
Origins
Species: Malus domestica
Parentage: Golden Delicious x Ingrid Marie
Originates from: Netherlands
Introduced: 1972
Orange Pippin Cultivar ID: 102000
Using
Good for eating fresh
Flavour quality: Very good
Flavour style: Sweet/Sharp
Ripening period: Late season
Use / keeping: 1-2 months
Growing
Cropping: Heavy
Flowering group: 3
Fertility: Self-sterile
Triploid: No
Vigour: Slightly small
Gardening skill: Average
Attractive fruit
General disease resistance: Poor
Climate
Suitable for warm climates
Suitable for temperate climates
Other qualities
RHS Award of Garden Merit 

1993
Disease resistance
Scab  - Some susceptibility
Mildew  - Some susceptibility
Fireblight  - Some susceptibility
Relationships to other varieties
Parents and other ancestors of this variety:
Offspring of this variety:
Elstar identification photos from official fruit collections
ARS GRIN
©Copyright

UK National Fruit Collection
©Crown Copyright
more >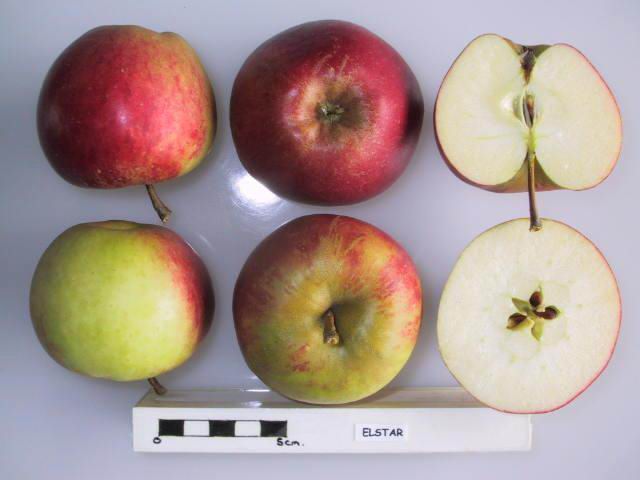 Elstar identification photos from website visitors
Elstar apples


Fruit tree register
Do you have a tree of this variety in your garden or orchard? If so please register the details here and contribute to our international register of fruit trees.
The following Elstar trees have been registered - click the name to view more details of each tree.
You can also view these trees on a map.
United States
United Kingdom
Denmark
Germany
Ireland
Netherlands
Poland
Latest Spring blossom records for this variety
2013 season
12th May  2013  - tree owned by Richard in YORK, United Kingdom
9th May  2013  - tree owned by Kevin in KILWINNING, United Kingdom
2012 season
2011 season
2010 season
2009 season
Record your blossom dates in our Fruit Tree Register - more >>.
Latest harvest records for this variety
2013 season
2012 season
1st week October  2012  - tree owned by Brian in NEWCASTLE UPON TYNE, United Kingdom
2011 season
1st week October  2011  - tree owned by Brian in NEWCASTLE UPON TYNE, United Kingdom
1st week October  2011  - tree owned by Brian in NEWCASTLE UPON TYNE, United Kingdom
October  2011  - tree owned by Mel in CARMARTHEN, United Kingdom
2010 season
2009 season
Where to buy apple trees
The following fruit tree nurseries offer Elstar apple trees for sale:
Where to buy apples
United Statesmap >
United Kingdommap >
Netherlands map >
Switzerlandmap >