Bramley's Seedling apple
Bramley's Seedling is without doubt the definitive English cooking apple, and in terms of flavor ranks as one of the world's great culinary apples. Although England has produced a large number of excellent "cookers", Bramley is so dominant that the others are largely forgotten. Most cooks reach automatically for the trusty Bramley, and it is equally prevalent in commercial apple bakery products in the UK. Its key feature is the very high level of acidity, and the excellent strong apple flavour it lends to any apple dish.
In England a clear distinction is made between "eaters" and "cookers". English apple cookery usually calls for apples which cook to a puree - and the intense acidity of Bramley's Seedling guarantees the lightest and fluffiest of purees. This contrasts with the traditions of other countries, notably France and the USA, where cooks often prefer apples which keep their shape in cooking. For this reason Bramley's Seedling is not as well-known outside England as some of the other popular English apple varieties. It is quite widely planted in gardens in Denmark (where by 1938 it was considered to be the 4th most popular variety grown) and is now becoming popular in the USA as a result of increasing interest in English apple varieties.
Bramley's Seedling trees are extremely vigorous - at least a size larger than most other apple varieties on any given rootstock. They are quite easy to grow, and have attractive crimson blossom. The only complication for gardeners is that Bramley's Seedling is a triploid variety, with three sets of genes instead of the more usual two. As a result it needs two different pollinating apple trees nearby to ensure successful pollination.
They are also notably long-lived. 2009 was the 200th anniversary of the discovery of Bramley's Seedling, and - remarkably - the original tree was still alive in the same garden in Nottinghhamshire, England, where it was planted as a pip by a young girl, Mary Ann Brailsford, 200 years before. It takes its name from a subsequent owner of the house, a Mr Bramley who allowed a local nurseryman to propagate it in the 1850s on condition that it was given his name.
Last updated 24 Nov 2012.
Bramley's Seedling is the definitive English cooking apple. It produces heavy crops of large apples with a sharp acidic flavour, which cook down to a smooth puree.
Origins
Species: Malus domestica
Parentage: Unknown
Originates from: Nottinghamshire, England, United Kingdom
Introduced: 1837
Orange Pippin Cultivar ID: 100900
Identification
Fruit colour: Green
Flesh colour: Cream
Fruit size: Large
Fruit shape: Flat-round
Bultitude apple group: 3. Flushed / striped, smooth, acidic, culinary
Using
Good for cooking
Good for juice
Good for hard cider
Cooking result: Puree
Flavour quality: Very good
Flavour style: Sharper
Ripening period: Mid-Late season
Use / keeping: 3 months or more
Vitamin C content: High
Growing
Cropping: Heavy
Flowering period: Mid-Late season
Flowering group: 3
Fertility: Self-sterile
Triploid: Yes
Poor pollinator: Yes
Vigour: Very large
Biennial tendency
Precocity: Slow to start bearing
Fruit bearing: Partial tip-bearer
Attractive blossom
General disease resistance: Good
Climate
Suitable for temperate climates
Blossom frost-resistance: Susceptible
Other qualities
RHS Award of Garden Merit 

1993
Disease resistance
Scab  - Very resistant
Mildew  - Some resistance
Fireblight  - Some resistance
Cedar apple rust  - Some resistance
Bitter pit  - Some susceptibility
Relationships to other varieties
Offspring of this variety:
Bramley's Seedling identification photos from official fruit collections
ARS GRIN
©Copyright

UK National Fruit Collection
©Crown Copyright
more >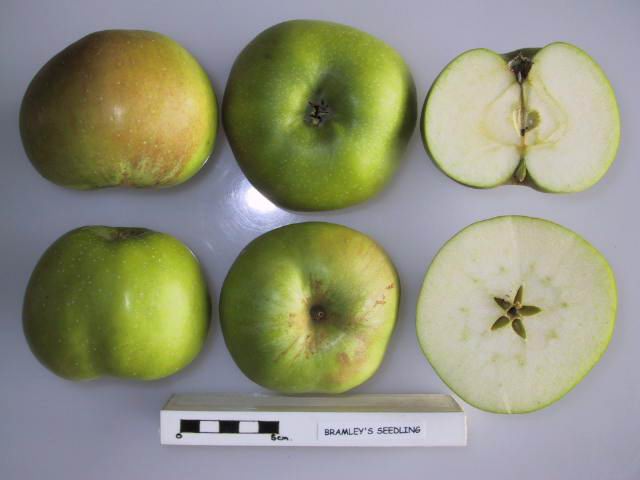 Bramley's Seedling identification photos from website visitors
Bramley's Seedling


Fruit tree register
Do you have a tree of this variety in your garden or orchard? If so please register the details here and contribute to our international register of fruit trees.
The following Bramley's Seedling trees have been registered - click the name to view more details of each tree.
You can also view these trees on a map.
United States
United Kingdom
France
Ireland
Italy
Spain
Canada
Australia
New Zealand
Switzerland
Latest Spring blossom records for this variety
2013 season
9th May  2013  - tree owned by Jean in Martock, United Kingdom
2012 season
2011 season
2010 season
2009 season
Record your blossom dates in our Fruit Tree Register - more >>.
Latest harvest records for this variety
2013 season
March  2013  - tree owned by Katrina in NELSON, New Zealand
2012 season
2nd week October  2012  - tree owned by Andrew in St Saviour, United Kingdom
2nd week October  2012  - tree owned by Andrew in St Saviour, United Kingdom
1st week September  2012  - tree owned by David in MT SHASTA, United States
2011 season
2010 season
2009 season
Where to buy apple trees
The following fruit tree nurseries offer Bramley's Seedling apple trees for sale:
Where to buy apples
United Statesmap >
United Kingdommap >