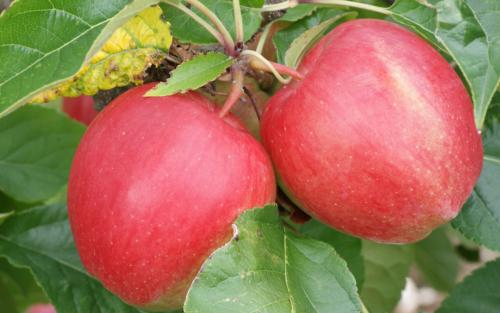 Saturn was introduced in 1997 by the famous East Malling Research Station in Kent, England. As such it reflects the "state of the art" in the development of new apple varieties in the UK.

Saturn is a medium-sized apple, smooth, rounded and with a lime green skin, largely covered in a deep red flush. The appearance is perhaps not quite up to the standard of some other modern varieties, but the flavour is particularly good. It is sweet but with a dollop of juicy acidity, and the sweetness has a good "apple" presence, rather than being sugary-sweet. It is firm to the bite, but the flesh snaps cleanly, and is very juicy. In short, a very appealing apple which will not disappoint.

Disease resistance is an increasingly important attribute for modern apple developers, as growers seek to reduce the amount of pesticides used in their orchards. The challenge is to come up with an apple which has the flavour modern consumers want, is easy and productive to grow, and yet has none of the undesirable side-effects often found in experimental varieties bred exclusively for disease resistance. Saturn is a typical example of this development process, being a cross between an un-named scab and disease resistant variety (PRI 1235) and a sport of Golden Delicious (Starkspur Golden Delicious). We understand the un-named hybrid is distantly related to Jonathan, a high-quality American apple.
Note that many authorities incorrectly state that Saturn is related to Falstaff and Cox's Orange Pippin.

Although aimed at commercial and organic growers, Saturn could have promise as a garden variety, since the built-in disease resistance makes it very suitable for the "un-treated" regime favoured by many gardeners.

It is interesting to compare Saturn with Meridian, another modern variety from East Malling Research Station. We think Saturn has marginally more depth to it than Meridian - but these are both nice apples.
Saturn apple identification images
All images copyright Orange Pippin unless otherwise stated.
USDA identification images for Saturn
The identification paintings in the USDA Pomological Watercolor Collection span the years 1886 to 1942.
Citation: U.S. Department of Agriculture Pomological Watercolor Collection. Rare and Special Collections, National Agricultural Library, Beltsville, MD 20705.
Parents and other ancestors of this variety
Visitor reviews
25 Oct 2020 

Billy Auger

SHROPSHIRE, United Kingdom

Bought an initial 5 on 106 rootstock. Taste is boring,bland but juicy and sweet. I didn't like it but my customers love it, so I top worked 35 red Falstaff with it...and still haven't got enough. Will probably graft/ top work another 25 with it. Although a beautiful looking apple it can suffer with canker, no matter what the catalogues say

14 Oct 2012 

Jane Wells

SUFFOLK, United Kingdom

I planted a cordon apple Saturn two years ago. Last year it produce 15 good sized fruit. This year the yield was at least 30. The tree is only 6ft tall and was laden with fruit. (I am training it over an arch into my veg garden.) The fruit were all perfect and taste fantastic - crisp, sweet but not too sweet and beautiful to look at. A brilliant and productive variety - I shall plant more. 5/5

09 Aug 2011 

Elly.

United Kingdom

just bought a saturn tastes sharp with a hint of sweetness overall very pleased with its flavour

10 Oct 2009 

Greg Cullen

In the first cropping season on M9 and B9 rootstocks (18 months after planting) Saturn produced an average 1.5kg of fruit per tree at spacing 1.2m x 3m. The fruit, which had been thinned, was large, shiny, oval-round, with a very attractive red flush on the pale background, making a very distinctive product. The flavour was sweet, and the apple gained instant acceptance in the Kabul fruit market. Other new varieties not accepted on taste included Red Devil & Red Falstaff. Treco Gala was preferred over Royal Gala, due to more intense colour. The origin of the apples is important for taste, and this is noticed by consumers. Further information will be collected on a full range of fruit varieties and species and reported on the website

05 Nov 2008 

David Lacey

DERBY DERBYSHIRE ENGLAND, United Kingdom

i have purchased one of these trees having read a little about it i think it will be ideal for my small garden i want desease resistance above all else

25 Sep 2008 

Nigel

CAMBRIDGESHIRE, United Kingdom

We have two Saturn - one bush and one cordon. We bought them because we like the idea of "organic" growing and try to avoid spraying. The claims of strong disease resistance and a number of organic references to this apple were very appealing. Both of our Saturn are only a few years old, but this year - admittedly a notoriously wet year - their resistance to scab appears to have failed, with considerable numbers of tatty leaves, brown patches and blistering typical of scab. The presumed scab damage to Saturn was far worse than any of the "old-fashioned" varietes that I grow. In view of their scab-resistance failing when it was most needed, I am considering removing or re-grafting my Saturns, although their good resistance to mildew (which is usually more troubling than scab for me) may grant them a reprieve. Next year, I may take some of mine to an "apple day", to confirm that what I have is Saturn - and to confirm that I haven't been supplied with some other variety by accident. The fruits look attractive on the tree - being mostly reddish in colour - just like the picture shown above. The flesh is medium-to-slightly soft (easy-biting but not mushy might be a better term). They are fairly sweet and juicy, with some apple flavour. Had it not been for the scab problems that they should have largely resisted (assuming that they really were Saturn), they would have made very "easy-eating" apples that most people would find palatable. Regards, Nigel
Tree register
Spring blossom records for this variety
2011 season
April  2011  - tree owned by Mrs Che in Bingley, United Kingdom
2010 season
28th April  2010  - tree owned by N. in Cambridge, United Kingdom
15th April  2010  - tree owned by Peter in Haxton Salisbury, United Kingdom
2009 season
19th April  2009  - tree owned by N. in Cambridge, United Kingdom
Record your blossom dates in our Fruit Tree Register - more >>.
Harvest records for this variety
Origins
Species: Malus domestica - Apple
Parentage: Starkspur Golden Delicious x scab resistant
Originates from: England, United Kingdom
Introduced: 1980
Developed by: Dr Frank Alston
UK National Fruit Collection accession: 1997-023
Identification
Country of origin: United Kingdom
Period of origin: 1950 - 1999
Fruit colour: Red
Flower colour: Pink - light
Leaf colour: Green
Popularity: Under-rated
Annual cycle: Deciduous
Using
Picking season: Mid
Keeping (of fruit): 2-3 weeks
Flavour quality: Very good
Flavour style (apples): Sweeter
Cropping: Heavy
Food uses: Eating fresh
Food uses: Juice
Picking period: early October
Wildlife: RHS Plants for Pollinators
Growing
Gardening skill: Beginner
Flowering group: 3
Pollinating others: Average
Ploidy: Diploid
Vigour: Average vigour
Precocity: Precocious
Bearing regularity: Regular
Fruit bearing: Spur-bearer
Organic culture: Suitable
Self-fertility: Partially self-fertile
Climate
Climate suitability: Temperate climates
Climate suitability: Mild damp climates
Climate suitability: Warm climates
Summer average maximum temperatures: Cool ( 20-24C / 68-75F)
Other qualities
Disease resistance: Good
Scab (Apple and Pear): Very resistant
Powdery mildew: Some resistance
Where to buy trees
The following tree nurseries offer Saturn apple trees for sale:
Where to buy fresh fruit
No orchards have registered as growing this variety. If you grow this and want to register please go to our Orchard Registration form.