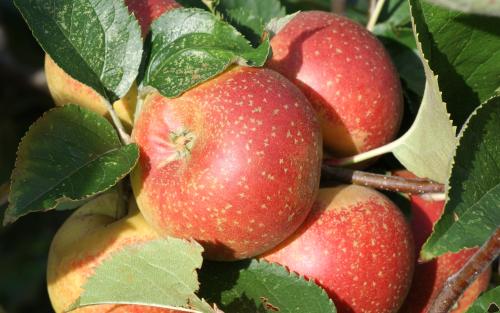 An old-fashioned 18th century French apple, with a good reputation for flavour, but usually not a good cropper.
Orleans Reinette apple identification images
All images copyright Orange Pippin unless otherwise stated.
USDA identification images for Orleans Reinette
The identification paintings in the USDA Pomological Watercolor Collection span the years 1886 to 1942.
Citation: U.S. Department of Agriculture Pomological Watercolor Collection. Rare and Special Collections, National Agricultural Library, Beltsville, MD 20705.
Visitor reviews
18 Oct 2011 

Alison Warner

SUSSEX, United Kingdom

Best apple I have ever grown, very good crop on a tree which we converted from a young cordon to a small bush when we moved it. However it is its first real crop in 5 years. Fruit beautiful and of high quality; after a weeks or so's storage they had an flavour which reminded me of apple and mango juice blends. Very complex very satisfying. It being a very warm autumn so far they are nearly past their best already. Should have stored in plastic as suggested in apple book. Left mishapes on the tree and they ate well from the tree.

20 Sep 2010 

Sarah

BRONYGARTH, United Kingdom

I have an Orleans Reinette which is excellently flavoured and very prolific. I got it from the National Trust (Erdigg) in 2000. It does not keep long, about 6 weeks, but is worth having despite that because of the taste and appearance.

07 Sep 2010 

Dave Liezen

WASHINGTON, United States

Karin, Do you know how the bloom time on your Marcoun relates to the bloom time of Cox Orange Pippin? If so, you can look for something with a bloom that matches or will overlap, in order to set fruit. I looked up some of the russeted and reinette apples In John Bultitude's book. Those that follow are fairly scab resistant and have fertile pollen (are not triploids): Lord Lambourne blooms 3 days before COP; Orleans Reinette blooms 5 days after COP; Tydeman's Late Orange blooms 1 day before COP; Ashmead's Kernel blooms 3 days after COP; Zaberäu Renette blooms 1 day before COP; D'Arcy Spice blooms 3 days after COP. Of course, these records come from Britain. Your experience may differ, depending on how widely your climate varies from that of the UK. I am in a dry part of the States with fairly short growing season. The above are cultivars I am considering or already own. Lady, or in the French, Pomme d'Api is one of the oldest apples in existence. The tree is small, the bloom is some time in mid-season, the apples small and keep long. Coming from France, it may be suitable for your climate. BTW, I have an Ashmead's and it is producing its first small crop this year. It seems to thrive in a wide range of conditions. That should give you some leads worth looking into.

17 Apr 2010 

Karin Susan

PIEDMONT, Italy

Hello. I would like to know more about this variety. Is this a good cross-pollinator? I am in nortwest Italy and I have Pom Marcoun apple trees and would like to find an Renette variety for pollination but also because I want to add another "old "vareity to my orchard. Any suggestions?

02 Oct 2009 

George Fuller

DORSET, ENGLAND, United Kingdom

Endorse all that has been said about flavour, which I consider to be excellent. However, cannot agree as to it's keeping qualities. Certainly in my experience best eaten straight from the tree (mid October on). Tends to shrivel in store, a characteristic mentioned iin a couple of fruit books I have read. Great eating though. Mine is grown on M27 bush, moderate crops.Or

04 Oct 2008 

J A Sutherland

MONMOUTH, United Kingdom

Very good. Had both this and Bleinheim Orange and doubt that they are the same.

18 Sep 2008 

Sally Leszczynski

OXFORDSHIRE, United Kingdom

Wish ours was a cordon! no I don't, but its about 40 or 50 foot high and the best-looking apples are usually too high to pick, even with a long-handled picker at the top of the ladder! Obviously very old tree. Fruit was quite woody, but in recent years has been good. Keeps well, though not as well as Keswick Codlin even till April for cooking,if you can keep the mice out. If someone from a nursery wanted to take some cuttings to grow on we would be delighted.

07 Aug 2008 

John

SUSSEX, United Kingdom

How do you prune your cordons. After reading many descriptions I am still baffled!

30 Jul 2008 

Carole

United Kingdom

I've grown this as a cordon for about 20 years and it usually crops each year - it's more reliable than Ashmead's Kernel, which I also grow it's a similar type of apple in taste (perhaps not quite as good) but prettier as it does flush up a little pink with russet patches. Like Ashmead's it needs to be stored and eaten from December onwards.
Tree register
Spring blossom records for this variety
2022 season
2020 season
2018 season
2017 season
2016 season
2015 season
2014 season
2013 season
2011 season
2010 season
Record your blossom dates in our Fruit Tree Register - more >>.
Harvest records for this variety
2022 season
2021 season
2018 season
2017 season
2016 season
2015 season
2012 season
2011 season
2010 season
2009 season
Origins
Species: Malus domestica - Apple
Parentage: Unknown
Originates from: France
Introduced: 1770s
UK National Fruit Collection accession: 1976-147
Identification
Country of origin: France
Period of origin: 1750 - 1799
Fruit colour: Orange flush
Leaf colour: Green
Annual cycle: Deciduous
Using
Picking season: Late
Keeping (of fruit): 2-3 weeks
Flavour quality: Very good
Flavour style (apples): Aromatic
Cooking result: Keeps shape
Discoloration of fruit: Oxidising
Cropping: Light
Fruit persistence: Normal ripening
Food uses: Eating fresh
Food uses: Culinary
Picking period: mid-October
Wildlife: RHS Plants for Pollinators
Growing
Gardening skill: Average
Flowering group: 4
Pollinating others: Poor
Ploidy: Triploid
Vigour: Average vigour
Bearing regularity: Biennial tendency
Fruit bearing: Spur-bearer
Attractive features: Attractive fruit
Self-fertility: Not self-fertile
Climate
Cold hardiness (USDA): (4) -30F / -34C
Climate suitability: Temperate climates
Summer average maximum temperatures: Cool ( 20-24C / 68-75F)
Summer average maximum temperatures: Warm (25-30C / 76-85F)
Other qualities
Disease resistance: Average
Scab (Apple and Pear): Very susceptible
Where to buy trees
The following tree nurseries offer Orleans Reinette apple trees for sale:
Where to buy fresh fruit
The following orchards grow Orleans Reinette:
United States
Iowa

Maine

Michigan

Missouri

New York
United Kingdom
References
Apples for the 21st Century
Author: Manhart
Listed as Orleans, lists Winter Ribston as synonym
Apples of England (1948)
Author: Taylor
Fruit Expert
Author: Hessayon
Some Antique Apples for Modern Orchards, (2008)
Author: Merwin I.A.