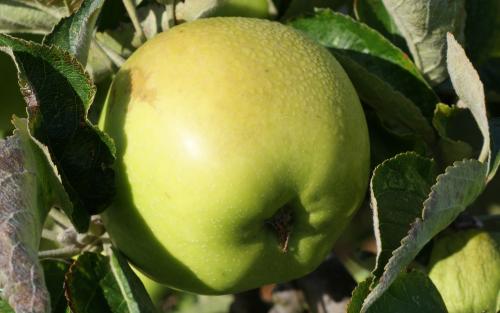 Lord Derby is a traditional large English cooking apple, ripening in the mid-season - early September. It remains a popular apple variety in English gardens, and is a good choice if you are looking for an apple tree for the garden as an alternative to Bramley which can be used in the period from September to November.
Lord Derby is quite easy to identify, on account of its large size, bright green colours and ribbed shape. The Victorian author Hogg rates it as an "excellent culinary apple". The flavour is nicely acidic if picked young, but milder if picked when fully ripe (at which point the skin develops a more yellow hue). Like many Victorian cooking apples, it has naturally good disease resistance.
Lord Derby apple identification images
All images copyright Orange Pippin unless otherwise stated.
USDA identification images for Lord Derby
The identification paintings in the USDA Pomological Watercolor Collection span the years 1886 to 1942.
Citation: U.S. Department of Agriculture Pomological Watercolor Collection. Rare and Special Collections, National Agricultural Library, Beltsville, MD 20705.
Parents and other ancestors of this variety
Visitor reviews
21 Aug 2022 

Kb

Definitely a cooker, and definitely not bland! Large apples that hug the branch and crop late. Skin turns very waxy over winter, and mine keep until at least February in a cool garage in the North of England.

01 Oct 2020 

Jack

ABERDEENSHIRE, United Kingdom

Agree with the grower in Gloucestershire that this apple, though prolific, seems to be completely tasteless. Perhaps I am too far north for it to do well.

21 Sep 2016 

Roy James

BRIDGEND, WALES, United Kingdom

I've had a Lord Derby apple from a pup!!!!! Don't agree with the comments on taste. It is very good when baked, and used for apple tart. Because of the short keeping time I usually core peel chop and freeze it. However, I find that keeping some in the refrigerator helps to keep it longer.

16 Sep 2016 

Chris

DORSET, United States

We inherited a large old tree 10 years ago which was identified as Lord Derby at an apple day in Cumbria. After 3 years of professional pruning it has proved well worth saving. Here it breaks down well on cooking and is very good in cakes. Brown rot and mice mean it only lasts until January. Mice leave alone any wrapped in news paper.

21 Oct 2012 

Martin Appleby

CARMARTHENSHIRE, United Kingdom

A large old apple tree (70 to 80 years or more)in our garden has been identified at the Apple Day festival at the National Botanic Gardens of Wales as the variety 'Lord Derby'. It does cook very well and as long as plentty of sugar is added has good flavour when cooked. It also crops very well, and 2011 was an exceptionally bumper year, but even in this wet year we have had a reasoanble crop it usually stores for 3 to 4 months in the garden shed provided the mice don't cause too much damage. It does soon turn yellow but still seems OK when stewed.

27 Nov 2011 

Chris Kettlety

CHESHIRE, United Kingdom

I think this is the variety I have and I agree that it is quite a bland taste and doesn't fall well when cooked. However, it is a prolific fruiter and I have trained it to keep it compact. Going to use this year's crop with the addition of some Bramleys to make cider.

13 Nov 2010 

Geoff Ramshaw

GLOS., United Kingdom

We inherited an apple that has been identified as Lord Derby and is certainly large and green, turnng yellowish when ripe. Unfortunately, we find it virtually tasteless whether raw or cooked, and it does not form any kind of puree when cooked, but remains in slices. Any suggestions?
Tree register
Spring blossom records for this variety
2012 season
2011 season
2010 season
2009 season
Record your blossom dates in our Fruit Tree Register - more >>.
Harvest records for this variety
2016 season
2015 season
2014 season
2011 season
2010 season
2009 season
Origins
Species: Malus domestica - Apple
Originates from: Cheshire, United Kingdom
Introduced: 19th century
UK National Fruit Collection accession: 1978-300
Identification
Country of origin: United Kingdom
Period of origin: 1850 - 1899
Leaf colour: Green
Annual cycle: Deciduous
Using
Picking season: Late
Keeping (of fruit): 1-2 months
Flavour quality: Very good
Flavour style (apples): Sharper
Cooking result: Textured puree
Discoloration of fruit: Oxidising
Cropping: Good
Fruit persistence: Normal ripening
Food uses: Culinary
Food uses: Juice
Food uses: Traditional cooker
Picking period: early September
Wildlife: RHS Plants for Pollinators
Growing
Gardening skill: Beginner
Flowering group: 4
Pollinating others: Average
Ploidy: Diploid
Vigour: Vigorous
Bearing regularity: Regular
Fruit bearing: Spur-bearer
Self-fertility: Not self-fertile
Climate
Frost resistance of blossom: Good resistance
Climate suitability: Temperate climates
Climate suitability: Mild damp climates
Summer average maximum temperatures: Cool ( 20-24C / 68-75F)
Summer average maximum temperatures: Cold (< 20C / 67F)
Other qualities
Disease resistance: Good
Scab (Apple and Pear): Very resistant
Brown rot: Very susceptible
Where to buy trees
The following tree nurseries offer Lord Derby apple trees for sale:
Where to buy fresh fruit
The following orchards grow Lord Derby:
United Kingdom
England - north

England - south-east

England - south-west
References
Fruit Expert
Author: Hessayon