King of the Pippins apple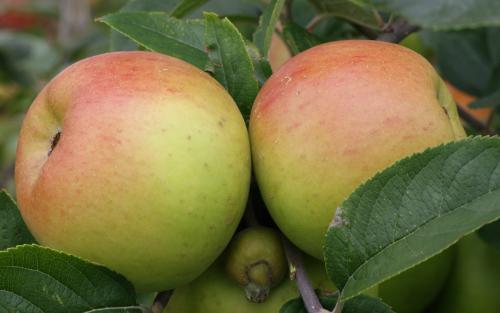 A popular 19th century apple, very widely grown in Europe at the time, and versatile for culinary and dessert uses. King of the Pippins is a sharp, firm, juicy apple which sweetens in storage.

If this variety were discovered today it would hardly merit the title "King" of the pippins, or even "Reine" de Reinettes" (queen of the reinettes) as it is called in France. However back in the late 18th century when it first became known the name was probably more appropriate.
The main attraction of King of the Pippins today is its versatility. It can be used as a dessert apple but also has many culinary uses. It keeps its shape when cooked and brings an authentic old-fashioned flavour. The sweet-sharp juice is also useful for making fresh apple juice and in cider-making.

King of the Pippins apple identification images
All images copyright Orange Pippin unless otherwise stated.
USDA identification images for King of the Pippins
The identification paintings in the USDA Pomological Watercolor Collection span the years 1886 to 1942.
Citation: U.S. Department of Agriculture Pomological Watercolor Collection. Rare and Special Collections, National Agricultural Library, Beltsville, MD 20705.
Offspring of this variety
Visitor reviews
02 Jan 2018 

Dorothy

Peterborough, United Kingdom

We moved into a Victorian house 20 years which had an old King of the Pippins in the garden. We've loved the sweet tartness of these wonderful apples which keep until April or May in our cool garage.

23 Oct 2015 

Carter Wilkie

MASSACHUSETTS, United States

Reine de Reinettes ranks among the top five apples I have tasted: fine grained texture, very complex flavors. Stunner. It ripens in October in Northern New England and may be different from King of the Pippins, which looks and tastes similar but ripens in September here.

13 Oct 2013 

Piet

Belgium

My wife had the great idea to bake a tarte Tatin today. I had a look at what the best apple would be to use for that. I read on wikipedia that is originally was made with two apple varieties: Reine des Reinettes and Calville. I have both in my garden, and we used the Reine des Reinettes. The result was top! Really delicious. The taste is really good, while the apple pieces keep their shape. As mentioned by others, it is a really easy tree to grow as well, and it is very productive.

24 Mar 2013 

Yvonne

REDDING, United States

we have tasted this apple before, do you know where we can possibly order one?Thanks, Yvonne

18 Mar 2013 

Mangan

France

It's a lovely apple tree to grow in your garden. Off the tree the fruit is nicer than all the new apples off the shelves! Greta for cooking too!

10 Jan 2012 

Ian Greenfield

GLOUCESTERSHIRE, United Kingdom

Linda, if you are in South Carolina there are answers to your prayers in the adjoining state. Ron and Suzanne Joyner have an orchard at Big Horse Creek Farm, in Ashe County NC. They have this variety there, I know, and graft trees to order. They are really helpful and friendly, true apple lovers with a wonderful wide knowledge. They will help you for sure.

08 Sep 2011 

Richard Pollitt

DERBYSHIRE, United Kingdom

I have a 6 year old cordon and I would recommend this apple very productive each year (you have to thin out alot as a cordon) medium large, very clean fruit with a good taste(medium sweet with acid tinge - but not really King of anything) and pleasing crunch, try to ripen as long on tree gets a yellow hint to the green?

14 Jun 2011 

Linda Stowe

SOUTH CAROLINA, United States

I'm actually from England, but now live in SC, USA. We used to have a King of the Pippin apple tree in our garden back in Thetford, Norfolk, England, which had the best tasting apples I've ever tasted. I wondered if it would be possible to grow one of these trees in South Carolina, USA, and if so, if you knew where I might purchase one to plant and grow her, please? They are fantastic little apples! Thanks, Linda

20 Oct 2008 

Sandy Norman

HERTS, United Kingdom

This apple tree has been in our garden for about 60 years or more. We get a good crop every two years. The flavour is superb and we love it for its juicy taste. It spoils us for other apples!
Tree register
Spring blossom records for this variety
2022 season
2018 season
2017 season
2016 season
2015 season
2011 season
2010 season
Record your blossom dates in our Fruit Tree Register - more >>.
Harvest records for this variety
2017 season
2016 season
2015 season
2010 season
Origins
Species: Malus domestica - Apple
Parentage: Unknown
Originates from: France
Introduced: 1770s
UK National Fruit Collection accession: 1957-218
Identification
Awards: RHS AGM (current)
Country of origin: France
Period of origin: 1800 - 1849
Fruit colour: Orange flush
Flower colour: Pink - light
Leaf colour: Green
Popularity: Rarely grown
Annual cycle: Deciduous
Using
Picking season: Late
Keeping (of fruit): 3 months or more
Flavour quality: Good
Flavour style (apples): Sweet/Sharp
Cooking result: Keeps shape
Cropping: Good
Food uses: Eating fresh
Food uses: Culinary
Food uses: Juice
Food uses: Hard cider
Food uses: Dual purpose
Picking period: early October
Wildlife: RHS Plants for Pollinators
Growing
Gardening skill: Average
Flowering group: 4
Pollinating others: Average
Ploidy: Diploid
Vigour: Slightly small
Bearing regularity: Regular
Fruit bearing: Spur-bearer
Self-fertility: Partially self-fertile
Climate
Climate suitability: Temperate climates
Summer average maximum temperatures: Cool ( 20-24C / 68-75F)
Summer average maximum temperatures: Warm (25-30C / 76-85F)
Cold hardiness (RHS): H6 (to -20C)
Other qualities
Disease resistance: Average
Cedar apple rust: Some resistance
Scab (Apple and Pear): Some susceptibility
Where to buy trees
The following tree nurseries offer King of the Pippins apple trees for sale:
Where to buy fresh fruit
The following orchards grow King of the Pippins:
United States
United Kingdom
England - midlands

England - north
Australia
References
Apples of England (1948)
Author: Taylor