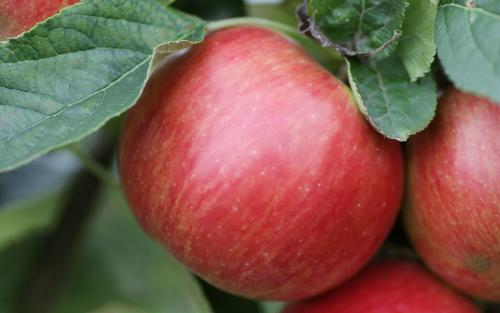 Idared - the red apple from Idaho - is an attractive apple with a mild apple flavor.
Its main feature is its remarkably long storage potential - even in a domestic fridge it will readily keep for 6 months. As a result it has become quite popular, both in North America and Europe, even though its flavor probably only rates as average.
Idared apple identification images
All images copyright Orange Pippin unless otherwise stated.
USDA identification images for Idared
The identification paintings in the USDA Pomological Watercolor Collection span the years 1886 to 1942.
Citation: U.S. Department of Agriculture Pomological Watercolor Collection. Rare and Special Collections, National Agricultural Library, Beltsville, MD 20705.
Visitor reviews
19 Aug 2023 

Jonathan

I live in the south of France and planted idared about three yrs ago now this the the tree is 3 metres and about 40 apples some small and maybe 10 large. The not a huge flavour but is crisp and fresh not bad but not a wow apple. I am happy to grow any apples in our heat of 30 degrees

21 Oct 2020 

Frank Steffens

MAYO, Ireland

I have 37 different apple varieties on my orchard. Idared would be one og my favorites. A very tasty, beautiful apple when picked and eaten fresh. Don't like it that much after it's stored for 3-4 weeks. Gets very floury and loses taste.

09 Oct 2020 

David Demmon

OHIO, United States

One of the worst tasting apples I have ever had coming fresh from a local orchard.

22 Mar 2018 

Steven Mounfield

STOKE-ON-TRENT, United Kingdom

Perhaps Idared has better quality fruit in areas with colder winters than here in Britain. My own tree has good yield for a cordon and the fruit keeps well into spring. However it is completely tasteless and has no value as a dessert variety. It is better in pies with some spices, but can't compare to more well-known cooking varieties.

10 Nov 2015 

Chris Crick

WASHINGTON, United States

Does anyone ship Idareds like to Colorado?

13 Oct 2012 

Candice

NY, United States

I have no idea how a person can manage to get a couple hundred apples in a crisper in a refridgerator. At least not the size apples we get here in NY. They must have been awful small, maybe more like crabapples????? I have seen apples in Arizona and they don't grow much bigger than crabapples.

06 Sep 2012 

Sid

ARIZONA, United States

We have a Granny Smith and an Ida Red, both about 20 years old growing at our cottage near Show Low, Arizona (Alt 6,000 ft). Late frosts means no apples in many years, but this year both produced huge quantities. The Ida is the best! Great pies, cakes and applesauce, and we will store a couple of hundred in the crisper of our beer fridge, to enjoy during the warm Arizona winter.

30 Oct 2011 

Glenn Smith

WI/BARRON, United States

We have been buying Idareds in the fall for at least 4 years. With refrigeration they keep until June. Flesh is crisp and white with sweet/tangy flavor similar to Jonathon. Excellent for pies, baking, frying, eating fresh

14 Oct 2011 

Betty

ONTARIO, Canada

I picked some Ida Red apples from a local Orchard and they are perfect large juicy firm apples.A good choice !

06 Oct 2011 

Boyd

NEW BRUNSWICK, Canada

I bought a bag of Ida Reds on my way back from Nova Scotia, and they taste suspiciously like McIntosh; not like some Ida Reds I purchased a few years ago which as I recall were sweet and quite firm. The apples I just bought are tangy and somewhat soft. I'm not satisfied with them. Next time I buy an Ida Red, I will sample it first.

10 May 2009 

Nancy Wilson

ONTARIO, Canada

This apple,honestly, doesn't number among my favourites, but it's very useful because it keeps in ordinary cool basement storage extremely well, better than a Golden Russet or Northern Spy(which are traditional Canadian/American winter storage varieties).I wouldn't grow this if I was limited to just a few trees because there are better tasting varieties. But for homegrown apples in late winter, it's the best keeper I've found. It's pretty good in pies, too, although I've never seen it listed as a cooking apple.

13 Nov 2008 

Garry Ladouceur

PAYERNE, Switzerland

A wonderful sweet yet sharp taste that remains consistent. I have rarely ever found a "wooden" tasting Idared.
Tree register
Spring blossom records for this variety
2022 season
25th April  2022  - tree owned by James in Glynn,, Ireland
2011 season
May  2011  - tree owned by Leslie in Kelowna, Canada
May  2011  - tree owned by v in Lucknow, Canada
13th April  2011  - tree owned by James in Melbourne, United Kingdom
2010 season
April  2010  - tree owned by Leslie in Kelowna, Canada
Record your blossom dates in our Fruit Tree Register - more >>.
Harvest records for this variety
2016 season
2013 season
2011 season
2010 season
Origins
Species: Malus domestica - Apple
Parentage: Jonathan x Wagener
Originates from: Moscow, Idaho, United States
Introduced: 1930s
Developed by: Idaho Agricultural Experimental Station
UK National Fruit Collection accession: 1976-146
Some historical details taken with kind permission from 'The New Book of Apples' by Joan Morgan and Alison Richards , illustrated by Elisabeth Dowle, published by Ebury Press, 2002.
Identification
Country of origin: United States
Period of origin: 1900 - 1949
Fruit colour: Red
Flower colour: Pink - light
Leaf colour: Green
Annual cycle: Deciduous
Awards: RHS AGM (former) 

1993

Alleles: 3
Alleles: 7
Using
Picking season: Late
Keeping (of fruit): 3 months or more
Flavour quality: Good
Flavour style (apples): Sweet/Sharp
Discoloration of fruit: Oxidising
Cropping: Heavy
Fruit persistence: Ripens over a period
Food uses: Eating fresh
Food uses: Culinary
Food uses: Juice
Picking period: mid-October
Wildlife: RHS Plants for Pollinators
Growing
Gardening skill: Beginner
Flowering group: 2
Pollinating others: Average
Ploidy: Diploid
Vigour: Average vigour
Precocity: Precocious
Bearing regularity: Regular
Fruit bearing: Spur-bearer
Self-fertility: Not self-fertile
Climate
Frost resistance of blossom: Good resistance
Cold hardiness (USDA): (3) -40F / -40C
Climate suitability: Temperate climates
Climate suitability: Warm climates
Summer average maximum temperatures: Cool ( 20-24C / 68-75F)
Summer average maximum temperatures: Warm (25-30C / 76-85F)
Cold hardiness (RHS): H6 (to -20C)
Other qualities
Disease resistance: Average
Powdery mildew: Some susceptibility
Fire blight: Some susceptibility
Cedar apple rust: Some susceptibility
Where to buy trees
The following tree nurseries offer Idared apple trees for sale:
Where to buy fresh fruit
The following orchards grow Idared:
United States
Arizona

Colorado

Connecticut

Illinois

Indiana

Iowa

Kentucky

Massachusetts

Michigan

Nebraska

New Hampshire

New Jersey

New York

North Carolina

Ohio

Oregon

Pennsylvania

Rhode Island

Utah

Vermont

Virginia

Washington

Wisconsin
United Kingdom
England - midlands

England - south-east
France
Canada
Australia
References
Cedar-Apple Rust  
Author: Stephen Vann, University of Arkansas, Division of Agriculture (FSA7538)
Rated as susceptible - control usually needed where CAR is prevalent.
Apples for the 21st Century
Author: Manhart
Fruit Expert
Author: Hessayon