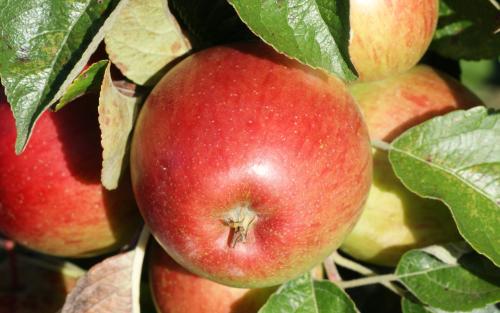 The parentage of this variety - Malinda x Wealthy - was verified by DNA tests in 2004.
Haralson apple identification images
All images copyright Orange Pippin unless otherwise stated.
USDA identification images for Haralson
The identification paintings in the USDA Pomological Watercolor Collection span the years 1886 to 1942.
Citation: U.S. Department of Agriculture Pomological Watercolor Collection. Rare and Special Collections, National Agricultural Library, Beltsville, MD 20705.
Offspring of this variety
Visitor reviews
20 Oct 2023 

Rose Bennett

Wow...What a great apple. We got to eat 3 apples from our newly planted tree. Great flavor, juicy and crisp. Looking forward to next years batch.

17 Nov 2022 

Don Birkholz

I am in Zone 4 (used to be Zone 3). I planted this variety around 1973 and it is still going strong. The apples are a little on the tart side as they may not ripen completely here. Dependable. My number one variety.

03 Oct 2022 

Renee

Wow the most Prolific apple tree we've ever owned! We live in Michigan and we planted this tree four or five years ago. It looks like we're going to harvest several bushels off the small tree. The apples are free of most bugs without any spray whatsoever we can't believe it. Medium to large and very crisp. I can't wait to try them in a pie or some applesauce. If you live in a northern climate don't hesitate to buy this tree.

29 Apr 2021 

Cathy

MN, United States

As far as I am concerned, there is no other apple worth eating, once you have tasted a Haralson. All my neighbors beg for apples off my tree, and say that they are the best apples they have ever tasted. I agree 100%.

06 Sep 2018 

Cathy

MINNESOTA, United States

Wonderful apple for baking. It holds it's shape and doesn't mush up. Great flavor for pies.

31 Aug 2018 

Mary Rini

IN, United States

We have 2 Haralsons almost 30 years old. The apples make the best sweet (not hard) cider we have ever tasted. Our friends rave about the flavor and bed for more. We have a little party to harvest and press each large crop year.

29 Jun 2018 

Bruce Jacobs

United States

We never peal our Harolson before baking. The peels dissolve and add a wonderful flavor. Often, we are asked "is there some rhubarb in this pie?" It is also a lot less work...

02 Nov 2016 

Sumitra

CA, United States

I grew up in Wisconsin in the 1960's and went apple picking with my Dad every fall. There used to a a couple of apple orchards outside our town and they were filled with Haralsons, Cortlands, and Macs. It was heaven.

23 Oct 2016 

Richard Stevens

CO, United States

I have had a Haralson for more than 20 years. Excellent bearer every other year, smaller crop in off years. Has not been bothered by fire blight although I have lost many other varieties from the disease. Excellent all-purpose apple (fresh, baking, cooking). Very good flavor.

07 Sep 2015 

Gordon

SD, United States

My tree is 14 years ol and is very healthy. I do prune every March. Water it weekly, and fertilize twice in summer. Spray every 10 days. It is a BIENNIAL. This is theoff year. I will get one pickle pail full of apples. I gather the drops every morning and when I get a dozen I make applesauce. I planted a Haralred last fall and a Connel and Honey Crisp this spring. I'll keep adding 3-4 trees every year.

04 Sep 2015 

Darryl Preisentanz

MANITOBA, Canada

Excellent apple for eating or pies. Late ripening/ needs to freeze before picking usually around Halloween-End October. Easily succumbs to Fire Blight. Both Haralson and Goodland excellent for cold climate.

12 Apr 2015 

Carol Klemz

OR, United States

Produced young; 3 or 4 years. Great flavor! Fruit size is good and quantity prolific. Our late frosts which nip the blooms challenge most apple trees but not the Haralson! Vigorous and disease resistant. Love this tree!

19 Oct 2014 

Matt

IOWA, United States

Dang good! Just made apple sauce and crisp with these apples and in the spring I will be grafting this tree to add to my orchard. I had to add a little sugar so my two year old will eat it but still damn good apple

28 Sep 2014 

Jean Thums

WI, United States

I have 0ne Haralson tree and it produces wonderfully each year: but so many apples have blemish that is black and does not sink deep into the apple; but I wonder if this is normal. This happens every year: we have other apple trees of other kinds but none of them have this. Can you comment?

22 Sep 2014 

Linda Dudley

MOWER COUNTY / MN, United States

I love my two Haralson dwarf trees. This year is the heavy, and I mean heavy, year! We had our first frost about a week ago so the apples should be ready in a few more days. That cold snap really brings up the sugars and changes the apple from tart to sweet. If you live in cold-country, be patient if you haven't had a cold snap. :-)

14 Sep 2014 

Tina

ID, United States

It is mid-Sept and we are still waiting to harvest our Haralson tree, but they seem like they will be delicious from the ones we've tasted. It is planted next to a Honeycrisp which was devoured by insects of all sorts. The Haralson was not bothered at all by the insects. The tree is only 3 years old and I will be getting a good crop of apples from in.

27 Aug 2014 

Joan Bailey

AB, Canada

We live in Calgary Alberta Canada and have (according to my dad, who planted it 40+ years ago) a Haralson in our yard. The apples have rarely turned red, barely even pink-tinged. They are green and small. Often, they start falling off in August. We have many more apples than we can use - hundreds. Over the years, we have eaten them in pies, desserts, as applesauce and juiced them. Last year a gung-ho neigbour picked them ALL and made cider, though we haven't heard about or tasted the results. I just picked and ate one today, Aug 27, 2014 and it is crisp and nice, not too tart to eat off the tree. I'm wondering if this tree is maybe not Haralson? Or maybe they never get red or larger because we live in such a short-summer climate? The seeds in the one I picked today are white. Not fully ripened?

04 Oct 2013 

Joyce Jensen

MISSOURI, United States

We have a 3 year old tree in mid-Missouri and got about 30 apples from it this year! Love the flavor- I need to plant more!

29 Sep 2012 

Dan

MN, United States

We have one tree that is just plain incredible...we had/have a harvest this year that was/is super!! Great size, great taste! Perfect with carmel dip or carmel apples!! With the late season drought, we watered and kept the tree from early drop...was worth it! I like the way they do not turn brown quickly after cutting...nice white coloration that stays!!

21 Sep 2011 

Susan Weitzel

NEBRASKA/ SCOTTSBLUFF COUNTY, United States

I recently harvested a Haralson tree in my backyard. I live in a cold climate with harsh winters that get 20 below zero. I am pleased with the apple crop that was produced from my five year old tree. They also weathered hail storms in June.

10 Sep 2011 

Allison Stolz

MINNESOTA, HENNEPIN, United States

Complex flavor. Very cold hardy
Tree register
Canada
Cody in BEAUMONT, ALBERTA
Spring blossom records for this variety
2019 season
2016 season
2014 season
2013 season
2012 season
Record your blossom dates in our Fruit Tree Register - more >>.
Harvest records for this variety
2016 season
2013 season
2012 season
2011 season
Origins
Species: Malus domestica - Apple
Parentage: Malinda x Wealthy
Originates from: Excelsior, Minnesota, United States
Introduced: 1913
Developed by: University of Minnesota Fruit Breeding Farm
UK National Fruit Collection accession: 1966-037
Identification
Country of origin: United States
Period of origin: 1900 - 1949
Fruit colour: Green - light
Fruit colour: Orange / Red
Fruit colour: Orange flush
Annual cycle: Deciduous
Flowering duration: Average (2-3 weeks)
Fruit size: Average
Developer: University of Minnesota
Using
Picking season: Very late
Keeping (of fruit): 3 months or more
Flavour quality: Good
Flavour style (apples): Sharper
Cooking result: Keeps shape
Cropping: Heavy
Fruit persistence: Normal ripening
Food uses: Eating fresh
Food uses: Culinary
Food uses: Juice
Food uses: Dual purpose
Picking month: October
Picking period: late October
Picking period: early November
Wildlife: RHS Plants for Pollinators
Growing
Gardening skill: Average
Flowering group: 3
Pollinating others: Average
Ploidy: Diploid
Vigour: Average vigour
Bearing regularity: Regular
Fruit bearing: Spur-bearer
Self-fertility: Not self-fertile
Climate
Cold hardiness (USDA): (3) -40F / -40C
Climate suitability: Temperate climates
Cold-hardiness: Cold-hardy
Summer average maximum temperatures: Cool ( 20-24C / 68-75F)
Summer average maximum temperatures: Warm (25-30C / 76-85F)
Other qualities
Disease resistance: Good
Fire blight: Some resistance
Cedar apple rust: Some resistance
Scab (Apple and Pear): Some susceptibility
Where to buy trees
The following tree nurseries offer Haralson apple trees for sale:
Where to buy fresh fruit
The following orchards grow Haralson:
United States
Colorado

Idaho

Illinois

Indiana

Iowa

Michigan

Minnesota

Montana

Nebraska

Pennsylvania

South Dakota

Wisconsin
Canada