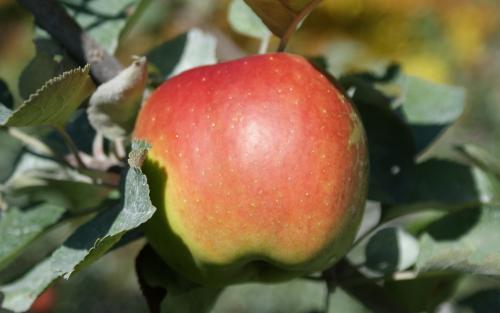 Baldwin was one of the most important American commercial apples in the 19th century, being an excellent keeping apple and with a fairly thick skin which made it able to withstand long-distance transportation.
Baldwin is a genuine dual-purpose apple. The flavor for eating fresh is sweet and unpretentious, but crisp and pleasant. It is equally at home in the kitchen where it retains its shape when cooked, and lends a moderately rich sweet flavor to apple pies.
Baldwin apple identification images
All images copyright Orange Pippin unless otherwise stated.
USDA identification images for Baldwin
The identification paintings in the USDA Pomological Watercolor Collection span the years 1886 to 1942.
Citation: U.S. Department of Agriculture Pomological Watercolor Collection. Rare and Special Collections, National Agricultural Library, Beltsville, MD 20705.
Visitor reviews
04 Dec 2022 

Nadine

Hello, I am so interested to buy the badwin apples. I live in washington state. What Can I do for buying them . Thank you and have a wonderful weekend!! Nadine

26 Sep 2017 

Melinda Lee

FL, United States

What does it mean "winter"? We have this antique apple tree on our property in Brewster, MA...GREAT taste, fantastic in pies....neighbors are making applesauce! It actually is almost a shame to use these beauties in applesauce....perfect for the French Tartartine (forgive spelling...I saw it several different ways!)

01 Nov 2016 

Mary L. Costa

CT.06002, United States

Where can I find Baldwin apples in Connecticut?????

09 Nov 2013 

Dan Lefever

PENNA /CHESTER CO.(SE PA), United States

Why no photos for such a well known apple? Ian Merwins linked pdf, Antique apples for modern orchards, shows a photo completely different color than description in website. Merwins picture and description match the tree I grew up with that my father planted and identified as Baldwin, a flattened, 3 inch, burgundy red with very prominent lenticels; not the colors described above and similarly elsewhere. Could there be two varieties masquerading as Baldwin? What does Downing say in Apples of New York?

04 Sep 2013 

Beth Parkhurst

MA, United States

Baldwins are terrific for pies--one of the two varieties I use from mid-fall on. When I use Baldwins I use only a bit of nutmeg or cinnamon so the apple flavor can stand out. Excellent keeper, too.

28 Oct 2012 

Kevin

MA, United States

Exceedingly crisp and nice eating apple. Browned quickly. Large and flavorful. Skin was indeed thicker than many apples, but entirely pleasant to eat. Purchased at a road side stand near Walden Pond, MA late October.

12 Oct 2012 

Sandy Hug

OR...BENTON CO., United States

We bought our farm almost 50 years ago. The older lady we bought from said two of the apple trees were Balwins. There were two Gravenstein, also. These are wonderful winter apples. We can keep some in the fridge 3-4 months.

07 Oct 2011 

J. Daniel Moylan

MA 02446, United States

my all time favorite apple. wonderful firm textured, tart, delicious when eaten fresh, and absolutely splendid in pies, where they hold their shape and are equally delicious.

10 Oct 2010 

Laurie

MA, United States

My mother's favorite. Getting harder to find in MA each year. Last year ordered some and got a bushel of something else. Looking for a source!

03 Oct 2010 

Mona Phillips

OH, United States

When we bought our home here in 1963 I researched apples and decided Baldwin would be good. Didn't realize how big the tree would be; should have pruned it. Squirrels and birds love the top apples. Many fall on the driveway and get half squashed. Even so, more than I can use--pies, canned apple sauce, so sweet no sugar needed. Delicious. Tree still healthy.

14 Sep 2010 

Harry Mccue

NY/SENECA, United States

I have an old (80-90yr) and a new (12-14yr)orchard and have heirloom varieties. The Baldwins are pretty pest resistant as I do not spray at this time. I have a good crop this year and hope I can find a buyer.

29 Sep 2009 

Rich Reynolds

NISKAYUNA, NY, United States

When I was growing up in the Landing section of Glen Cove, NY we had a pair of these monster apple trees in our double-sized lot. They were 35-40 ft high, and wider than they were tall. The branches were pockmarked with woodpecker holes. In the spring our yard was full of apple blossom petals. They were large apples, firm, and a bit tart, but my mother made great pies out of them. By the mid-1960's they were beginning to decline and were losing branches so we had them removed. They must have been close to 100 years old. A great apple if you can find it.

26 Sep 2009 

Howard E.Bell

VALDOSTA, GEORGIA 31602, United States

When I ived in R. I., my mother preferred Baldwin apples for pies. I emember them asbeingmildly tart and sure wish I could procure them here iin Georgia. If there is a source. Sure would appreciate knowing it I traveled in my military career quite a bit and have always loked for Baldwin Apples.

02 Aug 2009 

Drew Shifley

GALION OHIO, United Kingdom

Baldwin is a steady producer. When other apple trees have failed to produce due to bad weather Baldwin produces a crop of not excellent but good apple with a pleasant taste.

24 Sep 2008 

Mary

BOSTON, United States

This is not a bad apple to munch on; not far from where I am there is a man with this on his property (which in turn was a farm once.) He recently identified what he had with the help of an arborist to see if the apples were good to eat-now he can't keep people away!!Soon, it shall be time to go round there to check it out...I cannot wait...
Tree register
Spring blossom records for this variety
2020 season
2016 season
2015 season
2014 season
2012 season
2011 season
2010 season
2009 season
Record your blossom dates in our Fruit Tree Register - more >>.
Harvest records for this variety
2015 season
2014 season
2012 season
2011 season
2010 season
2009 season
Origins
Species: Malus domestica - Apple
Parentage: Unknown
Originates from: Boston, Massachusetts, United States
Introduced: 1750s
Developed by: Mrs Butters
UK National Fruit Collection accession: 1921-086
Identification
Country of origin: United States
Period of origin: 1750 - 1799
Fruit colour: Orange flush
Flower colour: Pink - light
Leaf colour: Green
Popularity: Best sellers
Annual cycle: Deciduous
Using
Picking season: Late
Keeping (of fruit): 3 months or more
Flavour quality: Very good
Flavour style (apples): Sweeter
Cooking result: Keeps shape
Discoloration of fruit: Oxidising
Cropping: Good
Fruit persistence: Normal ripening
Food uses: Eating fresh
Food uses: Culinary
Food uses: Juice
Picking period: mid-October
Wildlife: RHS Plants for Pollinators
Growing
Gardening skill: Experienced
Flowering group: 4
Pollinating others: Poor
Ploidy: Triploid
Vigour: Vigorous
Precocity: Slow to start bearing
Bearing regularity: Biennial tendency
Fruit bearing: Spur-bearer
Self-fertility: Not self-fertile
Climate
Cold hardiness (USDA): (4) -30F / -34C
Cold hardiness (USDA): (5) -20F / -29C
Cold hardiness (USDA): (6) -10F / -23C
Cold hardiness (USDA): (7) 0F / -18C
Cold hardiness (USDA): (8) 10F / -12C
Cold hardiness (USDA): (9) 20F / -7C
Cold hardiness (USDA): (10) 30F / -1C
Climate suitability: Temperate climates
Summer average maximum temperatures: Cool ( 20-24C / 68-75F)
Summer average maximum temperatures: Warm (25-30C / 76-85F)
Summer average maximum temperatures: Hot (>30C / 86F)
Other qualities
Disease resistance: Average
Cedar apple rust: Very resistant
Scab (Apple and Pear): Some susceptibility
Powdery mildew: Some susceptibility
Bitter pit: Some susceptibility
Fire blight: Some susceptibility
Where to buy trees
The following tree nurseries offer Baldwin apple trees for sale:
Where to buy fresh fruit
The following orchards grow Baldwin:
United States
Canada
Australia
References
Cedar-Apple Rust  
Author: Stephen Vann, University of Arkansas, Division of Agriculture (FSA7538)
Rated as very resistant - no control needed against CAR.
Apples of England (1948)
Author: Taylor
Some Antique Apples for Modern Orchards, (2008)
Author: Merwin I.A.