Esopus Spitzenburg apple
One of the great American apple varieties, thought to be Thomas Jefferson's favourite. Noted for its spicy flavour, and for its susceptibility to any and every disease afflicting apples.
This highly respected American apple variety is named after the settlement of Esopus, Ulster County, New York, where it was found towards the end of the 18th century. It was rumoured to be Thomas Jefferson's favourite apple. It was widely planted in the USA in the 19th century and used for both dessert and culinary purposes, but subsequently fell out of fashion although it remains a popular variety for gardeners and trees are available from many US nurseries. The apples have an excellent flavor, which improves with storage.
Whilst American apple enthusiasts often seek out European (and especially English) heritage varieties, there is unfortunately little interest in American heritage varieties in Europe. It's apparent from the comments we get from visitors to this website that American and European tastes in apples are quite different, with Europeans apparently prefering slightly more complex flavours. However, if there was ever an American variety that should appeal to European tastes, it must be Spitzenberg. The flavour is truly aromatic and matches the complexity of the English aromatic apples. The flesh is a buttery dense yellow, and there is a rich sharpness which is often characteristic of high quality dessert apples. Eating a Spitzenberg is a thoroughly enjoyable experience. In terms of supermarket varieties, the closest match is probably Jazz, which also has similar dense flesh and rich sharp flavours.
It's unfortunate that some of the best flavoured apples are also the least reliable to grow (think Cox's Orange Pippin). Spitzenberg also falls into this category. One of our listed suppliers, Cummins Nursery, rates Spitzenberg as "susceptible to about all the common diseases". It is also relatively difficult to get hold of trees of this variety in Europe, although specialist suppliers may be able to graft to order. To make matters even worse, like many American varieties Spitzenberg needs good levels of sunshine and ripens quite late in the season - so northern European gardeners will need to find a sheltered south-facing wall for best results. However the effort is probably worth it, since Spitzenberg is a superb eating apple.
We are grateful to the Defra UK National Fruit Collection for tasting samples of this apple variety.
Last updated 08 Jul 2012.
Summary
Species: Malus domestica
Parentage: Unknown
Origin: Esopus, New York, United States
Introduced: Early 1800s
Orange Pippin Cultivar ID: 119300
Some historical details taken with kind permission from 'The New Book of Apples' by Joan Morgan and Alison Richards , illustrated by Elisabeth Dowle, published by Ebury Press, 2002.
Identification
Fruit colour: Red / Orange flush
Flesh colour: Cream
Fruit size: Medium
Bultitude apple group: 7. Flushed / striped, some russeting, sweet
Using
Good for eating fresh
Good for cooking
Good for juice
Flavour quality: Exceptional
Flavour style: Aromatic
Ripening period: Late season
Use / keeping: 3 months or more 

Should be stored for at least a month before eating.
Growing
Cropping: Heavy
Flowering period: Mid-Late season
Flowering group: 4
Fertility: Self-sterile
Triploid: No
Vigour: Slightly large
Biennial tendency
Gardening skill: Some skill needed
Fruit bearing: Spur-bearer
General disease resistance: Poor
Climate
Suitable for warm climates
Suitable for temperate climates
Tolerates cold winters
Disease resistance
Cedar apple rust  - Some susceptibility
Bacterial canker 

Pseudomonas syringae

  - Very susceptible
Scab  - Very susceptible
Fireblight  - Very susceptible
Relationships to other varieties
Offspring of this variety:
Esopus Spitzenburg identification photos from official fruit collections
ARS GRIN
©Copyright

UK National Fruit Collection
©Crown Copyright
more >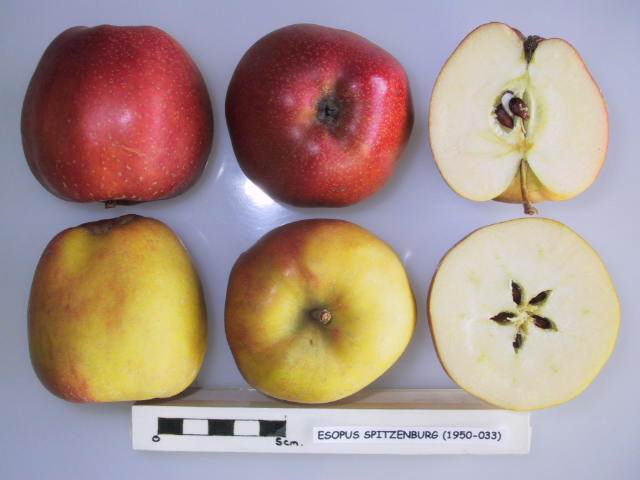 Esopus Spitzenburg identification photos from website visitors
Esopus Spitzenburg


Esopus Spitzenberg


Fruit tree register
Do you have a tree of this variety in your garden or orchard? If so please register the details here and contribute to our international register of fruit trees.
The following Esopus Spitzenburg trees have been registered - click the name to view more details of each tree.
You can also view these trees on a map.
United States
Netherlands
Canada
Latest Spring blossom records for this variety
2013 season
6th April  2013  - tree owned by Libba in ALBUQUERQUE, United States
2012 season
9th May  2012  - tree owned by James in ESTACADA, United States
5th May  2012  - tree owned by Florian in Brush Prairie, United States
2011 season
May  2011  - tree owned by v in LUCKNOW, Canada
Record your blossom dates in our Fruit Tree Register - more >>.
Latest harvest records for this variety
2013 season
2012 season
2011 season
Where to buy apple trees
The following fruit tree nurseries offer Esopus Spitzenburg apple trees for sale:
Where to buy apples
United Statesmap >