Cortland apple
Cortland is a typical McIntosh style apple variety, and ranks about 12th in terms of US apple production. However nearly all that production takes place in New York State, almost within sight of Cornell University where it was developed at the start of the 20th century.
Cortland is also widely grown across the border in Quebec and Ontario, and it has proven itself to be well-suited to the freezing temperatures experienced around the Great Lakes.
As with all McIntosh varieties, Cortland is at its best when eaten soon after being picked. The sweet flavour fades quickly, as does the crispness.
An interesting characteristic of Cortland is that the flesh does not go brown very rapidly after being cut.
The cut-out photo in our description is of a UK-grown Cortland apple, whereas the other photos are from the USA and Canada, showing how the sunny but cold autumn climate of North America produces a better colour than the cloudy mild climate of the UK.
Last updated 27 Jan 2013.
One of the more successful McIntosh offspring, with all the usual characteristics, including the sweet vinous flavour.
Origins
Species: Malus domestica
Parentage: Ben Davis x McIntosh
Originates from: Geneva, New York, United States
Introduced: 1915
Developed by: New York State Agricultural Experiment Station
Orange Pippin Cultivar ID: 118900
We are grateful to Brogdale Farm - home of the UK National Fruit Collection - for providing samples of this variety.
Identification
Fruit colour: Red
Flesh colour: White
Fruit size: Medium
Bultitude apple group: 6. Red flushed, smooth, sweet
Using
Good for eating fresh
Good for cooking
Cooking result: Textured puree
Flavour quality: Good
Flavour style: Vinous
Ripening period: Mid season
Growing
Flowering period: Mid season
Flowering group: 3
Fertility: Partially self-fertile
Triploid: No
Climate
Suitable for temperate climates
Tolerates cold winters
Disease resistance
Scab  - Some susceptibility
Fireblight  - Some susceptibility
Cedar apple rust  - Some susceptibility
Relationships to other varieties
Parents and other ancestors of this variety:
References and further reading
Cedar-Apple Rust  
Author: Stephen Vann, University of Arkansas, Division of Agriculture (FSA7538)
Rated as susceptible - control usually needed where CAR is prevalent.
Cortland identification photos from official fruit collections
UK National Fruit Collection
©Crown Copyright
more >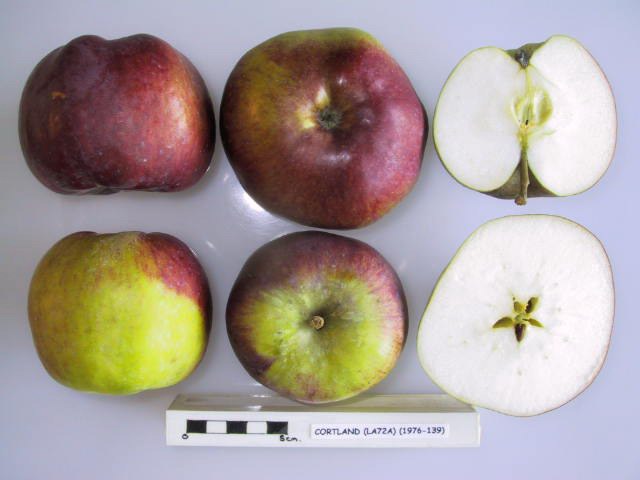 Cortland identification photos from website visitors
Red Cortland, Ontario


Organic Cortland apples in New Hampshire


Cortland apple from Ontario


Fruit tree register
Do you have a tree of this variety in your garden or orchard? If so please register the details here and contribute to our international register of fruit trees.
The following Cortland trees have been registered - click the name to view more details of each tree.
You can also view these trees on a map.
United States
Canada
Latest Spring blossom records for this variety
2013 season
9th May  2013  - tree owned by Alison in HADLEY, United States
2012 season
Record your blossom dates in our Fruit Tree Register - more >>.
Latest harvest records for this variety
2013 season
2012 season
Where to buy apple trees
The following fruit tree nurseries offer Cortland apple trees for sale:
Where to buy apples
United Statesmap >