Beauty of Bath apple
Beauty of Bath is an attractive early-season English apple, hailing from the Victorian era. It will ripen in mid-July in southern England.
Beauty of Bath was grown commercially in Victorian times because it was one of the earliest-ripening varieties then available, and it is a heavy-cropper with good disease resistance. There is no commercial demand for this type of apple today because the market for apples in early summer in the northern hemisphere is dominated by high quality late-season varieties imported from the southern hemisphere. Late season apples store and handle much better than early season varieties. Indeed Beauty of Bath is best eaten straight from the tree, as it does not keep more than a day or so. Although the flavour does not compare with later season apples, Beauty of Bath would have been a welcome sight in early August for the Victorian apple enthusiast, as the first sign of the new apple season. Like most early varieties it is primarily quite a sharp flavour, but can be sweet if you catch it before it becomes over-ripe.
It is likely that Beauty of Bath is one of the parents of Discovery, probably the most famous English early-season apple. This is historically likely, given that Beauty of Bath was grown quite widely in England, but another common characteristic of Discovery is the way the red skin bleeds into the white flesh - a characteristic also found in Beauty of Bath.
Beauty of Bath remains a popular garden apple variety in England, although somewhat eclipsed by the later summer apples such as Worcester Pearmain and Discovery.
Last updated 24 Nov 2012.
A popular English garden apple from the Victorian era, one of the first to ripen.
Origins
Species: Malus domestica
Originates from: Bath, Somerset, England, United Kingdom
Introduced: Late 19th century
Orange Pippin Cultivar ID: 123100
Some historical details taken with kind permission from 'The New Book of Apples' by Joan Morgan and Alison Richards , illustrated by Elisabeth Dowle, published by Ebury Press, 2002.
Identification
Fruit colour: Red / Green
Flesh colour: White
Fruit size: Small
Bultitude apple group: 4. Flushed / striped, smooth, dessert / dual-purpose
Using
Good for eating fresh
Flavour quality: Average
Flavour style: Sharper
Ripening period: Early season
Use / keeping: Does not keep
Growing
Cropping: Heavy
Flowering group: 2
Fertility: Self-sterile
Triploid: No
Vigour: Slightly large
Gardening skill: Very easy
Fruit bearing: Spur-bearer
General disease resistance: Good
Climate
Suitable for temperate climates
Tolerates cold winters
Blossom frost-resistance: Some resistance
Disease resistance
Scab  - Very resistant
Bacterial canker 

Pseudomonas syringae

  - Some resistance
Mildew  - Some resistance
Bitter pit  - Some susceptibility
Pests
Woolly aphid  - Some resistance
Relationships to other varieties
Offspring of this variety:
Discovery - Beauty of Bath is thought to be a parent of Discovery.
Beauty of Bath identification photos from official fruit collections
UK National Fruit Collection
©Crown Copyright
more >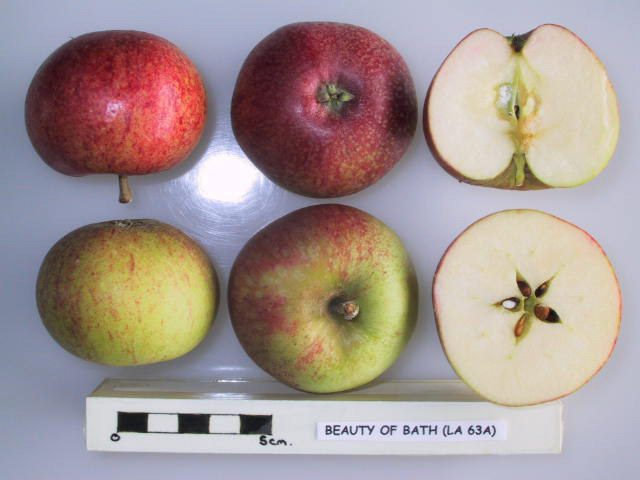 Beauty of Bath identification photos from website visitors
Beauty of Bath


Beauty of Bath


Beauty of Bath


Fruit tree register
Do you have a tree of this variety in your garden or orchard? If so please register the details here and contribute to our international register of fruit trees.
The following Beauty of Bath trees have been registered - click the name to view more details of each tree.
You can also view these trees on a map.
United Kingdom
Ireland
New Zealand
Switzerland
Latest Spring blossom records for this variety
2013 season
15th May  2013  - tree owned by Jean in Martock, United Kingdom
2012 season
5th May  2012  - tree owned by Wendy in Folkestone, United Kingdom
27th April  2012  - tree owned by Remy in BUCKINGHAM, United Kingdom
April  2012  - tree owned by Graham in COLDSTREAM, United Kingdom
2011 season
2010 season
2009 season
May  2009  - tree owned by Alan in BRISTOL, United Kingdom
19th April  2009  - tree owned by N. in CAMBRIDGE, United Kingdom
Record your blossom dates in our Fruit Tree Register - more >>.
Latest harvest records for this variety
2013 season
2012 season
September  2012  - tree owned by Graham in COLDSTREAM, United Kingdom
3rd week July  2012  - tree owned by Helmut in NEUKIRCH, Switzerland
January  2012  - tree owned by Katrina in NELSON, New Zealand
2011 season
2010 season
2009 season
Where to buy apples
United Kingdommap >
England - south-eastmap >

England - south-westmap >