Ashmead's Kernel apple
An old nondescript green russeted apple, originating in the 1700s. The appearance is, let's be honest, not especially attractive. Ashmeads Kernel is lumpy, mis-shapen, and rather small. The underlying bright green skin is entirely covered in russet. Russet can be very appealing- think of the dull golden glow of Egremont Russet for example - but somehow on Ashmead's Kernel it just looks plain dull.
Yet appearances can be deceiving. Ashmeads Kernel has remained popular for well over 2 centuries, and with good reason: it has a distinctive flavour which is quite different from most other varieties. Tasters rarely agree on exactly what the elusive flavour reminds them of, but pear drops is probably close.
It is perhaps no surprise that Asmeads Kernel does not seem to be related to any of the mainstream apple varieties, although one of its probable cousins - Duke of Devonshire - is also quite well known. The name "kernel" suggests that this variety was discovered as a chance seedling.
Ashmead's Kernel is a versatile apple, not just for eating fresh, it can also be used for salads and cooking, and it is a highly-valued apple for juicing and hard cider.
For gardeners Ashmead's Kernel's quirky character can make it less than straightforward to grow. Unlike modern apple varieties which tend to be quite precocious, Ashmead's Kernel takes its time (3-4 years) to come into bearing. Once it does, cropping can be still be light to average because Ashmead's Kernel flowers erratically. Pollination is also difficult. Although Ashmead's Kernel is considered a conventional diploid variety (2 sets of chromosomes), its unreliable pollination characteristics have led some researchers to suggest it might be a triploid variety (3 sets of chromosomes). In any case, Ashmead's Kernel greatly benefits from having other good pollinating varieties nearby - Golden Delicious is a good choice.
Ashmead's Kernel is also one of a very small band of apple varieties from the Old World that succeeded in the New World. When the first settlers arrived in North America they brought with them tried and tested varieties from Europe, yet few adapted to the very different climates of North America and most of the early successful American apple varieties were chance seedlings which evolved in America. However Ashmead's Kernel did thrive, and today holds a position of respect on both sides of the Atlantic - it will never be a mainstream variety and placed alongside almost any modern variety, Ashmeads Kernel looks completely outclassed. But in the flavour stakes this old-timer holds its own.
Last updated 25 Mar 2013.
A very old apple variety, with a drab appearance which belies a unique peardrop flavour. Ashmead's Kernel is also one of very small number of English apple varieties that also thrives in North America.
Origins
Species: Malus domestica
Parentage: Unknown
Originates from: England, United Kingdom
Introduced: 1700s - early
Orange Pippin Cultivar ID: 100400
Identification
Fruit colour: Yellow / Gold
Bultitude apple group: 8. Russeted, sweet
Using
Good for eating fresh
Good for juice
Good for hard cider
Flavour quality: Very good
Flavour style: Pear drop
Ripening period: Late season
Use / keeping: 3 months or more
Vitamin C content: Low
Growing
Cropping: Light
Flowering period: Late season
Flowering group: 4
Fertility: Self-sterile
Triploid: Yes
Poor pollinator: Yes
Vigour: Average growth
Gardening skill: Some skill needed
General disease resistance: Average
Climate
Suitable for temperate climates
Tolerates cold winters
Other qualities
RHS Award of Garden Merit 

1993
Disease resistance
Scab  - Some resistance
Mildew  - Some resistance
Cedar apple rust  - Some resistance
Bitter pit  - Some susceptibility
Relationships to other varieties
Close relations of this variety (share 1 parent):
Duke of Devonshire - It is likely that Duke of Devonshire descends from Ashmeads Kernel or shares a common ancestor.
See also:
Ashmead's Kernel identification photos from official fruit collections
ARS GRIN
©Copyright

UK National Fruit Collection
©Crown Copyright
more >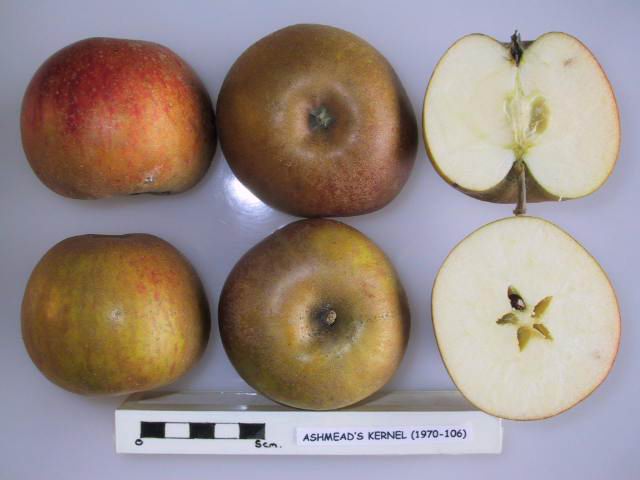 Ashmead's Kernel identification photos from website visitors
Tree after pruning 3/2013

Copyright: W Ross


Newly planted Ashmead's Kernel apple tree

Copyright: Jeff


Ashmead's Kernel blossom

Copyright: Jeff


Fruit tree register
Do you have a tree of this variety in your garden or orchard? If so please register the details here and contribute to our international register of fruit trees.
The following Ashmead's Kernel trees have been registered - click the name to view more details of each tree.
You can also view these trees on a map.
United States
United Kingdom
Canada
Switzerland
Latest Spring blossom records for this variety
2013 season
2012 season
2011 season
2010 season
1st May  2010  - tree owned by Dave in SPOKANE, United States
1st May  2010  - tree owned by N. in CAMBRIDGE, United Kingdom
May  2010  - tree owned by Steve in CHELTENHAM, United Kingdom
2009 season
May  2009  - tree owned by Malcolm in loughborough, United Kingdom
May  2009  - tree owned by Steve in CHELTENHAM, United Kingdom
29th April  2009  - tree owned by N. in CAMBRIDGE, United Kingdom
Record your blossom dates in our Fruit Tree Register - more >>.
Latest harvest records for this variety
2013 season
2012 season
2nd week November  2012  - tree owned by James in ESTACADA, United States
October  2012  - tree owned by Julia in DURHAM, United Kingdom
2nd week September  2012  - tree owned by Andrew in St Saviour, United Kingdom
2011 season
2010 season
2nd week October  2010  - tree owned by Dave in SPOKANE, United States
October  2010  - tree owned by s in FROME, United Kingdom
2009 season
Where to buy apple trees
The following fruit tree nurseries offer Ashmead's Kernel apple trees for sale:
Where to buy apples
United Statesmap >
United Kingdommap >
England - midlandsmap >

England - south-eastmap >

England - south-westmap >