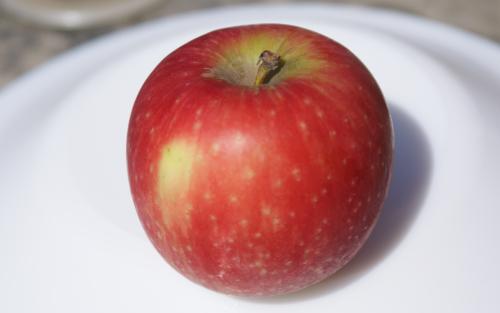 Sundowner® is the lesser-known sibling of Pink Lady®. On this website we tend to use the term "sibling" when talking about apple varieties with common parents. However unlike human children, apple siblings are nearly always raised in separate places by different growers, maybe decades or even centuries apart. However Pink Lady® and Sundowner® really are siblings - not only do they share the same parentage - Golden Delicious and Lady Williams - but they were developed at the same time by the same fruit breeder, John Cripps of Western Australia. Pink Lady® and Sundowner® are trademarks - the actual variety names are Cripps Pink and Cripps Red respectively.
Sundowner® is very much a warm-climate apple. That means it needs long hot summers to ripen, but it also has a low-chill requirement so it can tolerate winters where temperatures are rarely below freezing. (Apples originated in mountainous central Asia and need a period of very cold weather each winter as part of their annual growing cycle).
Sundowner® does not have the distinctive pink blush of Pink Lady®, being a more conventional "bi-coloured" red apple. The flavour is less delicate than Pink Lady®, and slightly more distinctive - in this respect it is probably the better apple.
Although primarily an apple for eating fresh, Sundowner® can be used in the kitchen - it keeps its shape when cooked. For an example see this recipe for Rustic Apple Tart.
Sundowner apple identification images
All images copyright Orange Pippin unless otherwise stated.
USDA identification images for Sundowner
The identification paintings in the USDA Pomological Watercolor Collection span the years 1886 to 1942.
Citation: U.S. Department of Agriculture Pomological Watercolor Collection. Rare and Special Collections, National Agricultural Library, Beltsville, MD 20705.
Parents and other ancestors of this variety
Siblings of this variety (same parentage)
Visitor reviews
30 Apr 2022 

Peter Smith

This variety has a interesting complex flavour that is very appealing. Crisp white flesh. Pick fresh from tree as leaves deteriorate and the cold sets in. Fairly vigorous growing tree.

17 Aug 2017 

Tony

VICTORIA, Australia

I just purchased my first sundowner apple, probably only because they were on special at the supermarket. WOW!! Crisp, juicy, sweet, flavoursome with a crisp clean finish. I am hooked. Now that is what I have been looking for in an apple.

09 Nov 2016 

George Marie

NV, United States

Gave up on it. Only produced one apple for each of the last three years and they never ripened. Something is wrong about the zones, pollination or chill hours for Las Vegas NV area.

14 Jul 2016 

Sandra Thorman

NSW, Australia

My favourite Apple variety. Mostly only found in Woolies in my part of the world, sometimes/rarely Aldi I don't understand why. Pink Lady is too acid for my taste. Fuji is also a favourite but 2nd to Sundowner.

12 Apr 2016 

Jojo

SOUTH AUSTRALIA, Australia

Best Apple available in Oz. I eat 6kg of apples a week, Sundowner bought straight from the grower are the perfect combination of crunch, sweetness and acidity. The perfect apple.

06 Aug 2015 

Liz

VICTORIA, Australia

I have been enjoying Sundowners every day this season for the first time and I love the sharper balance of sweetness and acidity. They also cook really well. A past Pink Lady fan, I am going to look for this variety every year.

25 Jul 2015 

Drew

NSW, Australia

Love Sundowners! They are very similar to Pink Lady apples, which are probably my second favourite (no surprise given they are from the same parentage) but I think Sundowners are better. A perfect balance of sweetness and acidity which leaves me wanting to eat the core (or just going and getting another one out of the fridge!)

14 Jul 2013 

M. Reed

TX, United States

Just had one labeled Joya from a Waitrose in London. S. African origin. Juicy and sweet, not as tart a Cripp's Pink. Browns readily.

14 Apr 2012 

Peter Allderman

CAPE REGION, South Africa

this one really needs a period of cold storage first before it is at its best taste which is rarely straight off the tree. The trademark is being changed from Sundowner(R) to JOYA(R)

16 Nov 2011 

Richard Troon

NSW, Australia

I'm eating one right now, it's super delicious. I can feel the juices dripping down my chin. Munch, munch.

09 Mar 2011 

Cathy Miller

CALIFORNIA, United States

I beleive I have a Sundowner apple tree that I bought from an Asian man years ago. The fruit is really tasty, and ripens in December-January. I need to spray it heavily, though, to avoid coddling moth infestation when it is flowering. Can you suggest a good spray that is organic? My gardening book suggest malithion and that is what I have been spraying. Thanks!Cathy Miller

12 Dec 2010 

Cynthe

ARIZONA / YAVAPAI COUNTY, United States

New to Sundowner apples, which we bought at our local farm market yesterday. SUPERB fresh eating apple! Crisp, juicy, tart-sweet, incredible. (But the sellers had the genetic history all wrong...thought they were a cross between Pink Ladies & Fujis.) Baked a simple rustic apple tart last night with two leaving the skins on the thin slices. Will say they bake beautifully, retaining their shape...and don't turn to mush. Also, THANKS for this site! I've been doing a series of apple articles on www.FigsWithBri.com (my food blog) and come to Orange Pippin often for background info. I'm a wanna-be home orchardist in an apple growing county.

28 Aug 2010 

Alan Rushworth

DEVON, United Kingdom

Hi, Missing Sundowner this year Tesco dont have them where can I buy them?, roll on november then Kansi appear Cheers Alan

26 Apr 2010 

Steve

CALIFORNIA, United States

I get Sundowners at our local farmers market. They are wonderfully crisp, slightly tart and keep better than any apple I've ever eaten. after 2-3 weeks at room temperature the Sundowner still retains a good deal of crispness. I wish I could find bare root Sundowners so I could grow them

14 Oct 2009 

Niamh

IRELAND, Ireland

I love Sundowners. I wish you could get them organic in Irish supermarkets though.

16 Mar 2009 

Brittany Parris

NOWRA,AUSTRALIA,NSW, Australia

They rule, its the best apple iv'e ever had...
Tree register
Spring blossom records for this variety
2017 season
March  2017  - tree owned by Phil in Laguna Niguel, United States
2016 season
March  2016  - tree owned by Phil in Laguna Niguel, United States
2014 season
15th March  2014  - tree owned by Stefanie in Oceanside, United States
Record your blossom dates in our Fruit Tree Register - more >>.
Harvest records for this variety
Origins
Species: Malus domestica - Apple
Parentage: Golden Delicious and Lady Williams
Originates from: Western Australia, Australia
Introduced: 1970s
Developed by: John Cripps
Identification
Country of origin: Australia
Period of origin: 1950 - 1999
Fruit colour: Pink
Flower colour: White
Leaf colour: Green
Annual cycle: Deciduous
Using
Picking season: Very late
Keeping (of fruit): 3 months or more
Flavour quality: Very good
Flavour style (apples): Sweeter
Cooking result: Keeps shape
Discoloration of fruit: Oxidising
Cropping: Good
Fruit persistence: Normal ripening
Food uses: Eating fresh
Food uses: Culinary
Picking period: mid-October
Wildlife: RHS Plants for Pollinators
Growing
Gardening skill: Average
Flowering group: 3
Pollinating others: Average
Ploidy: Diploid
Vigour: Average vigour
Precocity: Precocious
Bearing regularity: Biennial tendency
Fruit bearing: Spur-bearer
Self-fertility: Not self-fertile
Climate
Cold hardiness (USDA): (5) -20F / -29C
Chill requirement: Low-chill
Climate suitability: Warm climates
Summer average maximum temperatures: Warm (25-30C / 76-85F)
Summer average maximum temperatures: Hot (>30C / 86F)
Other qualities
Powdery mildew: Some resistance
Scab (Apple and Pear): Some susceptibility
Fire blight: Some susceptibility
Woolly aphid: Some susceptibility
Where to buy fresh fruit
The following orchards grow Sundowner:
United States
References
Apples for the 21st Century
Author: Manhart