An early-season English apple, with very similar qualities to one of its parents, Worcester Pearmain.
Opal (Seabrook) identification photos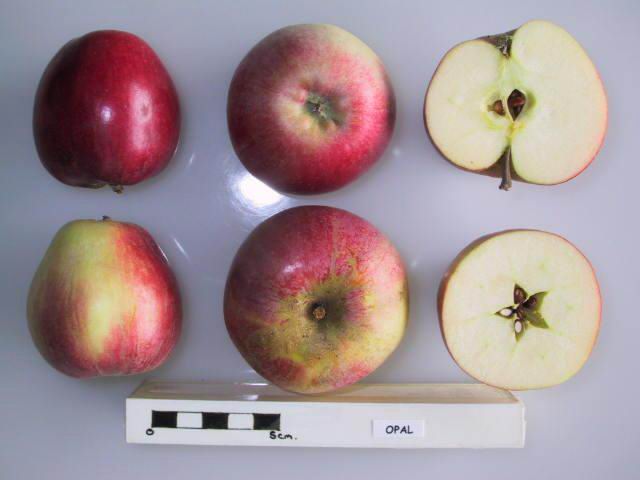 UK National Fruit Collection
©Crown Copyright
more >
Tree register
We don't have any registered trees for this variety yet.
Species: Malus domestica
Parentage: Rival x Worcester Pearmain
Originates from: Essex, United Kingdom
Introduced: 1936
Developed by: W.P. Seabrook
Orange Pippin Cultivar ID: 2069
UK National Fruit Collection accession: 1936-027
Fruit colour: Red / Green
Uses: Eat fresh
Flavour quality: Good
Flavour style: Sweet/Sharp
Harvest period: Early-Mid season
Use / keeping: 1 week
Flowering period: Mid season
Flowering group: 3
Fertility: Self-sterile
Ploidy: Diploid
Vigour: Average growth
Fruit bearing: Spur-bearer
Climate suitability: Temperate climates
Where to buy fresh fruit
No orchards have registered as growing this variety. If you grow this and want to register please go to our Orchard Registration form.