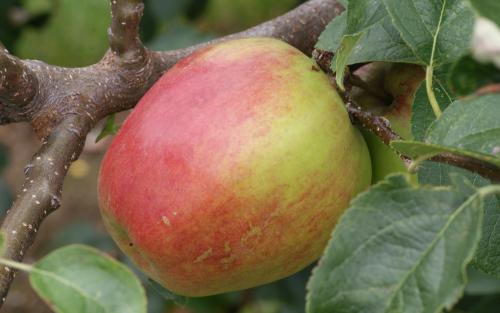 An old Massachusetts apple variety rated for its flavor.
Mother apple identification images
All images copyright Orange Pippin unless otherwise stated.
USDA identification images for Mother
The identification paintings in the USDA Pomological Watercolor Collection span the years 1886 to 1942.
Citation: U.S. Department of Agriculture Pomological Watercolor Collection. Rare and Special Collections, National Agricultural Library, Beltsville, MD 20705.
Visitor reviews
28 Apr 2020 

David Weeks

CO, United States

I grafted this apple, It grew well for two seasons, but this spring it had died over the winter. The branches where bout 2.5 cm in diameter at the base. Two other Apple grafts on the same top dressed tree, are viable with no dead wood.

06 Sep 2019 

The Fluffy Bunny

IL, United States

Mother is an apple who's flavor is greatly effected by the conditions on a year to year basis. Some years it is a decent, also ran apple years it develops a very aromatic profile, and now and again it will shock you by how good it is. I have never had it fail to crop, it is disease resistant, and exhibits some fireblight resistance. This apple is always a surprise and I look forward to it every year. For an apple that can be very aromatic it is not the squirrel magnet you would think it would be. If you are a home grower I would suggest just grafting a branch, that get sunshine, to mother or putting it on M27. The point being it has its good and its great years. IMO, it is far too variable (at least in my area) to warrant a large percentage of space, but it can be such and unusual and exquisite apple it does deserve a place in every orchard. It does not keep long and does best when mellowed a bit before eating. It is not crunchy bit sort of firm like many English apples. Given its aromatic qualities and texture I am not surprised it was famed across the pond for a while.

13 Mar 2015 

Gil Schieber

WASHINGTON, United States

Perfectly plain, no scab, even finish, soft-breaking, keeps a month, not a standout at the market, easy to grow for me; It's mild flavor would be lost in a warmer climate I think. My 65 degree average is great for the early-mid, Alkmene is another; and the somewhat dry skin did not attract maggot like some (Akane).

05 Sep 2010 

Gill

HEREFORDSHIRE, United Kingdom

Have just re-read others' comments about this variety, and must say, my fruits don't sound the same. Bought about 25 years ago from Scotts of Merriott, although a useful apple, mine have a non-waxy skin, end up mainly red with 'shoulders' to the fruit and have a reasonable but undistinguished flavour. Have I got something else?

05 Sep 2010 

Gill

HEREFORDSHIRE, United Kingdom

We have grown this variety for about 25 years and find it very reliable, with large crops of beautiful crimson apples that keep till just after Christmas. We are in a cold spot, and find it tough and hardy, with few problems from pests and diseases. I have one with my muesli every day through October, November and December.

17 Nov 2009 

Jim Empson

IPSWICH UK., United Kingdom

I have found a tree at Crown Nurseries, just 12 miles away so I'm hoping to taste them again, on my 80th birthday! It has a red and yellow - VERY waxy skin, and as you say, tastes like no other. Young gardeners should make sure it's on their shopping list.

25 May 2009 

Jim Empson

IPSWICH UK., United Kingdom

My father Bill, planted an American Mother tree when I was a child. By the time I was a teenager, it has become a very large tree and I remember the flavour being like no other. Where can I find a tree now? I might add, that I am now 77 (in 2009!) so am looking for instant results !!!

07 Nov 2008 

Judy

OAKVILLE, ONTARIO, United States

I believe this is the same apple we had in Nova Scotia. What a distinctive taste, like no other apple. It was our favorite and I can still taste it even though the trees have been gone for 30 years. Does it have tiny flecks on the skin? If so, I'm sure.

12 Oct 2008 

Alina

OXON, United Kingdom

I love this apple! Great cropper with good flavour whether eater raw or cooked. I stew and bottle it with Golden Noble (another brilliant cooker, not listed here) and it adds a nice pink colour. Keeps its shape when cooked and, best of all, like the Golde Noble which I'd also recommend, needs no sugar - who could ask for more?!
Tree register
Spring blossom records for this variety
2014 season
20th April  2014  - tree owned by Gil in Snohomish, United States
Record your blossom dates in our Fruit Tree Register - more >>.
Harvest records for this variety
Origins
Species: Malus domestica - Apple
Parentage: Unknown
Originates from: Massachusetts, United States
Introduced: mid 1800s
UK National Fruit Collection accession: 1975-317
Identification
Awards: RHS AGM (current)
Using
Wildlife: RHS Plants for Pollinators
Climate
Summer average maximum temperatures: Cool ( 20-24C / 68-75F)
Summer average maximum temperatures: Warm (25-30C / 76-85F)
Cold hardiness (RHS): H6 (to -20C)
Where to buy trees
The following tree nurseries offer Mother apple trees for sale:
Cummins Nursery
United States  More >>
Where to buy fresh fruit
The following orchards grow Mother:
United States
References
Apples of England (1948)
Author: Taylor
Fruit Expert
Author: Hessayon