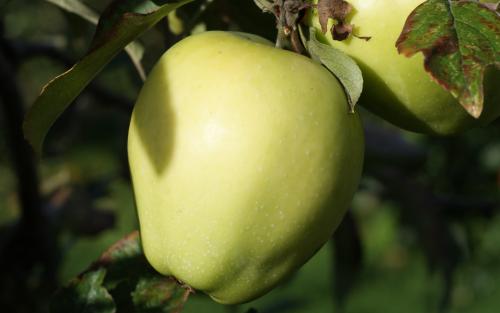 Golden Spire was intrroduced in the Victorian period, primarily as a cooking apple. It was discovered in Lancashire but spread to Gloucestershire where it was known as Tom Matthews and grown for cider production.
It remains popular in England as a garden variety, and is notable for its distinctive cider-like flavour. The flesh is juicy and it cooks to a puree with an excellent apple flavour.
Golden Spire apple identification images
All images copyright Orange Pippin unless otherwise stated.
USDA identification images for Golden Spire
The identification paintings in the USDA Pomological Watercolor Collection span the years 1886 to 1942.
Citation: U.S. Department of Agriculture Pomological Watercolor Collection. Rare and Special Collections, National Agricultural Library, Beltsville, MD 20705.
Visitor reviews
16 Sep 2023 

Liz Hindley

Our school has a small orchard where these apples grow. Just had the most amazing home grown apple crumble made by the school cook. Gardening Club children picked them. Afterschool club children peeled them. We all enjoyed eating the crumble!

22 Feb 2023 

Raphael

It is a wonderful apple - best for eating by older people not brought up on the many very sweet apples now on sale. It is also a very good cooking apple.

19 Oct 2022 

John Childs

We have an old, lichened Golden Spire in our garden. Beautiful blossom and crops heavily every other year. We use it as an eater, firm and crisp, and for cider making.

27 Feb 2021 

Kristian KøVener

AGDER, Norway

Even in Norway, homeland of damp, cool weather, including infrequent summers, this cultivar, more or less, every second year, displays impressive elongated fruits of enjoyable fresh taste, comparable to the high, but rare autumn blue skies.

06 Dec 2015 

Colindun

ROSS & CROMARTY, United Kingdom

I've just had an apple tree in a local hedgerow identified as. golden Spire by Brogdale. It's about 10 miles north of Inverness, and I haven't the foggiest how it got here. Now that I know what it is I may try growing some from piosnext year.

10 Nov 2012 

Tim Collins

United Kingdom

My mother has an old Golden Spire in her orchard. The fruit has a very distinctive, firm flesh with a slightly sour aftertaste - cidery, as some other reviews have said. It is an excellent eating apple, as well as being good for purees and baking

21 Oct 2012 

Paul Stamper

NORTHAMPTONSHIRE, United Kingdom

My grandparents had one in their large garden at Wollaston, Northants. It was probably planted in the late 19th century when the house was built. I knew it in the 1960s when I was a boy, and well remember its distinctive smell and taste (my mum, in her 80s, has just recently told me the variety). I intend to plant one in my garden. One practical point: as I remember, it's not a great keeper - one to be used early and enjoyed.

05 Oct 2009 

Clive

YORK, United Kingdom

There's one growing in Kylemore Abbey near Galway. I filched a couple of windfalls, lovely fresh taste. The tree looked great too, covered in fantastic lichens

26 Oct 2008 

Allison

GLOUCESTERSHIRE, United Kingdom

My neighbour has just brought us over a load of these. They're oddly mis-shapen apples, with greenie yellow skin and pale, creamy white flesh.There is a little sharpness, but it's not unpleasant, with a cidery back-taste as previously mentioned. Eight of us have tried, including my two year-old, and we all agree, it's a thumbs up for eating/cooking.

11 Oct 2008 

Alan Mountney

STAFFORDSHIRE, United Kingdom

We have this variety growing in our garden and happily eat them straight of the branch. Good taste, sweet but with a 'cidery' hint to it. Crops well, unfortunately the wasps also love the apples.

18 Sep 2008 

Jaime

LANCASTER, United States

Just tried one of these - I agree ! Fabulous cidery back-taste, perfectly edible (or at least the one i have just eaten was!). Probably best to classify as a 'Cooking/Eating' variety. Didn't this apple originate in Lancashire?
Tree register
Harvest records for this variety
2016 season
1st week October  2016  - tree owned by Dave in Preston, United Kingdom
2013 season
2nd week September  2013  - tree owned by DoorusOrchard in Kinvara, Ireland
Origins
Species: Malus domestica - Apple
Parentage: Unknown
Originates from: Lancashire, England, United Kingdom
Introduced: 1850
UK National Fruit Collection accession: 2000-039
Some historical details taken with kind permission from 'The New Book of Apples' by Joan Morgan and Alison Richards , illustrated by Elisabeth Dowle, published by Ebury Press, 2002.
Identification
Country of origin: United Kingdom
Period of origin: 1850 - 1899
Flower colour: Pink - light
Leaf colour: Green
Popularity: Rarely grown
Annual cycle: Deciduous
Using
Picking season: Mid
Keeping (of fruit): 1-2 months
Flavour quality: Good
Flavour style (apples): Sweet/Sharp
Cooking result: Puree
Cropping: Good
Fruit persistence: Ripens over a period
Food uses: Culinary
Food uses: Juice
Food uses: Hard cider
Food uses: Traditional cooker
Picking period: early September
Wildlife: RHS Plants for Pollinators
Growing
Gardening skill: Average
Flowering group: 1
Pollinating others: Good
Ploidy: Diploid
Vigour: Average vigour
Bearing regularity: Regular
Growth habit: Weeping
Fruit bearing: Spur-bearer
Attractive features: Attractive flowers
Self-fertility: Self-fertile
Climate
Climate suitability: Temperate climates
Climate suitability: Mild damp climates
Summer average maximum temperatures: Cool ( 20-24C / 68-75F)
Other qualities
Disease resistance: Average
Scab (Apple and Pear): Some susceptibility
Where to buy trees
The following tree nurseries offer Golden Spire apple trees for sale:
Keepers Nursery
United Kingdom  More >>
Where to buy fresh fruit
The following orchards grow Golden Spire:
United Kingdom
References
Apples of England (1948)
Author: Taylor