Devonshire Quarrenden apple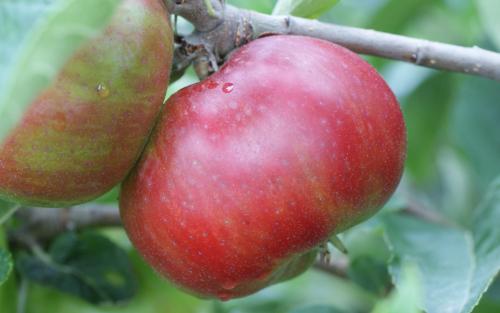 Devonshire Quarrenden is a very old English apple variety, thought to have orginated from south-west England, but quite widely grown in Victoria times.
It ripens very early in the season and does not keep. it has remained popular because of the distinctive strawberry flavour which can be discerned in some examples - although in our experience it can be elusive and very dependent on the time of picking.
This strawberry note is an interesting example of the diversity of flavours that can be found in apples, and can sometimes be found in its offspring, of which Worcester Pearmain is the most well-known.
Devonshire Quarrenden also has a tendency for the red skin to bleed into the flesh slightly, and it may occasionally have red flecks within the flesh.
Devonshire Quarrenden apple identification images
All images copyright Orange Pippin unless otherwise stated.
USDA identification images for Devonshire Quarrenden
The identification paintings in the USDA Pomological Watercolor Collection span the years 1886 to 1942.
Citation: U.S. Department of Agriculture Pomological Watercolor Collection. Rare and Special Collections, National Agricultural Library, Beltsville, MD 20705.
Offspring of this variety
Visitor reviews
15 Aug 2018 

Chris

DEVON, United Kingdom

2018 crop the heaviest of the past few years. Lovely deep red colour- we've had such a hot, sunny summer that may be a factor. Better rounded flavor this year

22 Jul 2014 

jonewer

SURREY, United Kingdom

As an update - I had no crop in the 2012 crop but a good crop in 2013. This year, there is again no crop. The variety appears to be showing some fairly strong biennial behaviour. The growth habit with no pruning is very upright. 2013 fruits were very small. Taste is vinous rather than aromatic and while incomparably better than shop bought Golden Delicious is still disappointing against the likes of a Claygate Pearmain, lacking any real depth or complexity of flavour. A decent early variety but not outstanding.

19 Feb 2012 

jonewer

SURREY, United Kingdom

I planted one of these in 2011 and it blessed me with a couple of fruits. I probably should have allowed it but couldn't help myself. The texture of this apple is not crisp, it rather melting and the flavour is delicate rather than strong, even perhaps slightly watery. You need to close your eyes and concentrate on the flavours which are complex but lacking in intensity. Attractive slightly flattened apples. Good for an early and ready several weeks before the Discoveries hit the supermarket shelves, but it wont keep. Not that thats a problem since I'll scoff the lot within a week anyway.
Tree register
Spring blossom records for this variety
2022 season
2020 season
2018 season
2017 season
2016 season
2015 season
2014 season
2013 season
2012 season
2011 season
2010 season
2009 season
Record your blossom dates in our Fruit Tree Register - more >>.
Harvest records for this variety
2020 season
2017 season
2016 season
2015 season
2013 season
2012 season
2011 season
Origins
Species: Malus domestica - Apple
Originates from: Devon or south-west England, United Kingdom
Introduced: 17th century
UK National Fruit Collection accession: 1957-189
Identification
Country of origin: United Kingdom
Period of origin: 1650 - 1699
Fruit colour: Red / Green
Flower colour: White
Leaf colour: Green
Popularity: Rarely grown
Annual cycle: Deciduous
Using
Picking season: Very early
Keeping (of fruit): 1-3 days
Flavour quality: Good
Flavour style (apples): Sweeter
Vitamin C content: Low
Cropping: Good
Food uses: Eating fresh
Food uses: Juice
Picking period: mid-August
Wildlife: RHS Plants for Pollinators
Growing
Gardening skill: Average
Flowering group: 2
Pollinating others: Average
Ploidy: Diploid
Vigour: Slightly small
Bearing regularity: Biennial tendency
Growth habit: Spreading / Flat-topped
Fruit bearing: Spur-bearer
Organic culture: Suitable
Self-fertility: Partially self-fertile
Climate
Frost resistance of blossom: Susceptible
Climate suitability: Temperate climates
Climate suitability: Mild damp climates
Summer average maximum temperatures: Cool ( 20-24C / 68-75F)
Summer average maximum temperatures: Cold (< 20C / 67F)
Other qualities
Disease resistance: Good
Scab (Apple and Pear): Very resistant
Where to buy trees
The following tree nurseries offer Devonshire Quarrenden apple trees for sale:
Where to buy fresh fruit
The following orchards grow Devonshire Quarrenden:
United Kingdom
England - midlands

England - north
Canada
Australia
References
Apples of England (1948)
Author: Taylor