Suntan apple
Last updated 16 Jan 2015.
Medium-large fruit, gold-yellow flushed and striped orange-red. Flesh yellowish-cream. Firm and fairly juicy. Flesh rather coarsely textured, crisp.
Origins
Species: Malus domestica
Parentage: Cox's Orange Pippin x Court Pendu Plat
Originates from: England, United Kingdom
Introduced: 1955
Developed by: East Malling Research
Orange Pippin Cultivar ID: 1937
UK National Fruit Collection accession: 1980-084
Using
Uses: Eat fresh
Flavour quality: Very good
Flavour style: Sweet/Sharp
Harvest period: Late season
Use / keeping: 2-3 weeks
Growing
Cropping: Good
Flowering period: Late season
Flowering group: 5
Fertility: Self-sterile
Ploidy: Triploid
Pollinating others: Poor
Vigour: Slightly large
Diseases
Mildew  - Some susceptibility
Relationships to other varieties
Parents and other ancestors of this variety:
References and further reading about this variety
Fruit Expert
Author: Hessayon
Suntan identification photos from official fruit collections
UK National Fruit Collection
©Crown Copyright
more >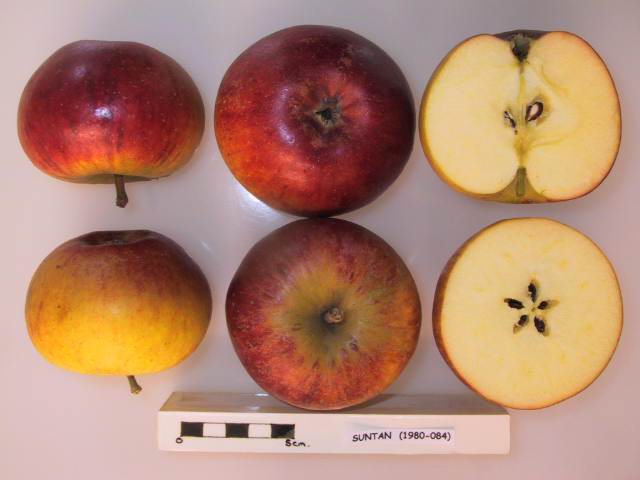 Suntan identification photos from website visitors
Fruit tree register
Do you have a tree of this variety in your garden or orchard? If so please register the details here and contribute to our international register of fruit trees.
The following Suntan trees have been registered - click the name to view more details of each tree.
You can also view these trees on a map.
United States
United Kingdom
Italy
Jan Huston in Castel D'Aiano, PROVINCIA DI BOLOGNA
Australia
Hayden in Winslow, VICTORIA, AUSTRALIA
Latest Spring blossom records for this variety
2018 season
7th May  2018  - tree owned by Jerry in Point Reyes Station, United States
2015 season
11th May  2015  - tree owned by Michael in Glen Rock, United States
2010 season
8th May  2010  - tree owned by N. in Cambridge, United Kingdom
2009 season
3rd May  2009  - tree owned by N. in Cambridge, United Kingdom
Record your blossom dates in our Fruit Tree Register - more >>.
Latest harvest records for this variety
2018 season
2015 season
2010 season
2009 season
October  2009  - tree owned by N. in Cambridge, United Kingdom
Where to buy fresh fruit
United Statesmap >
United Kingdommap >