Novaspy apple
Last updated 17 Aug 2014.
Novaspy is a further development of the "Nova" series of apples from Agriculture and Agri-Food Canada based in Nova Scotia. As the name suggests it has Northern Spy in its ancestry.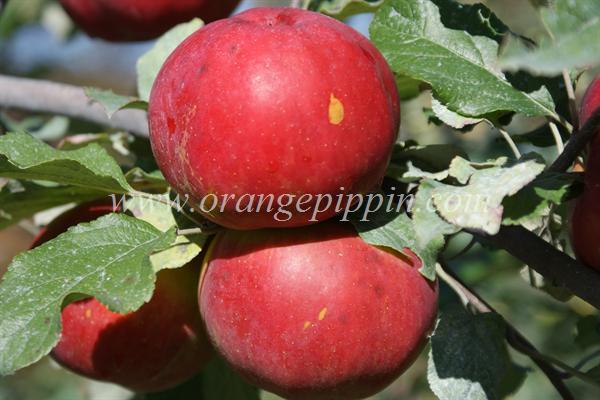 Origins
Species: Malus domestica
Parentage: Nova EasyGro x (Northern Spy x Golden Delicious)
Originates from: Nova Scotia, Canada
Introduced: 1986
Developed by: Agriculture and Agri-Food Canada, Kentville, Nova Scotia
Orange Pippin Cultivar ID: 1816
Using
Harvest period: Late season
Use / keeping: 3 months or more
Growing
Flowering period: Mid season
Flowering group: 3
Vigour: Average growth
Bearing regularity: Regular
Precocity: Precocious
Gardening skill: Very easy
Fruit bearing: Partial tip-bearer
Period of origin: 1950 - 1999
Diseases
Fireblight  - Very resistant
Relationships to other varieties
Parents and other ancestors of this variety:
References and further reading about this variety
Fruit tree register
Do you have a tree of this variety in your garden or orchard? If so please register the details here and contribute to our international register of fruit trees.
The following Novaspy trees have been registered - click the name to view more details of each tree.
You can also view these trees on a map.
United States
Where to buy fresh fruit
United Statesmap >