Keepsake apple
Last updated 16 Aug 2014.
Unattractive, irregularly shaped, 2.25 to 2.75 inch diameter, 90% red fruit. Fine grained, hard, very crisp, juicy light yellow flesh. Strongly aromatic flavor. Very hardy. Mellows with age. Attains peak fresh eating quality in January or February. Keeps in storage through April.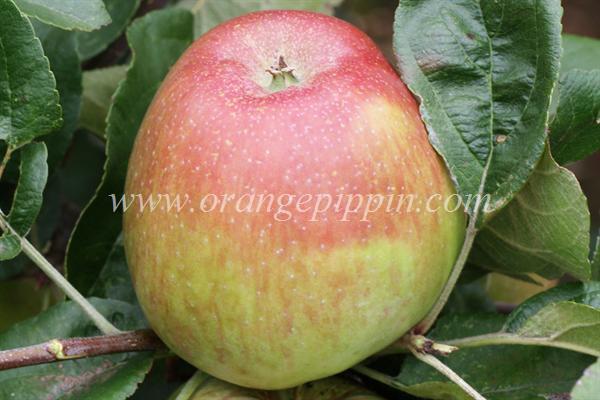 Origins
Species: Malus domestica
Parentage: Malinda x Northern Spy
Originates from: United States
Introduced: 1978
Developed by: University of Minnesota
Orange Pippin Cultivar ID: 1762
UK National Fruit Collection accession: 1976-003
Identification
Fruit colour: Red / Orange flush
Flesh colour: White to Greenish to Greenish Yellow
Flesh colour: White to Cream, pale yellow
Fruit size: Small
Fruit size: Medium
Fruit size: Variable
Fruit shape: Short-round-conical
Fruit shape: Round-conical
Fruit shape: Conical
Shape features (vertical view): Lop-sided, unequal sides, irregular
Shape features (vertical view): Tapering toward calyx end or apex
Shape uniformity: Uniform in shape, Variable in size
Shape uniformity: Uniform, in size and shape
Basin russet: Little, light russet
Basin russet: Usually Russet free
Using
Uses: Eat fresh
Uses: Cooking
Uses: Drying
Flavour quality: Good
Flavour style: Sweet/Sharp
Flavour style: Aromatic
Harvest period: Late season
Harvest period: Very-Late season
Use / keeping: 3 months or more
Growing
Cropping: Good
Flowering period: Mid-Late season
Flowering group: 4
Fertility: Self-sterile
Ploidy: Diploid
Vigour: Slightly large
Bearing regularity: Biennial tendency
Gardening skill: Very easy
Precocity: Precocious
Fruit bearing: Spur-bearer
General disease resistance: Good
Period of origin: 1950 - 1999
Climate
Climate suitability: Temperate climates
Climate suitability: Tolerates cold winters
Diseases
Fireblight  - Some resistance
Cedar apple rust  - Some resistance
Relationships to other varieties
Parents and other ancestors of this variety:
Offspring of this variety:
References and further reading about this variety
Fruit tree register
Do you have a tree of this variety in your garden or orchard? If so please register the details here and contribute to our international register of fruit trees.
The following Keepsake trees have been registered - click the name to view more details of each tree.
You can also view these trees on a map.
United States
Latest Spring blossom records for this variety
2017 season
20th April  2017  - tree owned by Gil in Snohomish, United States
2012 season
20th April  2012  - tree owned by Chuck in Worthington, United States
2011 season
20th May  2011  - tree owned by Ron in Orion, United States
Record your blossom dates in our Fruit Tree Register - more >>.
Latest harvest records for this variety
2017 season
4th week October  2017  - tree owned by Gil in Snohomish, United States
2012 season
2011 season
3rd week October  2011  - tree owned by Carolina in Vashon, United States
Where to buy fresh fruit
United Statesmap >