Newtown Pippin apple
Newtown Pippin is one of the oldest American apple varieties, being well-known in the 18th century and probably raised as a seedling by early settlers on Long Island. To get a sense of how unusually old it is, it was introduced from the USA to England in the mid 1750s - making it an old variety even by English standards. Newtown Pippin was popularised by such well-known figures such as Thomas Jefferson and George Washington, and was very much an apple of its time. It is also often called Albemarle Pippin.
By the 19th century Newtown Pippins were an important commercial variety in the USA, both for domestic use and exported in large quantities to London markets, where the Victorian author Hogg commented on their arrival in January each year. The appreciation of the flavors of apples reached a peak in Victorian England, and the popularity of Newtown Pippins in Victorian England is a sure sign that this is very high quality apple with the rich aromatic flavor most sought after at that time. Hogg also commented that the Newtown Pippin could not be grown successfully in England - it needs a hot summer and autumn, and will not ripen properly most years in the cool temperate climate of England.
Newtown Pippin is best regarded as a "winter" apple. It is picked quite late in the season - late October in the eastern USA. It is hard and unappetising if eaten straight from the tree, instead it should be stored for 1-2 months, before being used over the winter period. Newtown Pippin is a notably versatile apple, being excellent for eating fresh, cooking, and for juicing and hard cider. When cooked Newtown Pippin retains some of its shape, and produces a textured puree with a very good rich flavor - definitely a very high quality culinary apple.
It was noticed by the 19th century that there are two variants or "sports" of Newtown Pippin - green and yellow. Many apple varieties have produced sports, and growers often favour the more highly colored ones for further development. However green and yellow Newtown Pippins are not easily distinguished, they are both a greenish-yellow color depending on the location and exposure to sunlight - neither of them is particularly attractive by modern standards. It is thought that the green version might be the original with the yellow being the sport.
Newtown Pippin remains a popular garden apple in the United States. It is not without its difficulties - it takes many years to start bearing apples even on dwarfing precocious rootstocks, and it is susceptible to most of the usual apple diseases, as well as having a tendency to become a biennial-bearer if allowed to over-crop. However its natural vigour usually helps it to overcome these difficulties and its great versatility and excellent flavor make it a worthwhile addition to the home orchard.
Last updated 18 Jun 2011.
Also known as Albermarle Pippin. Made famous by none other than Thomas Jefferson, who grew them in his orchard at Monticello. One of the first US apple exports to the UK.
Origins
Species: Malus domestica
Parentage: Unknown
Originates from: Newtown, Long Island, United States
Introduced: mid 18th century
Orange Pippin Cultivar ID: 119800
Identification
Fruit colour: Green
Flesh colour: Cream
Fruit size: Medium
Bultitude apple group: 2. Green, smooth, sweet
Using
Good for eating fresh
Good for cooking
Good for juice
Good for hard cider
Cooking result: Textured puree
Flavour quality: Very good
Flavour style: Aromatic
Ripening period: Late season
Use / keeping: 3 months or more
Growing
Cropping: Heavy
Flowering period: Mid season
Flowering group: 3
Fertility: Self-sterile
Triploid: No
Vigour: Slightly large
Biennial tendency
Gardening skill: Average
Precocity: Slow to start bearing
Fruit bearing: Spur-bearer
Climate
Suitable for warm climates
Suitable for temperate climates
Low-chill requirement
Disease resistance
Bacterial canker 

Pseudomonas syringae

  - Some susceptibility
Scab  - Some susceptibility
Mildew  - Some susceptibility
Fireblight  - Some susceptibility
Bitter pit  - Some susceptibility
Relationships to other varieties
Offspring of this variety:
Also known as
Albermarle Pippin
Yellow Newtown Pippin
Newtown Pippin identification photos from official fruit collections
UK National Fruit Collection
©Crown Copyright
more >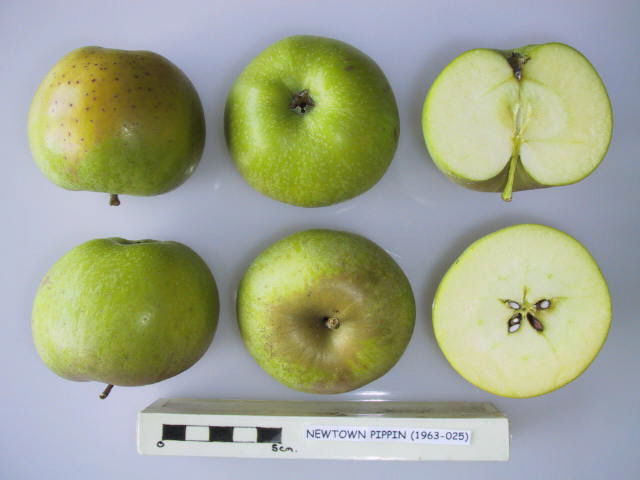 Newtown Pippin identification photos from website visitors
Fruit tree register
Do you have a tree of this variety in your garden or orchard? If so please register the details here and contribute to our international register of fruit trees.
The following Newtown Pippin trees have been registered - click the name to view more details of each tree.
You can also view these trees on a map.
United States
Switzerland
Latest Spring blossom records for this variety
2011 season
15th May  2011  - tree owned by Anne in LYME, United States
2010 season
May  2010  - tree owned by Anne in LYME, United States
2009 season
May  2009  - tree owned by Anne in LYME, United States
Record your blossom dates in our Fruit Tree Register - more >>.
Latest harvest records for this variety
2011 season
October  2011  - tree owned by Anne in LYME, United States
2010 season
October  2010  - tree owned by Anne in LYME, United States
2009 season
Where to buy apple trees
The following fruit tree nurseries offer Newtown Pippin apple trees for sale:
Where to buy apples
United Statesmap >