Laxton's Superb apple
Laxton's Superb is a classic and popular English-style variety from the late Victorian period, one of the high-points in the development of English apples. Laxton Brothers were important breeders at this time and this is probably their most important variety.

Laxton's Superb is essentially a Cox-style apple, but with an interesting twist in flavour inherited from its other parent Wyken Pippin, which had been popular since the 18th century but is now little known. The shape is much more upright than the flattened signature of Cox, and is reminiscent of Adams Pearmain. The colour is dull red flush over green - attractive in a subdued way.

The white-green flesh is quite dense and sweet, and very "appley". The texture is firm rather than crisp, and there is not a lot of juice. Not perhaps characteristics that would endear it to a modern audience, but nevertheless it is actually quite appealing. Like several older varieties it somehow tastes better if you cut it with a knife and eat it in slices or wedges rather than biting into it.

Laxton's Superb represented the state of the art of in English apples at the start of the 20th century, and it is fascinating to compare it with the new varieties such as Meridian and Saturn which have come through at the end of the century. All these varieties use Cox's Orange Pippin as a starting point, but the appearance and combination of flavours in Laxton's Superb makes it very different from the up-front appeal of most modern varieties.
Last updated 21 Oct 2011.
The definitive late Victorian dessert apple, firm, Cox-style but sweeter, understated but very "more-ish".
Origins
Species: Malus domestica
Parentage: Cox x Wyken Pippin
Originates from: Bedford, England, United Kingdom
Introduced: 1897
Developed by: Laxton Brothers Nursery
Orange Pippin Cultivar ID: 103900
Identification
Bultitude apple group: 7. Flushed / striped, some russeting, sweet
Using
Good for eating fresh
Flavour quality: Good
Flavour style: Sweeter
Ripening period: Late season
Use / keeping: 1-2 months
Vitamin C content: Low
Growing
Cropping: Heavy
Flowering group: 4
Fertility: Partially self-fertile
Triploid: No
Vigour: Large
Biennial tendency
Gardening skill: Average
General disease resistance: Average
Climate
Suitable for temperate climates
Tolerates cold winters
Suitable for N. England?: Yes
Relationships to other varieties
Parents and other ancestors of this variety:
Offspring of this variety:
Laxton's Superb identification photos from official fruit collections
UK National Fruit Collection
©Crown Copyright
more >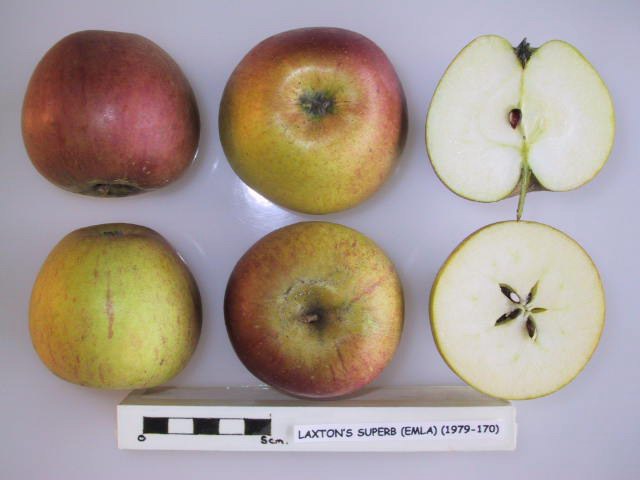 Laxton's Superb identification photos from website visitors
Laxton's Superb


Laxton's Superb tree

Copyright: S. Lampitt


Fruit tree register
Do you have a tree of this variety in your garden or orchard? If so please register the details here and contribute to our international register of fruit trees.
The following Laxton's Superb trees have been registered - click the name to view more details of each tree.
You can also view these trees on a map.
United Kingdom
Denmark
Australia
Latest Spring blossom records for this variety
2013 season
13th May  2013  - tree owned by Mike in Godalming, United Kingdom
2012 season
11th May  2012  - tree owned by Mike in Godalming, United Kingdom
19th April  2012  - tree owned by John in LEATHERHEAD, United Kingdom
2011 season
2010 season
2009 season
Record your blossom dates in our Fruit Tree Register - more >>.
Latest harvest records for this variety
2013 season
2012 season
1st week October  2012  - tree owned by Mike in Godalming, United Kingdom
1st week October  2012  - tree owned by Michael in BRACKNELL, United Kingdom
2011 season
2010 season
2009 season
Where to buy apple trees
The following fruit tree nurseries offer Laxton's Superb apple trees for sale:
Where to buy apples
United Statesmap >
United Kingdommap >
Netherlands map >