Egremont Russet apple
Egremont Russet is a classic English russet apple from the Victorian era. Whilst russet apples have generally fallen out of favour, Egremont Russet remains popular with discerning apple lovers who appreciate its unique flavour and apearance.
Part of its enduring success is down to niche marketing. This is an apple that dares to be different ! It is a russet-skinned variety with a dry flesh - a style of apple that has not attracted the attentions of mainstream apple breeders, but nevertheless seems to have a dedicated following. Also, inspite of its unique appearance, Egremont Russet has many of the characteristics which mark out a good apple: a harmony of flavour and texture, and a good balance between sweetness and sharpness.
The difference is evident as soon as you pick it up. The skin is entirely covered with "russet", which feels like very fine sandpaper. Some other varieties have streaks of russet, notably Cox's Orange Pippin, but in Egremont Russet it completely dominates the appearance. The colour is an attractive dull gold flecked with yellow.
Egremont Russet is a medium-sized apple. The flesh seems quite dry and gets drier with keeping - it is moist rather than juicy. Traditionally described as "nutty", the flavour is more delicate than most varieties, and quite sweet. Both the flavour and the soft flesh are reminiscent of a firm pear. Yet Egremont Russet is surprisingly versatile, working well in savoury salads for example, and a popular partner for cheese.
If you are used to a modern, smooth-skinned, crisp apple then the sandpaper finish of a russet apple like Egremont Russet may sound distinctly un-appealing, but this is a case of the whole being greater than the sum of the parts. It may be very different, but it undoubtedly works - definitely worth a try !
Last updated 18 Apr 2013.
The definitive English russet apple, with the charateristic sweet/dry "nutty" flavour.
Origins
Species: Malus domestica
Parentage: Unknown
Originates from: England, United Kingdom
Introduced: 1872
Developed by: Possibly the estate of Lord Petworth in Sussex
Orange Pippin Cultivar ID: 101800
Identification
Fruit colour: Yellow / Gold
Flesh colour: Cream
Fruit size: Medium
Bultitude apple group: 8. Russeted, sweet
Using
Good for eating fresh
Good for cooking
Flavour quality: Good
Ripening period: Late season
Vitamin C content: Low
Growing
Cropping: Good
Flowering group: 2
Fertility: Partially self-fertile
Triploid: No
Vigour: Slightly small
Gardening skill: Very easy
Attractive fruit
General disease resistance: Average
Climate
Suitable for temperate climates
Blossom frost-resistance: Susceptible
Suitable for NW. Scotland?: Yes
Suitable for N. England?: Yes
Other qualities
RHS Award of Garden Merit 

1993
Disease resistance
Scab  - Very resistant
Fireblight  - Some susceptibility
Bitter pit  - Some susceptibility
Egremont Russet identification photos from official fruit collections
UK National Fruit Collection
©Crown Copyright
more >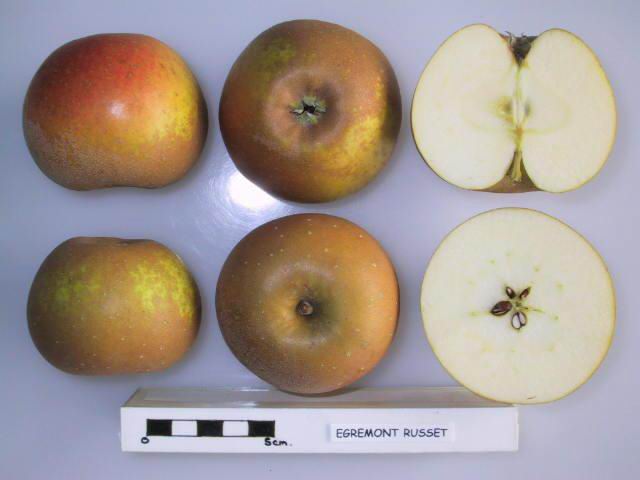 Egremont Russet identification photos from website visitors
Egremont Russet


Egremont Russet blossom


Fruit tree register
Do you have a tree of this variety in your garden or orchard? If so please register the details here and contribute to our international register of fruit trees.
The following Egremont Russet trees have been registered - click the name to view more details of each tree.
You can also view these trees on a map.
United States
United Kingdom
Denmark
Germany
Ireland
Netherlands
Australia
New Zealand
Switzerland
Latest Spring blossom records for this variety
2013 season
2012 season
2011 season
2010 season
2009 season
Record your blossom dates in our Fruit Tree Register - more >>.
Latest harvest records for this variety
2013 season
2012 season
1st week October  2012  - tree owned by Simon in CANTERBURY, United Kingdom
October  2012  - tree owned by Julia in DURHAM, United Kingdom
2011 season
2010 season
2nd week October  2010  - tree owned by Chris in LOOE, United Kingdom
3rd week September  2010  - tree owned by Robert in SOUTH SHIELDS, United Kingdom
2009 season
Where to buy apple trees
The following fruit tree nurseries offer Egremont Russet apple trees for sale:
Where to buy apples
United Statesmap >
United Kingdommap >