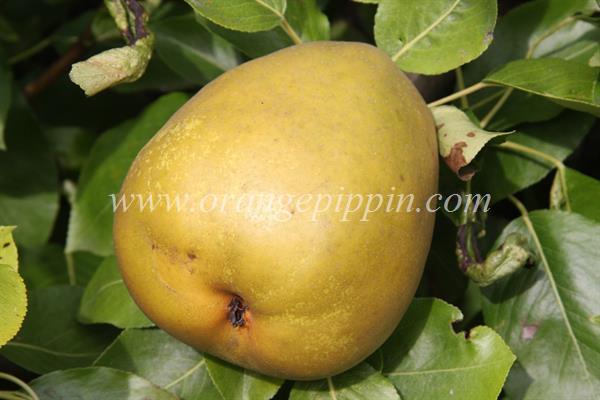 Developed in New York, but very much in the European style. Good flavor and versatile, can be considered an improved Bartlett.
Gorham identification photos
UK National Fruit Collection
©Crown Copyright
more >

Copyright: Orange Pippin


Tree register
We don't have any registered trees for this variety yet.
Species: Pyrus communis
Parentage: Josephine de Malines x Willams / Bartlett
Originates from: New York, United States
Introduced: 1910
Developed by: Richard Wellington, NYAES
Orange Pippin Cultivar ID: 2607
UK National Fruit Collection accession: 1973-305
Uses: Eat fresh
Uses: Cooking
Harvest period: Mid season
Use / keeping: 1-2 months
Cropping: Good
Flowering period: Mid-Late season
Flowering period: Late season
Flowering group: 4
Fertility: Self-fertile
Ploidy: Diploid
Vigour: Slightly large
Bearing regularity: Regular
Gardening skill: Average
General disease resistance: Good
Period of origin: 1900 - 1949
Scab  - Very resistant
Mildew  - Some resistance
Fireblight  - Some susceptibility
Where to buy fresh fruit
No orchards have registered as growing this variety. If you grow this and want to register please go to our Orchard Registration form.