Chestnut Crab crab-apple
Malus domestica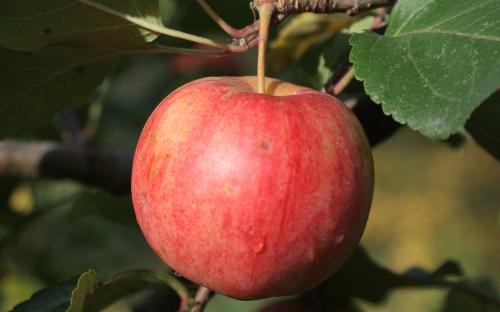 Large cooking and dessert crab apple. Attractive, reddish bronze fruit.  Crisp, juicy sweet flesh with a pleasing nut-like flavor. Ripens over a long period.
Also known as
Chestnut Crab crab-apple identification images
All images copyright Orange Pippin unless otherwise stated.
USDA identification images for Chestnut Crab
The identification paintings in the USDA Pomological Watercolor Collection span the years 1886 to 1942.
Citation: U.S. Department of Agriculture Pomological Watercolor Collection. Rare and Special Collections, National Agricultural Library, Beltsville, MD 20705.
Parents and other ancestors of this variety
Offspring of this variety
Visitor reviews
22 Sep 2020 

Daniel

VERMONT, United States

Recently bought a peck at Champlain Orchards in Shoreham, Vermont. Small, very sweet apples. No acidity or tarteness. But not simply sugary, they have a nice complexity of flavors. I wouldn't want a whole orchard full of them, but I would want one or two trees, they're quite unique and good.

24 Aug 2018 

Richard Benert

PA, United States

I planted a chestnut crab in my yard in Bozeman, MT in 2002. We had two bumper crops after about 2012 and several busts, mostly because of late spring frosts. In my opinion, this is the best-tasting apple in existence, like drinking a fine white wine. Leaving it behind when we moved to Bethlehem, PA this year was not easy, and I'm eagerly looking for a fruit stand or orchard in eastern PA that sells them.

01 Sep 2016 

Steve Hunts

MONTANA/GALLATIN, United States

We have two of these in our yard in SW Montana. We get a good crop every 2-3 years. Mainly eat them fresh off the tree and in pies. This year, as usual, we shared our crop with the birds but still made 9 delicious pies.

15 Jan 2015 

Kirk

IA, Australia

One of my favorite little apples. Very sweet, but with a very unique and distinctive flavor, very aromatic. There's certainly no hint of crabbyness in this one.
Tree register
Spring blossom records for this variety
2022 season
2020 season
2017 season
2016 season
2012 season
2011 season
Record your blossom dates in our Fruit Tree Register - more >>.
Harvest records for this variety
Origins
Species: Malus species - Crab-apple
Parentage: Wealthy x Keswick Codlin seedling
Originates from: United States
Introduced: 1949
Developed by: University of Minnesota
Identification
Country of origin: United States
Period of origin: 1900 - 1949
Fruit colour: Orange / Red
Leaf colour: Green
Flowering month: April
Leaf colour - autumn: Green
Flowering duration: Average (2-3 weeks)
Flower form: Single flower (5-8 petals)
Leaf colour - young: Green
Flesh colour: Cream
Fruit size: Large
Developer: University of Minnesota
Using
Picking season: Mid
Keeping (of fruit): 2-3 weeks
Flavour quality: Very good
Flavour style (apples): Sweeter
Juice style: Sharper
Cropping: Good
Fruit persistence: Ripens over a period
Food uses: Eating fresh
Food uses: Culinary
Food uses: Juice
Food uses: Hard cider
Picking month: September
Picking period: early September
Wildlife: Attractive to birds
Wildlife: RHS Plants for Pollinators
Growing
Gardening skill: Beginner
Flowering group: 3
Pollinating others: Average
Ploidy: Diploid
Vigour: Slightly small
Self-fertility: Not self-fertile
Climate
Cold hardiness (USDA): (3) -40F / -40C
Climate suitability: Temperate climates
Cold-hardiness: Cold-hardy
Summer average maximum temperatures: Cool ( 20-24C / 68-75F)
Summer average maximum temperatures: Warm (25-30C / 76-85F)
Summer average maximum temperatures: Cold (< 20C / 67F)
Other qualities
Disease resistance: Good
Cedar apple rust: Some resistance
Where to buy trees
The following tree nurseries offer Chestnut Crab crab-apple trees for sale:
Where to buy fresh fruit
The following orchards grow Chestnut Crab:
United States