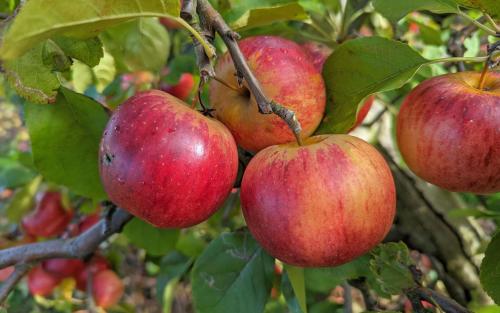 Modern apple breeders are increasingly managing to develop new varieties which are both disease-resistant and have a good flavor.
In Europe scab-resistance is a major issue for growers, and Rubinola is a typical modern variety which incorporates a gene for scab-resistance, usually achieved by including crab apples such as Malus floribunda in the parentage. However scab-resistant does not mean scab-proof, and the single gene may be overcome by the scab organism in real-world conditions.
Rubinola has a good sweet/sharp flavor. The flesh is crisp but with a light texture, and is easy to eat. The skin can develop a slight greasy sheen, but this is not noticeable when eating. Slices do not oxidise (brown) when cut.
Rubinola apple identification images
All images copyright Orange Pippin unless otherwise stated.
USDA identification images for Rubinola
The identification paintings in the USDA Pomological Watercolor Collection span the years 1886 to 1942.
Citation: U.S. Department of Agriculture Pomological Watercolor Collection. Rare and Special Collections, National Agricultural Library, Beltsville, MD 20705.
Parents and other ancestors of this variety
Visitor reviews
17 Sep 2022 

Hunter

My 4-year old Rubinola has cropped for the first time around 30 apples, we let ripen six or seven. Sharp taste, juicy, looking perfectly like from the catalogue. Not treated for any disease, as we did not expect any crop.

09 Oct 2018 

Frank

CORNWALL, United Kingdom

Looks nice, good flavour, but it is a tip bearer, definately not a spur bearer which makes it a bit more tricky to grow. Not a heavy cropper so far, tree is about 6 years old on M26. Very nice ornamental flowers in spring, but as said before can't be pruned to shape very easily due to tip bearing.

10 Apr 2016 

Samuel

KENT, United Kingdom

This apple has a very special taste, at least to me. The flavour has a hint of elder and apple-flower honey. Very special taste. But I guess that it depends on the spread to boot. I also had a special taste experience with the Altess apple. It is sour but at the same time it is sweet too. Very different from what I'm used to with apples.

22 Sep 2013 

Patrick Lydon

KILKENNY, Ireland

I have found Rubinola a delightful apple -- a very nice light and juicy texture and a delicious sweet flavour
Tree register
Spring blossom records for this variety
2022 season
2018 season
2017 season
2016 season
Record your blossom dates in our Fruit Tree Register - more >>.
Harvest records for this variety
Origins
Species: Malus domestica - Apple
Parentage: Prima x Rubin
Originates from: Czech Republic
Identification
Country of origin: Czech Republic
Period of origin: 1950 - 1999
Fruit colour: Red
Flower colour: Pink - light
Leaf colour: Green
Annual cycle: Deciduous
Flowering duration: Average (2-3 weeks)
Flesh colour: Cream
Fruit size: Average
Fruit shape: Round
Using
Picking season: Late
Keeping (of fruit): 1-2 months
Flavour quality: Exceptional
Flavour style (apples): Sweet/Sharp
Flavour style (apples): Aromatic
Discoloration of fruit: Slightly oxidising (browns slowly)
Juice style: Sweeter
Cropping: Good
Fruit persistence: Normal ripening
Food uses: Eating fresh
Food uses: Juice
Picking month: September
Picking period: late September
Wildlife: RHS Plants for Pollinators
Growing
Gardening skill: Average
Flowering group: 3
Pollinating others: Average
Ploidy: Diploid
Vigour: Slightly large
Bearing regularity: Regular
Fruit bearing: Partial tip-bearer
Organic culture: Suitable
Self-fertility: Not self-fertile
Sunlight: Prefers full sun
Growth habit: Upright-spreading / Vase
Soil type: Normal
Pruning: No need to prune
Climate
Climate suitability: Temperate climates
Climate suitability: Mild damp climates
Climate suitability: Warm climates
Cold-hardiness: Cold-hardy
Other qualities
Disease resistance: Good
Scab (Apple and Pear): Very resistant
Powdery mildew: Some resistance
Where to buy fresh fruit
The following orchards grow Rubinola:
United States