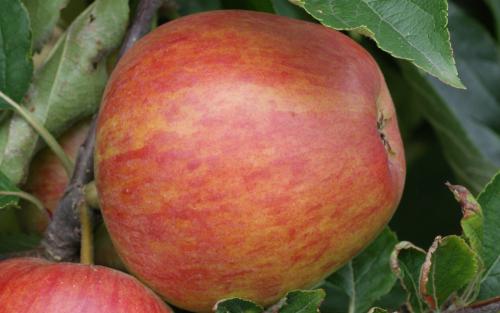 Jupiter is one of several apple varieties that can be considered as close substitutes for Cox's Orange Pippin. It was developed in the 1960s by the famous East Malling Research Station in Kent, with Cox being one of the parent varieties. The other parent is Starking, a sport of Delicious, a widely grown American apple variety originating in the 19th century.

Cox is a notoriously difficult apple to grow, and a great deal of research has gone into developing new varieties that retain the unique flavour whilst being easier to manage. From a commercial perspective many of these offspring are still not ideal - too small, too large, don't travel well, and so on. However many are still nice apples in their own right, often appealing to a wider audience than Cox, and Jupiter certainly falls into this category.

Jupiter is a very pleasant apple to look at. It is basically yellow but mostly covered with the characteristic orange and red flush of Cox. The shape is much more upright than Cox, like many other modern varieties, and has perhaps more "shelf-appeal" than its parent.

The flesh is juicy, and off-white in colour with a hint of green. Like most Cox offspring it is quite dense, firm rather than crunchy, but not soft. The flavour is strong, very "appley", and perhaps more acidic than Cox. An interesting comparison is with Kidd's Orange Red, also the result of a cross between Cox's Orange Pippin and an American variety. Jupiter errs on the sharper side, whereas Kidd's Orange Red is sweeter, and perhaps slightly closer in style to Cox. Purely in terms of flavour (there is not a close family relationship) Jupiter is very similar to Topaz, which also has the same well-balanced sharp strong flavour.

If you like Cox's Orange Pippin, and like a sharper apple, then you can be confident you will enjoy Jupiter. This is a nice example of a modern Cox-style apple, good-looking, and with an appealing robust apple flavour that delivers what it promises.
Jupiter apple identification images
All images copyright Orange Pippin unless otherwise stated.
USDA identification images for Jupiter
The identification paintings in the USDA Pomological Watercolor Collection span the years 1886 to 1942.
Citation: U.S. Department of Agriculture Pomological Watercolor Collection. Rare and Special Collections, National Agricultural Library, Beltsville, MD 20705.
Parents and other ancestors of this variety
Visitor reviews
09 Aug 2017 

Elaine

LONDON, United Kingdom

Bought this apple at a farmers' market a few years ago and was amazed by the taste, which I could only describe as 'fruit cocktail'. Sadly, I have never seen this apple in the shops. Why? No idea! Clearly the best apple I have EVER eaten.

18 Nov 2015 

John Nolan

GLOUCESTER, United Kingdom

18Nov15 We live in a fruit growing area. The soil is basically red clay. A glut year. I am here because I am trying to identify another Apple that we have, that is very like our Jupiter. Our Jupiter has been prolific with medium to large apples. They are very juicy, but a bit floury. They do not juice so well, and I don't why. They behave a bit like pears - not so good in an apple juicer. It may be that the flesh is not so firm and/or the skin doesn't shred so well and blocks the juicing. But the taste is excellent.

17 Dec 2008 

David Gilbert

NOTTINGHAM, United Kingdom

I agree with all your comments. My single tree has cropped really well in the last couple of years, despite dropping hundreds of small fruits in the early Summer. We have successfully stored through to February in an unheated garage, though the fruits soften eventually. Besides being a good eater, the fruit also cooks remarkably well, and thin slices can be lightly stewed, and then stored in jars. A versatile apple!

30 Nov 2007 

David Smart

SURREY UK, United Kingdom

Just identified, my little tree has produced c1600 apples this year(c200KG). I agree the flavour is as good, perhaps better, than a C.O.Pippin. However the fruit does not last long and, in my experience, is best early October thru to mid November. Does this throw doubt on the identification?

03 Aug 2007 

Tom

United Kingdom

I only recently discovered Jupiter, being a confirmed "nothing will do but Cox's" addict, it was an absolute revelation. I agree entirely with your comments except that I would say it is arguably better than a Cox – I have had early season apples through to ones picked mid-October and they are to me more consistent in texture and flavour than Cox.
Tree register
Spring blossom records for this variety
2013 season
19th May  2013  - tree owned by Jean in Martock, United Kingdom
April  2013  - tree owned by Judith in Rowlands Castle, United Kingdom
2012 season
3rd May  2012  - tree owned by Lenore in Beverley, United Kingdom
2011 season
19th April  2011  - tree owned by Lenore in Beverley, United Kingdom
14th April  2011  - tree owned by Mrs Che in Bingley, United Kingdom
Record your blossom dates in our Fruit Tree Register - more >>.
Harvest records for this variety
2013 season
2012 season
2011 season
2010 season
Origins
Species: Malus domestica - Apple
Parentage: Cox x Starking Delicious
Originates from: United Kingdom
Introduced: 1965
Developed by: East Malling Research Station
UK National Fruit Collection accession: 1972-191
Identification
Awards: RHS AGM (current)
Country of origin: United Kingdom
Period of origin: 1950 - 1999
Fruit colour: Orange flush
Flower colour: Pink - light
Leaf colour: Green
Popularity: Best sellers
Annual cycle: Deciduous
Using
Picking season: Late
Keeping (of fruit): 1-2 months
Flavour quality: Very good
Flavour style (apples): Aromatic
Discoloration of fruit: Oxidising
Cropping: Heavy
Fruit persistence: Normal ripening
Food uses: Eating fresh
Wildlife: RHS Plants for Pollinators
Growing
Gardening skill: Average
Flowering group: 3
Pollinating others: Poor
Ploidy: Triploid
Vigour: Vigorous
Bearing regularity: Regular
Bearing regularity: Biennial tendency
Fruit bearing: Spur-bearer
Self-fertility: Not self-fertile
Climate
Climate suitability: Temperate climates
Summer average maximum temperatures: Cool ( 20-24C / 68-75F)
Cold hardiness (RHS): H6 (to -20C)
Other qualities
Disease resistance: Good
Powdery mildew: Very resistant
Scab (Apple and Pear): Some resistance
Where to buy trees
The following tree nurseries offer Jupiter apple trees for sale:
Cummins Nursery
United States  More >>
Where to buy fresh fruit
The following orchards grow Jupiter:
United Kingdom
England - midlands

England - north
References
Fruit Expert
Author: Hessayon