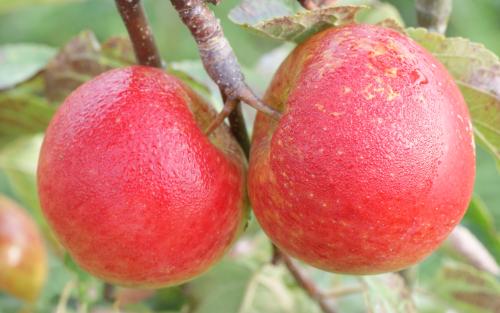 Cambridgeshire has a long tradition of fruit-growing, including extensive apple orchards, and the Chivers family started a highly successful jam-making factory at Histon near Cambridge in the late 19th century, using fruit from nearby orchards. The Chivers brand is now part of Premier Foods, and jam production still continues at Histon.

In the 1920s one of the family, Stephen Chivers, started to develop his own apple varieties, of which Chivers' Delight was the most successful. Unfortunately there is little information on the parentage of this lovely apple, although the flattened shape and sweet flavour hint at Cox's Orange Pippin.

Chivers' Delight was popular in the first half of the 20th century but has since fallen out of favour. It is a medium-sized apple, crisp, with a sweet but well-balanced flavour. Definitely worth trying if you manage to find any - this is an excellent apple.
Chivers Delight apple identification images
All images copyright Orange Pippin unless otherwise stated.
USDA identification images for Chivers Delight
The identification paintings in the USDA Pomological Watercolor Collection span the years 1886 to 1942.
Citation: U.S. Department of Agriculture Pomological Watercolor Collection. Rare and Special Collections, National Agricultural Library, Beltsville, MD 20705.
Visitor reviews
05 Nov 2011 

Scyrene

United Kingdom

Large, yellow-green fruits with a blush, currently being sold by Co-op. Very tasty, but not terribly distinctive. Still, it's good to see these old varieties making a comeback.

03 Nov 2011 

Jw

United Kingdom

Just got some of these from the Co-Op. Very nice indeed. Well worth a try.

30 Jun 2010 

Elizabeth Wade (Nee Chivers)

Australia

I am a descendant of one of the Chivers brothers that was born in Histon and came out here in 1840 to live. Settled and had apple orchards in Templestowe Victoria. I am amazed at the "apple growing" connection!

09 Nov 2009 

Derek Chivers

GERMANY, Germany

Hallo Rainer ! Ich möchte gerne ein CHIVERS Apfelbaum für mein Garten. Kannst du mir helfen ? Währe nett mfg D.Chivers

03 Dec 2008 

Anja Britton

NOTTINGHAMSHIRE, United Kingdom

I have just had my big old apple tree identified as Chiver's...I agree with previous comments...fruit very waxy, tree never fails to crop well but I feel my tree could be in a bit warmer location as in cool autumns flavour do not often develop to it's best...

12 Oct 2008 

Tim Pizey

OXFORD, United Kingdom

Our apple tree was identified as a Chivers Delight by an expert at Waterperry Gardens. The house was built in 1935, I assume the tree was planted at about that time, though it could predate the house. The skin can be over waxy. It is tolerant of shading and contines to fruit well. Very pleasant fresh, with a cidery aroma. Can become dry and fluffy with age, I would not say it is a good keeper. Also good stewed.

12 Oct 2008 

Alina

OXON, United Kingdom

This is definitely on the list of apples I could not do without: great flavour (even after a poor sunless summer) and a good cropper. Neat upright grower as well, easily pruned to shape. 10/10 - HIGHLY RECOMMENDED

05 Aug 2008 

Rainer Kretz

NORTH DORSET, United Kingdom

A wonderful apple which we planted seven years ago and which has never failed to thrill. A nicely shaped, disease resistant tree which always crops well. The fruit is delicious and a good keeper and we are already looking forward to the next harvest. I couldn't recommend it too highly!
Tree register
Spring blossom records for this variety
2018 season
2017 season
2016 season
2014 season
2012 season
2010 season
Record your blossom dates in our Fruit Tree Register - more >>.
Harvest records for this variety
2020 season
2016 season
2014 season
2012 season
2009 season
Origins
Species: Malus domestica - Apple
Parentage: Unknown, might be Cox
Originates from: England, United Kingdom
Introduced: 1920
UK National Fruit Collection accession: 1979-157
Identification
Country of origin: United Kingdom
Period of origin: 1900 - 1949
Fruit colour: Orange flush
Leaf colour: Green
Popularity: Best sellers
Annual cycle: Deciduous
Fruit size: Average
Using
Picking season: Late
Keeping (of fruit): 3 months or more
Flavour quality: Very good
Flavour style (apples): Sweet/Sharp
Flavour style (apples): Aromatic
Discoloration of fruit: No discoloration (Good for drying)
Cropping: Good
Fruit persistence: Normal ripening
Food uses: Juice
Picking month: October
Picking period: early October
Wildlife: RHS Plants for Pollinators
Growing
Gardening skill: Average
Flowering group: 4
Pollinating others: Average
Ploidy: Diploid
Vigour: Average vigour
Bearing regularity: Regular
Fruit bearing: Spur-bearer
Attractive features: Attractive tree / plant
Self-fertility: Not self-fertile
Sunlight: Prefers full sun
Climate
Climate suitability: Temperate climates
Cold-hardiness: Cold-hardy
Summer average maximum temperatures: Cool ( 20-24C / 68-75F)
Summer average maximum temperatures: Warm (25-30C / 76-85F)
Other qualities
Disease resistance: Average
Where to buy trees
The following tree nurseries offer Chivers Delight apple trees for sale:
Where to buy fresh fruit
The following orchards grow Chivers Delight:
United Kingdom