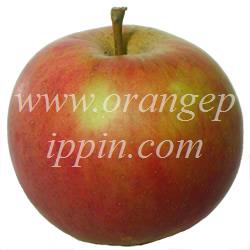 This is a handsome old apple variety from Barnack, a small village in Lincolnshire (although now part of Cambridgeshire). It has a sharp flavour and is best used for cooking.

Apparently, on its native soil, Barnack Beauty did not crop particularly well, although it has a repuation for doing well elsewhere! This probably reflects the fact that whilst it tolerates the chalky soil of Barnack better than other varieties, it still prefers a less alkaline soil.

Thanks to Jen Birch for correcting us, apparently Barnack was never part of Lincolnshire although it is very close to the border.
Barnack Beauty identification images
USDA identification images for Barnack Beauty
The identification paintings in the USDA Pomological Watercolor Collection span the years 1886 to 1942.
---
Citation: U.S. Department of Agriculture Pomological Watercolor Collection. Rare and Special Collections, National Agricultural Library, Beltsville, MD 20705.
Species: Malus domestica
Introduced: 1840
Picking season: Late
Cropping: Good
Keeping (of fruit): 3 months or more
Flavor style (apples): Sharper
Food uses: Eating fresh
Food uses: Culinary
Self-fertility: Not self-fertile
Flowering group: 4
Ploidy: Diploid
Bearing regularity: Regular
Summer average maximum temperatures: Cool ( 20-24C / 68-75F)
Country of origin: United Kingdom
Period of origin: 1800 - 1849
Flower colour: White
Leaf colour: Green
Fruit colour: Orange flush
Where to buy trees
The following tree nurseries offer Barnack Beauty apple trees for sale:
Keepers Nursery
United Kingdom  More >>
Where to buy fresh fruit
No orchards have registered as growing this variety. If you grow this and want to register please go to our Orchard Registration form.