Pristine
TM

apple

Last updated 16 Feb 2014.



Beautiful lemon-yellow apple with a perfect finish. This high quality apple is very productive and is a good keeper for an early apple.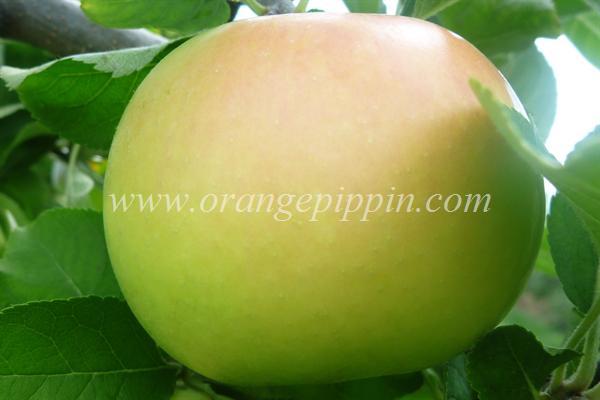 Origins
Species: Malus domestica
Parentage: Co Op 10 x Camuzat
Originates from: United States
Introduced: 1994
Developed by: PRI (Purdue, Rutgers, Illinois Co Op)
Orange Pippin Cultivar ID: 1850
Identification
Fruit colour: Yellow / Gold
Flesh colour: White to Cream, pale yellow
Fruit size: Small
Fruit size: Medium
Fruit shape: Flat-round
Fruit shape: Short-round-conical
Fruit shape: Round
Fruit shape: Round-conical
Fruit shape: Conical
Shape features (vertical view): Lop-sided, unequal sides, irregular
Shape features (vertical view): Tapering toward calyx end or apex
Shape uniformity: Pentangular, 5 sided
Shape uniformity: Uniform, in size and shape
Russet % coverage: Absent
Basin russet: Gray to Brown Russet
Basin russet: Little, light russet
Basin russet: Usually Russet free
Using
Uses: Eat fresh
Uses: Drying
Flavour quality: Good
Flavour style: Sharper
Flavour style: Sharp / refreshing
Harvest period: Early season
Harvest period: Very early season
Use / keeping: 1 week
Growing
Cropping: Good
Flowering period: Mid-Late season
Flowering group: 4
Fertility: Self-sterile
Ploidy: Diploid
Vigour: Average growth
Bearing regularity: Biennial tendency
Gardening skill: Average
Fruit bearing: Spur-bearer
General disease resistance: Good
Period of origin: 1950 - 1999
Diseases
Scab  - Very resistant
Mildew  - Some resistance
Fireblight  - Some susceptibility
Cedar apple rust  - Some susceptibility
Relationships to other varieties
Parents and other ancestors of this variety:
References and further reading about this variety
Cedar-Apple Rust  
Author: Stephen Vann, University of Arkansas, Division of Agriculture (FSA7538)
Rated as susceptible - control usually needed where CAR is prevalent.
Fruit tree register
Do you have a tree of this variety in your garden or orchard? If so please register the details here and contribute to our international register of fruit trees.
The following Pristine trees have been registered - click the name to view more details of each tree.
You can also view these trees on a map.
United States
Latest Spring blossom records for this variety
2017 season
18th April  2017  - tree owned by Jerry in Point Reyes Station, United States
2014 season
18th August  2014  - tree owned by Gil in Snohomish, United States
2012 season
7th May  2012  - tree owned by Florian in Brush Prairie, United States
Record your blossom dates in our Fruit Tree Register - more >>.
Latest harvest records for this variety
2017 season
3rd week July  2017  - tree owned by Jerry in Point Reyes Station, United States
2014 season
2nd week August  2014  - tree owned by Gil in Snohomish, United States
2012 season
Where to buy fresh fruit
United Statesmap >