Orleans Reinette apple
Last updated 10 May 2012.
An old-fashioned 18th century French apple, with a good reputation for flavour, but usually not a good cropper.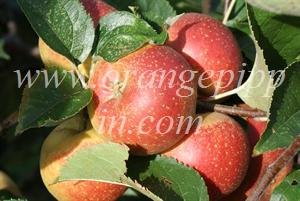 Origins
Species: Malus domestica
Parentage: Unknown
Originates from: France
Introduced: 1770s
Orange Pippin Cultivar ID: 1043
UK National Fruit Collection accession: 1976-147
Identification
Fruit colour: Red / Orange flush
Bultitude apple group: 7. Flushed / striped, some russeting, sweet
Using
Uses: Eat fresh
Uses: Cooking
Cooking result: Keeps shape
Flavour quality: Very good
Flavour style: Aromatic
Harvest period: Late season
Use / keeping: 2-3 weeks 

Unusually for a late variety, does not keep particularly well.
Growing
Cropping: Light
Flowering period: Late season
Flowering group: 4 

Flowers over quite a long period.

Fertility: Self-sterile
Ploidy: Triploid
Pollinating others: Poor
Vigour: Average growth
Gardening skill: Average
General disease resistance: Average
Climate
Climate suitability: Temperate climates
References and further reading about this variety
Apples for the 21st Century
Author: Manhart
Listed as Orleans, lists Winter Ribston as synonym
Apples of England (1948)
Author: Taylor
Fruit Expert
Author: Hessayon
Some Antique Apples for Modern Orchards, (2008)
Author: Merwin I.A.
Orleans Reinette identification photos from official fruit collections
UK National Fruit Collection
©Crown Copyright
more >
Orleans Reinette identification photos from website visitors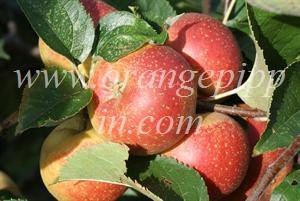 Orleans Reinette apples


Fruit tree register
Do you have a tree of this variety in your garden or orchard? If so please register the details here and contribute to our international register of fruit trees.
The following Orleans Reinette trees have been registered - click the name to view more details of each tree.
You can also view these trees on a map.
United States
United Kingdom
France
Netherlands
Australia
Switzerland
Latest Spring blossom records for this variety
2017 season
9th May  2017  - tree owned by Cheuk in AMSTERDAM, Netherlands
2016 season
10th May  2016  - tree owned by Cheuk in AMSTERDAM, Netherlands
2014 season
April  2014  - tree owned by Amanda in CAHORS, France
2013 season
25th May  2013  - tree owned by Jean in Martock, United Kingdom
13th May  2013  - tree owned by Chris in OXFORD, United Kingdom
2011 season
20th May  2011  - tree owned by Gina in MACCLESFIELD, United Kingdom
22nd April  2011  - tree owned by John in MALVERN, United Kingdom
14th April  2011  - tree owned by Stuart in BEDFORD, United Kingdom
2010 season
April  2010  - tree owned by Ian in PLAISANCE, France
Record your blossom dates in our Fruit Tree Register - more >>.
Latest harvest records for this variety
2017 season
2016 season
2014 season
2013 season
2011 season
4th week September  2011  - tree owned by Gina in MACCLESFIELD, United Kingdom
2nd week September  2011  - tree owned by Mark in PALO ALTO, United States
2010 season
1st week October  2010  - tree owned by Ian in PLAISANCE, France
Where to buy trees
The following fruit tree nurseries offer Orleans Reinette apple trees for sale:
Where to buy fresh fruit
United Statesmap >
United Kingdommap >