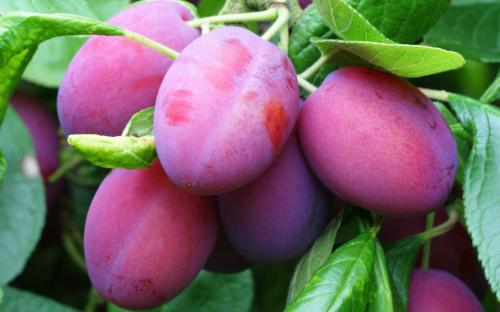 The Victoria plum is by far the most popular plum variety in the UK. It is also probably the most popular fruit tree of any species sold in UK garden centres, being self-fertile and well-known for heavy crops of very attractive fruit with a lovely red-plum colour. English gardeners wanting to grow a plum tree tend to look no further, and with good reason.
As the name suggests, Victoria dates from the Victorian era but not much is known about its origins. It was introduced in the 1840s and rapidly became a popular garden and commercial variety - a position it has maintained ever since.
Victoria really excels as a culinary plum. It cooks to a distinctive pink/orange puree which makes very good jam and a good-flavoured filling for pies and crumbles.
Victoria plums are sometimes considered inferior to other dessert plum varieties for eating fresh. However this assumption is probably based on the poor flavour of shop-bought Victoria plums, which are usually picked far too early. The trick with Victoria is to leave the plums on the tree until they are fully ripe - the skins will start to become a darker red rather than the more usual orange flushed colour. At this point the flavour, whilst not perhaps comparable with the best dessert plums, should not disappoint. (However, if you are intending to use the plums for cooking with, then it is best to pick them slightly under-ripe).
This combination of excellent culinary qualities along with pretty good flavour for eating fresh makes Victoria one of the most versatile English plum varieties. However Victoria suffers from two serious problems. Firstly it has very poor disease resistance to the plum disease silverleaf. This is a fungal disease that enters through open wounds in the bark, and for this reason Victoria plum trees, like all plum trees, should never be pruned in winter - in fact it is best to avoid pruning entirely with this variety.
Secondly, the wood is brittle, and given its tendency to over-crop, tends to result in branches breaking under the weigh of fruit - which of course are then exposed to disease infection.
Growing a Victoria plum tree is therefore a good way to gain first-hand experience of silverleaf. However whilst fruit trees that are prone to disease are often best avoided, paradoxically, Victoria is a very easy variety to grow - the inherent heavy-cropping capability means the tree tends to keep going regardless of the inevitable disease and broken branches it accumulates within a few years. It is therefore a very good choice for the gardener who wants to grow fresh plums, (although given its tendency to lose branches, perhaps not as a specimen tree).
Victoria plum identification images
All images copyright Orange Pippin unless otherwise stated.
USDA identification images for Victoria
The identification paintings in the USDA Pomological Watercolor Collection span the years 1886 to 1942.
Citation: U.S. Department of Agriculture Pomological Watercolor Collection. Rare and Special Collections, National Agricultural Library, Beltsville, MD 20705.
Offspring of this variety
Visitor reviews
10 May 2020 

Judith Carter

MERSEYSIDE, United Kingdom

I have an allotment where I am getting suckers, from the Victoria plum in the next plot, coming up in my raspberry patch. Having read the post by Adrian (2012) about the quality of suckers, I want to know whether there may be in any drawbacks to keeping a sucker in amongst the raspberries, which are in a 3x3m patch in the open. the main sucker is only about 3m from the mother tree.

26 Aug 2012 

Adrian

SUFFOLK, United Kingdom

When my mother moved into her South London house in 1956 there was a mature Victoria Plum at the bottom of her garden. It produced heavy crops all through my childhood. Eventually it succumbed to silver leaf disease and was cut down. However suckers had come up in a neighbours garden. These grew into a mature tree, we continued to eat the plums for many years hanging over the fence. This too succumbed to silver leaf, however we still eat the fruit from another suckered tree in the next garden, which still hangs over my mothers fence. This tree is not very healthy now but we have had 56 years of fruit from essentially the same tree and it was mature when we arrived!

08 Feb 2011 

C.Hawley

WARWICKSHIRE, United Kingdom

We inherited a Victoria Plum, which was mature when we moved into our property in 1985. The tree consistently produced excellent crops of delicious plums. It contracted silver leaf disease and significant die back and had to be taken down a couple of years ago. It produced fruit for at least 40 years and I thoroughly recommend it.
Tree register
Spring blossom records for this variety
2022 season
2021 season
2020 season
2018 season
2017 season
2016 season
2015 season
2014 season
2013 season
2012 season
2011 season
2010 season
2009 season
Record your blossom dates in our Fruit Tree Register - more >>.
Harvest records for this variety
2022 season
2018 season
2017 season
2016 season
2015 season
2014 season
2013 season
2012 season
2011 season
2010 season
2009 season
Origins
Species: Prunus domestica - European plum
Originates from: Alderton, Sussex, United Kingdom
Introduced: 1840s
Identification
Awards: RHS AGM (current)
Country of origin: United Kingdom
Period of origin: 1800 - 1849
Fruit colour: Red
Flower colour: White
Leaf colour: Green
Popularity: Best sellers
Annual cycle: Deciduous
Using
Cling-stone: Freestone
Picking season: Mid
Keeping (of fruit): 1 week
Flavour quality: Exceptional
Cropping: Heavy
Fruit persistence: Ripens over a period
Food uses: Eating fresh
Food uses: Culinary
Food uses: Dual purpose
Picking period: mid-August
Wildlife: RHS Plants for Pollinators
Growing
Gardening skill: Beginner
Flowering group: 3
Pollinating others: Good
Vigour: Slightly large
Bearing regularity: Regular
Organic culture: Suitable
Attractive features: Attractive fruit
Self-fertility: Self-fertile
Climate
Frost resistance of blossom: Good resistance
Climate suitability: Temperate climates
Summer average maximum temperatures: Cool ( 20-24C / 68-75F)
Summer average maximum temperatures: Warm (25-30C / 76-85F)
Cold hardiness (RHS): H5 (to -15C)
Summer average maximum temperatures: Cold (< 20C / 67F)
Other qualities
Disease resistance: Poor
Plum pox virus / Sharka: Some susceptibility
Silverleaf: Very susceptible
Where to buy trees
The following tree nurseries offer Victoria plum trees for sale:
Where to buy fresh fruit
The following orchards grow Victoria:
United Kingdom
References
Fruit Expert
Author: Hessayon