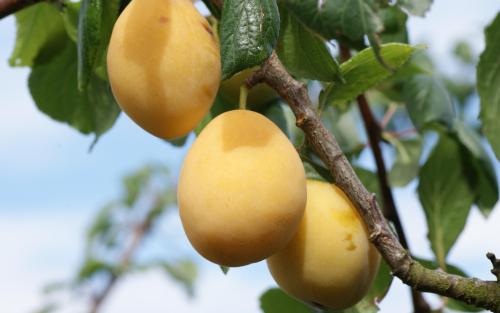 The Pershore plum was the mainstay of the English plum industry in the Vale of Evesham in Worcestershire from the mid 19th century until the early 20th century. It is also popularly known as the Yellow Egg plum from its yellow colour, and because it is one of a group of plums which have a distinctive egg-like oval shape.
Pershore is in many ways the perfect commercial plum. It is a reliable and heavy cropper. The trees are compact in size, and the blossom has some frost resistance. The tree is resistant to the two main plum diseases, canker and silverleaf. The fruit can be picked un-ripe and stored for several weeks.
The one slight drawback for the amateur grower is that Pershore is really not a plum for eating fresh off the tree - the flesh appears to have little or no juice, and the flavour is merely acidic. However it is transformed by cooking into a golden yellow puree with a good plum flavour which is ideal for jam or pie fillings.
Pershore is complimented by another variety from the same area, Purple Pershore (and hence is often referred to as the Yellow Pershore). However although the shape and uses are similar there is some doubt as to whether these two varieties are actually related.
Pershore plum identification images
All images copyright Orange Pippin unless otherwise stated.
USDA identification images for Pershore
The identification paintings in the USDA Pomological Watercolor Collection span the years 1886 to 1942.
Citation: U.S. Department of Agriculture Pomological Watercolor Collection. Rare and Special Collections, National Agricultural Library, Beltsville, MD 20705.
Visitor reviews
13 Dec 2012 

Helen

ID - IDAHO, United States

I found and planted a Yellow Egg plum 4 years ago. It fruited the 2nd year and produced a half bushel of plums this past fall. It ripens in mid-September here in Idaho. I make juice, plum sauce and jams with the harvest since the flesh breaks down almost immediately with cooking. I eat a few between the orchard and house since I let it fully ripen on the tree. The juicy sweet flesh is somewhat 'grainy' and the skin rough, not as tart as my Catalina and Black Ice plums. I haven't tried keeping the plums for any length of time since I tend to pick and process.
Tree register
Spring blossom records for this variety
2012 season
17th April  2012  - tree owned by Celia in Manchester, United Kingdom
Record your blossom dates in our Fruit Tree Register - more >>.
Harvest records for this variety
2010 season
2nd week July  2010  - tree owned by Simon in Malvern, United Kingdom
Origins
Species: Prunus domestica - European plum
Originates from: Pershore in Worcestershire, United Kingdom
Identification
Country of origin: United Kingdom
Period of origin: 1800 - 1849
Fruit colour: Yellow
Flower colour: White
Leaf colour: Green
Annual cycle: Deciduous
Using
Cling-stone: Clingstone
Picking season: Mid
Keeping (of fruit): 1 week
Flavour quality: Good
Cropping: Heavy
Fruit persistence: Normal ripening
Food uses: Culinary
Picking period: mid-August
Wildlife: RHS Plants for Pollinators
Growing
Gardening skill: Beginner
Flowering group: 4
Pollinating others: Average
Vigour: Average vigour
Bearing regularity: Regular
Organic culture: Suitable
Self-fertility: Self-fertile
Climate
Climate suitability: Temperate climates
Summer average maximum temperatures: Cool ( 20-24C / 68-75F)
Summer average maximum temperatures: Warm (25-30C / 76-85F)
Summer average maximum temperatures: Cold (< 20C / 67F)
Other qualities
Disease resistance: Good
Silverleaf: Some resistance
Where to buy trees
The following tree nurseries offer Pershore plum trees for sale:
Where to buy fresh fruit
No orchards have registered as growing this variety. If you grow this and want to register please go to our Orchard Registration form.
References
Fruit Expert
Author: Hessayon
As Yellow Pershore