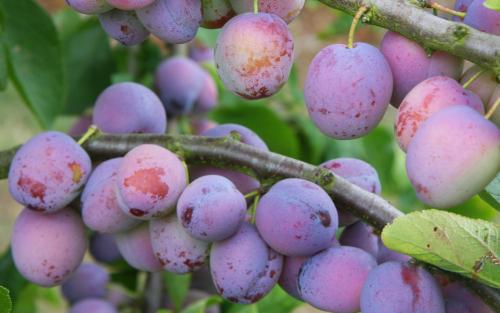 Opal is probably the best-flavoured early plum variety - indeed it is sometimes called a gage-like plum thanks to the excellence of its flavour. It demonstrates (along with Ariel) that crossing a gage with plum can improve the gage-like flavour.
However the flavour depends crucially on developing sugars during the short growing period, and in the UK and northern Europe Opal really benefits from being grown against a south-facing wall or in a sunny aspect. In less favourable situations it will still give good crops but the flavour may be bland.
The fruit is medium-sized, coloured dusky red with a heavy bloom, becoming blue when overripe. The fruit is at its best just before the colour changes to blue. The plums ripen over a period of about 1-2 weeks, so you don't have to deal with a glut. The flesh is straw-yellow and fairly juicy. Opal is a free-stone plum - the stone falls away easily from the flesh. If picked on a warm July day and placed in a fruit bowl Opal also has a wonderful aroma.
Recommended because it is easy to grow in a variety of climates and provides good quality plums early in the season - but to get the full flavour it is essential to thin the crop, and to plant in a sunny aspect.
Opal plum identification images
All images copyright Orange Pippin unless otherwise stated.
USDA identification images for Opal
The identification paintings in the USDA Pomological Watercolor Collection span the years 1886 to 1942.
Citation: U.S. Department of Agriculture Pomological Watercolor Collection. Rare and Special Collections, National Agricultural Library, Beltsville, MD 20705.
Parents and other ancestors of this variety
Visitor reviews
17 Aug 2013 

Tahir

United Kingdom

A very good early plum, moderately heavy crop this year. Gage genes definitely show through in the flavour. Not as badly affected by brown rot as some

21 Oct 2012 

Beth Cumming

EDINBURGH, United Kingdom

Had this in the garden for 4 years and the fruit just doesn't seem to ripen here. I've just picked the few plums we have and it's 20th october and they are still hard! I'm afraid I'm going to have to take it out. I used to have a Victoria which was fantastic, will stick to that if I decide to plant another in the future.

09 Aug 2011 

Elizabeth Thorn

HAMPSHIRE, United Kingdom

I bought a tree 2 years ago, and it has just produced its first fruit. They are dark purple and fall off while still hard; after being in a bowl with some bananas they are just about edible, but are still rather tart and don't have a nice flavour at all - not what I was expecting. I am very disappointed.

23 Sep 2010 

Robert Purvis

IDAHO, United States

I've grown Opal for 17 years--in Washington State, Minnesota, and now Idaho. Fruit can keep up to a month, in my experience. Ripening date was about July 28 in WA State, about Aug. 2 in MN, about July 25 here. The tree is very precocious. It's one of the very few European plums that will survive and ripen in Anchorage, Alaska where it ripens about Sept. 4 on the average. The tree is fully hardy at -33F, will be injured at -40F but bounces back well from cold injury. Tree has a dense, round head. One minor drawback is its tendency to grow current season growth with very narrow angles between the shoots. It's an excellent plum for the early market, and I'm very fond of it; and it can easily be dried as well.
Tree register
Spring blossom records for this variety
2014 season
2013 season
2012 season
2011 season
2010 season
Record your blossom dates in our Fruit Tree Register - more >>.
Harvest records for this variety
2017 season
2013 season
2012 season
2011 season
Origins
Species: Prunus domestica - European plum
Parentage: Oullins Gage and Early Favourite
Originates from: Sweden
Introduced: 1925
Developed by: Horticultural Research Station, Alnarp
Identification
Awards: RHS AGM (current)
Country of origin: Sweden
Period of origin: 1900 - 1949
Fruit colour: Red
Flower colour: White
Leaf colour: Green
Popularity: Best sellers
Annual cycle: Deciduous
Using
Cling-stone: Semi-freestone
Picking season: Early
Keeping (of fruit): 1-3 days
Flavour quality: Very good
Cropping: Heavy
Fruit persistence: Ripens over a period
Food uses: Eating fresh
Picking period: mid-July
Wildlife: RHS Plants for Pollinators
Growing
Gardening skill: Beginner
Flowering group: 3
Pollinating others: Average
Vigour: Slightly large
Bearing regularity: Regular
Organic culture: Suitable
Attractive features: Attractive fruit
Self-fertility: Self-fertile
Climate
Cold hardiness (USDA): (4) -30F / -34C
Climate suitability: Temperate climates
Summer average maximum temperatures: Cool ( 20-24C / 68-75F)
Summer average maximum temperatures: Warm (25-30C / 76-85F)
Cold hardiness (RHS): H6 (to -20C)
Summer average maximum temperatures: Cold (< 20C / 67F)
Where to buy trees
The following tree nurseries offer Opal plum trees for sale:
Where to buy fresh fruit
The following orchards grow Opal:
United States
United Kingdom
England - midlands

England - north
References
Fruit Expert
Author: Hessayon