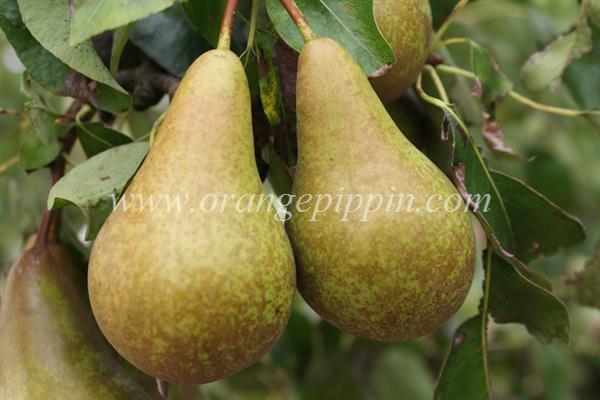 Conference is the most widely-grown pear variety in the UK. It crops heavily and reliably, and will grow in most situations. It is also the leading commercial pear variety in Europe, with the Netherlands being the biggest producer.
Conference is self-fertile, and a good pollinator for many other pears.
A home-grown Conference pear, picked just before it is fully ripe, has an excellent flavour that should not disappoint.
Conference was developed by the Rivers Nursery of Sawbridgeworth, Hertfordshire, in the second half of the 19th century. It is thought to be a seedling of a continental variety called Van Mons Leon Leclerc. It was named after the National British Pear Conference held in 1885.
Conference identification images
USDA identification images for Conference
The identification paintings in the USDA Pomological Watercolor Collection span the years 1886 to 1942.

Year:

1916


Year:

1921


Year:
---
Citation: U.S. Department of Agriculture Pomological Watercolor Collection. Rare and Special Collections, National Agricultural Library, Beltsville, MD 20705.
Species: Pyrus communis
Parentage: Seedling of Van Mons Leon Leclerc
Introduced: Late 19th century
Developed by: Rivers of Sawbridgeworth
Picking season: Mid
Cropping: Heavy
Keeping (of fruit): 2-3 weeks
Food uses: Eating fresh
Self-fertility: Self-fertile
Flowering group: 3
Ploidy: Diploid
Growth habit: Upright
Bearing regularity: Regular
Cold hardiness (RHS): H6 (to -20C)
Summer average maximum temperatures: Cold (< 20C / 67F)
Summer average maximum temperatures: Cool ( 20-24C / 68-75F)
Summer average maximum temperatures: Warm (25-30C / 76-85F)
Country of origin: United Kingdom
Period of origin: 1850 - 1899
Leaf colour: Green
Fruit colour: Green - light
Where to buy trees
The following tree nurseries offer Conference pear trees for sale:
Where to buy fresh fruit
The following orchards grow Conference:
United Kingdom