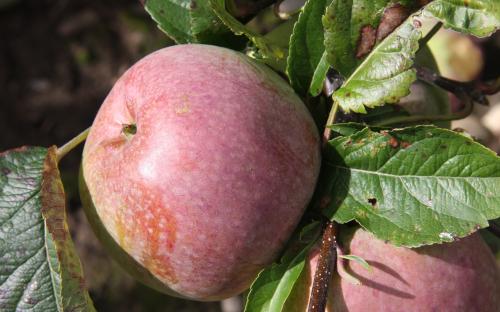 An heirloom American apple variety, commonly found in New York state. Named for the blue-colored bloom.
Blue Pearmain apple identification images
All images copyright Orange Pippin unless otherwise stated.
USDA identification images for Blue Pearmain
The identification paintings in the USDA Pomological Watercolor Collection span the years 1886 to 1942.
Citation: U.S. Department of Agriculture Pomological Watercolor Collection. Rare and Special Collections, National Agricultural Library, Beltsville, MD 20705.
Visitor reviews
06 Nov 2018 

Jakim Pepin

QUEBEC, Canada

I've crossed this heirloom apple at an orchard store this fall, so I decided to buy a 5 lbs bag. These are huge apples with a very dense flesh. Very filling, not the kind of apple to wake a hunger. I find this apple has a nice pear taste with just enough acidity to taste it properly. Not a juicy apple, but quite moist. The last ones I have feel rubbery when I press them. Good apple but only a "3" note.

22 Oct 2016 

Arthur Swanson

MAINE, United States

I have just grafted 5 blue pearmain trees for my orchard in Maine

15 Oct 2016 

Betty Sperlich

NM, United States

complex flavor, dense yellowish flesh, aromatic, sweet, a heavy producer. Very large apples with a purplish/blue blush.

09 Oct 2016 

Anne Rix

NORFOLK, United Kingdom

40 years ago I moved house. There was one old apple tree in the garden, that had been grafted with 2 different varieties (a 'family tree' I think the Victorians called them). One was not very interesting - a Codlin I think. The other, after many years of trying to identify, I decided was a Blue Pearmain. It was large, with a wonderful taste, and it kept well. Looked like the photos here. Since moving, I've had a lot of trouble finding another - finally planted a young tree 2 years ago. It hasn't fruited yet ... in anticipation!

16 Oct 2015 

Fred Lilienkamp

MA, United States

I just found an abandoned Blue Pearmain tree at the beginning of my road in an old field. I have been driving by it now for 29 years and never noticed the red apples on it. I stopped and collected a few. I crunched into one and thought: "This is a really nice apple. I wonder what it is?" It was sweet and crunchy then came a zing of tartness. It had a conical shape similar to a Red Delicious but way beyond the flavor of a red delicious ( a misnomer if there ever was one). There used to be a lot of orchards here in central Massachusetts and I have found other abandoned tress also. I am taking it upon myself to prune this tree. I will also take scions and even try to graft a new tree for my orchard. It is a very striking looking apple. It is a deep red-purple with yellow specks and smells great. The tree must be very disease tolerant as it is healthy and has not one whit of care for the last 29 years and probably longer than that. I am very excited about finding this heirloom tree.

24 May 2015 

Eric Norstog

OREGON, United States

"Are those apples really blue?" people would ask when first seeing my Blue Pearmain tree. Of course, the only answer is "yes". Beyond that, Blue Pearmain is a sweet apple with aromatic overtones, little acid, very fine-grained flesh, a little crunch but no snap, and overall, a wonderful apple to eat out of hand. This small tree is healthy on dwarfing rootstock, not demanding, and regularly productive, though not a heavy producer. This should be the ideal backyard tree on a good dwarfing rootstock.

11 Mar 2014 

Will Carpenter

INDIANA, United States

This apple has a complex flavor that would be unforgettable if it weren't so amazingly mind-blowing.

12 Oct 2011 

Kathy

NY, United States

great for sauce and juice and just to eat.

16 Sep 2011 

Joseph Ingoldsby

MASSACHUSETTS/PLYMOUTH, United States

The waxy skin yields an ivory, medium textured, juicy flesh with a sweet and acid balance and a tartness that lingers. The apple makes a fine cider and keeps well in cold storage.

01 Jan 2010 

Orange Pippin

United Kingdom

Starter post
Tree register
Spring blossom records for this variety
2017 season
2016 season
2013 season
2012 season
2011 season
Record your blossom dates in our Fruit Tree Register - more >>.
Harvest records for this variety
Origins
Species: Malus domestica - Apple
Originates from: United States
Introduced: 19th century
UK National Fruit Collection accession: 1957-210
Identification
Country of origin: United States
Period of origin: 1800 - 1849
Fruit colour: Red - dark
Annual cycle: Deciduous
Flowering duration: Average (2-3 weeks)
Flesh colour: Cream
Fruit size: Average
Fruit size: Variable
Using
Picking season: Late
Keeping (of fruit): 3 months or more
Flavour quality: Good
Flavour style (apples): Sweet/Sharp
Cropping: Good
Food uses: Eating fresh
Picking month: October
Wildlife: RHS Plants for Pollinators
Growing
Flowering group: 3
Pollinating others: Average
Ploidy: Diploid
Vigour: Average vigour
Self-fertility: Not self-fertile
Climate
Cold hardiness (USDA): (5) -20F / -29C
Cold hardiness (USDA): (6) -10F / -23C
Cold hardiness (USDA): (7) 0F / -18C
Cold hardiness (USDA): (8) 10F / -12C
Cold hardiness (USDA): (9) 20F / -7C
Summer average maximum temperatures: Cool ( 20-24C / 68-75F)
Summer average maximum temperatures: Warm (25-30C / 76-85F)
Where to buy fresh fruit
The following orchards grow Blue Pearmain:
United States
Australia