Horneburger Pfannkuchen apple
Last updated 01 Jan 2014.
A good quality late-season German culinary apple.
Origins
Species: Malus domestica
Originates from: Germany
Orange Pippin Cultivar ID: 1109
UK National Fruit Collection accession: 1951-181
Identification
Bultitude apple group: 3. Flushed / striped, smooth, acidic, culinary
Using
Uses: Cooking
Flavour quality: Very good
Harvest period: Late season
Growing
Flowering period: Late season
Flowering group: 5
Fertility: Self-sterile
Ploidy: Triploid
Pollinating others: Poor
Horneburger Pfannkuchen identification photos from official fruit collections
UK National Fruit Collection
©Crown Copyright
more >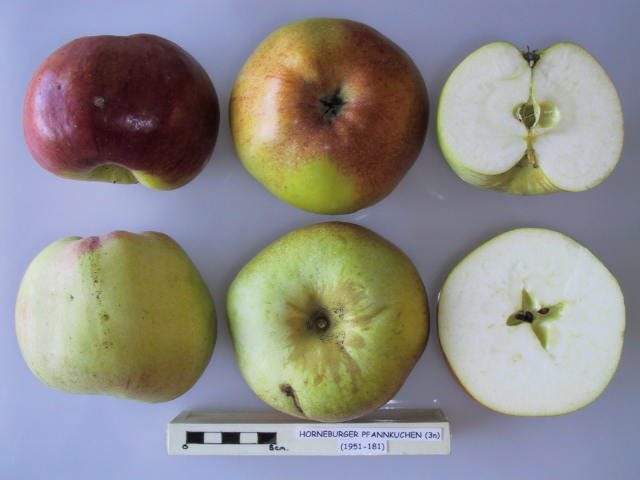 Horneburger Pfannkuchen identification photos from website visitors
Fruit tree register
Do you have a tree of this variety in your garden or orchard? If so please register the details here and contribute to our international register of fruit trees.
The following Horneburger Pfannkuchen trees have been registered - click the name to view more details of each tree.
You can also view these trees on a map.
Canada
Where to buy trees
The following fruit tree nurseries offer Horneburger Pfannkuchen apple trees for sale:
Keepers Nursery
United Kingdom  More >>
Where to buy fresh fruit
No orchards have registered as growing this variety. If you grow this and want to register please go to our Orchard Registration form.