Golden Transparent gage
Prunus domestica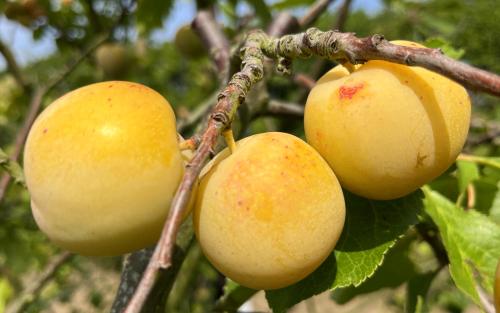 Towards the end of the 19th century nurseryman Thomas Rivers experimented with a French gage variety called Reine Claude Diaphane, a true gage with an unusually transparent ("diaphanous") skin - known in England as Transparent Gage. The most well-known result of this work was his Early Transparent Gage, but Golden Transparent has also been quietly popular amongst gardeners, and is believed to be the result of an open pollinated Transparent Gage.
Golden Transparent is a self-fertile variety - like Early Transparent but unlike its parent. The tree is notably small and compact (a common characteristic of gages and a useful distinguishing point with European plums). By gage standards it is a good cropper, but it can be temperamental.
The fruit is an attractive yellow colour with red dots, larger than a green gage.
Although considered one of the "transparent" gages, in our experience it does not have the true transparency of flesh found in some of its cousins. But no matter - the flavour is excellent, with a juicy thick sugary richness - this is a textbook gage.
Golden Transparent gage identification images
All images copyright Orange Pippin unless otherwise stated.
USDA identification images for Golden Transparent
The identification paintings in the USDA Pomological Watercolor Collection span the years 1886 to 1942.
Citation: U.S. Department of Agriculture Pomological Watercolor Collection. Rare and Special Collections, National Agricultural Library, Beltsville, MD 20705.
Siblings of this variety (same parentage)
Visitor reviews
05 Jun 2022 

Sherwin Dubren

Can occasional Black Knot prevent my 2016 tree from producing fruit? It gives blossoms and although self fruitful, I additionally hand pollinate it from another nearby Gage Plum.

11 Oct 2013 

Karim

United States

Ripens almost simultaneously with the transparent gage, a large round sweet gage that is heaven on a sunny September morning.

25 Aug 2012 

Keir Watson

WEST SUSSEX, United Kingdom

I am growing this gage as a fan against a sunny fence. Although it flowers well, and has a near-by pollinator, it sets few fruit for me. The fruits are, however, exceptional - syrup sweet, aromatic, rich and juicy. I hope that my young (5 years old) tree will improve its yeild with time! You can see photos of the trained tree on my blog: http://herbidacious.wordpress.com/2012/08/25/golden-transparent-gage/
Tree register
Spring blossom records for this variety
2022 season
2016 season
2014 season
2013 season
2012 season
2011 season
2010 season
Record your blossom dates in our Fruit Tree Register - more >>.
Harvest records for this variety
2016 season
1st week September  2016  - tree owned by Donald in West Hartford, United States
Origins
Species: Prunus domestica - European plum
Parentage: Transparent Gage seedling
Originates from: Hertfordshire, United Kingdom
Introduced: 1890
Developed by: Thomas Rivers of Sawbridgeworth
Identification
Country of origin: United Kingdom
Period of origin: 1850 - 1899
Fruit colour: Gold
Fruit colour: Green
Fruit colour: Green / Yellow
Fruit colour: Yellow
Flower colour: White
Leaf colour: Green
Annual cycle: Deciduous
Flowering duration: Average (2-3 weeks)
Flower form: Single flower (5-8 petals)
Flesh colour: Golden / Yellow
Fruit size: Average
Awards: RHS 1st class
Fruit shape: Round
Developer: Thomas Rivers Nursery
Using
Cling-stone: Semi-freestone
Picking season: Late
Keeping (of fruit): 1-3 days
Flavour quality: Very good
Cropping: Heavy
Fruit persistence: Normal ripening
Food uses: Eating fresh
Picking month: September
Picking period: early September
Growing
Gardening skill: Average
Flowering group: 3
Pollinating others: Average
Vigour: Weak growing
Bearing regularity: Regular
Attractive features: Attractive fruit
Self-fertility: Self-fertile
Site conditions: Sheltered site
Sunlight: Prefers full sun
Climate
Climate suitability: Temperate climates
Climate suitability: Warm climates
Summer average maximum temperatures: Warm (25-30C / 76-85F)
Where to buy fresh fruit
No orchards have registered as growing this variety. If you grow this and want to register please go to our Orchard Registration form.