Chestnut Crab crab-apple
Malus domestica
Last updated 21 Apr 2015.
Large cooking and dessert crab apple. Attractive, reddish bronze fruit.  Crisp, juicy sweet flesh with a pleasing nut-like flavor. Ripens over a long period.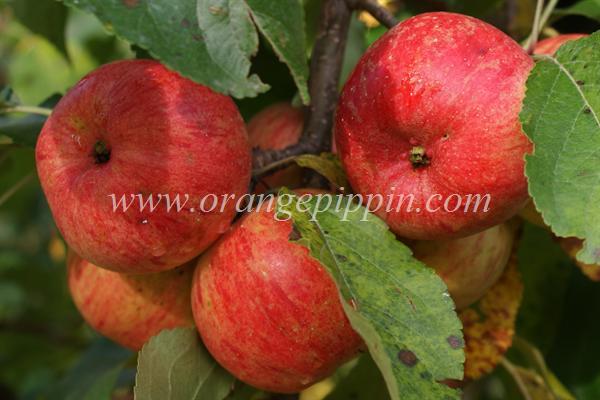 Origins
Species: Malus species
Originates from: United States
Orange Pippin Cultivar ID: 1654
Identification
Using
Uses: Eat fresh
Uses: Cooking
Flavour quality: Very good
Flavour style: Sharper
Harvest period: Mid season
Use / keeping: 2-3 weeks
Growing
Cropping: Good
Flowering group: 3
Fertility: Self-sterile
Ploidy: Diploid
Vigour: Slightly small
Gardening skill: Very easy
General disease resistance: Good
Period of origin: 1950 - 1999
Climate
Climate suitability: Temperate climates
Climate suitability: Tolerates cold winters
Relationships to other varieties
Parents and other ancestors of this variety:
References and further reading about this variety
Fruit tree register
Do you have a tree of this variety in your garden or orchard? If so please register the details here and contribute to our international register of fruit trees.
The following Chestnut Crab trees have been registered - click the name to view more details of each tree.
You can also view these trees on a map.
United States
Canada
Latest Spring blossom records for this variety
2017 season
31st May  2017  - tree owned by fendwick in BEMIDJI, United States
2016 season
20th May  2016  - tree owned by fendwick in BEMIDJI, United States
2012 season
18th April  2012  - tree owned by Chuck in WORTHINGTON, United States
2011 season
17th May  2011  - tree owned by Kris in HOLDEN, United States
Record your blossom dates in our Fruit Tree Register - more >>.
Latest harvest records for this variety
2017 season
2016 season
2012 season
2011 season
2nd week September  2011  - tree owned by Kris in HOLDEN, United States