Alexander apple
Last updated 12 Jan 2014.
An old and attractive culinary apple, cooks to a puree.
Origins
Species: Malus domestica
Parentage: Unknown
Originates from: Ukraine
Introduced: 18th century
Orange Pippin Cultivar ID: 1219
UK National Fruit Collection accession: 1999-072
Some historical details taken with kind permission from 'The New Book of Apples' by Joan Morgan and Alison Richards , illustrated by Elisabeth Dowle, published by Ebury Press, 2002.
Identification
Flesh colour: White
Flesh colour: White to Cream, pale yellow
Fruit size: Very large
Fruit size: Medium
Fruit size: Large
Fruit shape: Round-conical
Fruit shape: Conical
Shape features (vertical view): Lop-sided, unequal sides, irregular
Shape features (vertical view): Tapering toward calyx end or apex
Shape uniformity: Pentangular, 5 sided
Shape uniformity: Uniform in shape, Variable in size
Bultitude apple group: 3. Flushed / striped, smooth, acidic, culinary
Russet % coverage: Medium
Russet % coverage: Low
Basin russet: Little, light russet
Basin russet: Ochre or Green Russet
Basin russet: Smooth, fine Russet
Basin russet: Usually Russet free
Using
Uses: Eat fresh
Uses: Cooking
Uses: Drying
Flavour quality: Good
Flavour quality: Average
Flavour style: Sweet/Sharp
Harvest period: Mid season
Use / keeping: 2-3 weeks
Growing
Flowering period: Mid season
Flowering group: 3
Fertility: Self-sterile
Ploidy: Diploid
Vigour: Large
Precocity: Precocious
Fruit bearing: Spur-bearer
Relationships to other varieties
Offspring of this variety:
Alexander identification photos from official fruit collections
UK National Fruit Collection
©Crown Copyright
more >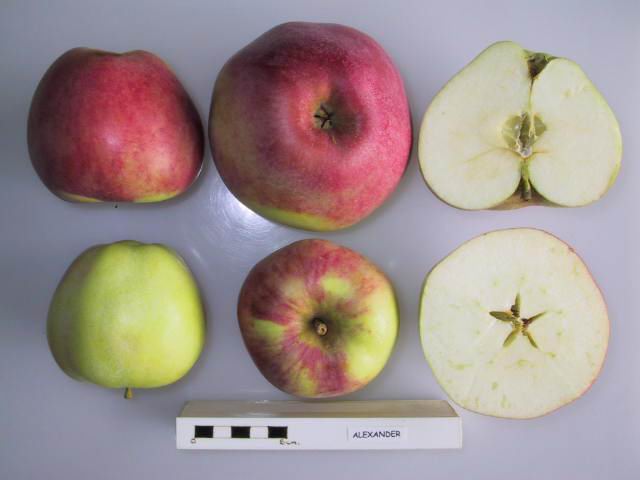 Alexander identification photos from website visitors
Fruit tree register
Do you have a tree of this variety in your garden or orchard? If so please register the details here and contribute to our international register of fruit trees.
The following Alexander trees have been registered - click the name to view more details of each tree.
You can also view these trees on a map.
United States
United Kingdom
Canada
Australia
New Zealand
Russia
Latest Spring blossom records for this variety
2012 season
Record your blossom dates in our Fruit Tree Register - more >>.
Latest harvest records for this variety
2012 season
Where to buy fresh fruit
United Statesmap >