Jefferies apple
Last updated 21 Apr 2013.
Choice early fall apple. Thin-skinned fruit, light red with darker red stripes. Flesh is juicy, crisp yet melting. Rich, pear-like flavor.
Origins
Species: Malus domestica
Originates from: Pennsylvania, United States
Introduced: 1848
Orange Pippin Cultivar ID: 1749
UK National Fruit Collection accession number: 1952-113
Identification
Flesh colour: White
Flesh colour: White to Cream, pale yellow
Flesh colour: Yellow to Very Yellow
Fruit size: Small
Fruit size: Medium
Fruit size: Variable
Using
Harvest period: Mid season
Jefferies identification photos from official fruit collections
ARS GRIN
©Copyright
UK National Fruit Collection
©Crown Copyright
more >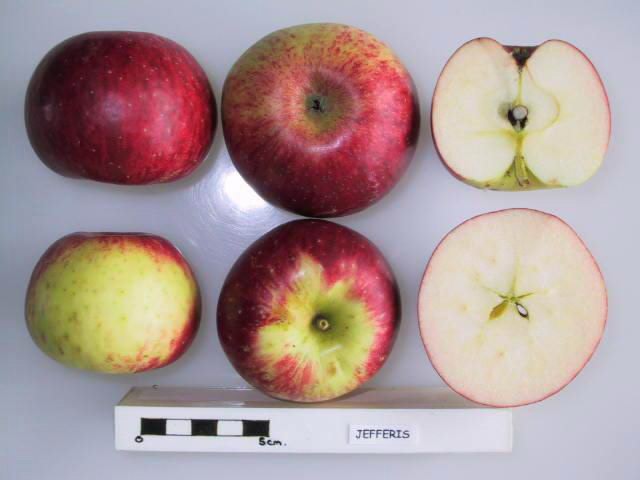 Jefferies identification photos from website visitors
Fruit tree register
Do you have a tree of this variety in your garden or orchard? If so please register the details here and contribute to our international register of fruit trees.
The following Jefferies trees have been registered - click the name to view more details of each tree.
You can also view these trees on a map.
United States
Canada
Latest Spring blossom records for this variety
2014 season
15th May  2014  - tree owned by Jim in HALLSTEAD, United States
5th May  2014  - tree owned by Mike in , United States
2011 season
May  2011  - tree owned by v in LUCKNOW, Canada
Record your blossom dates in our Fruit Tree Register - more >>.
Latest harvest records for this variety
2014 season
2011 season
2nd week September  2011  - tree owned by v in LUCKNOW, Canada
Where to buy apples
United Statesmap >