Burgundy apple
Last updated 29 Dec 2013.
Fruit is large, round, very intense pigment, almost blackish red. Solid blush without stripes. Skin is smooth and glossy. Flesh crisp, subacid, very good eating quality. Fruits hang well for 3 weeks after harvest ripe. Storage life is short, no more than a month.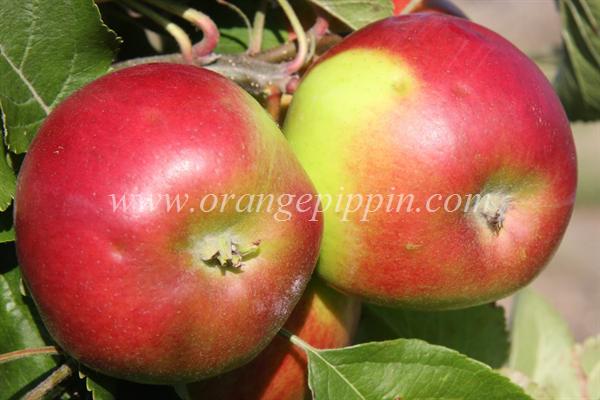 Origins
Species: Malus domestica
Parentage: Monroe x (Macoun x Antonovka)
Originates from: Geneva, New York, United States
Introduced: 1970s
Developed by: New York State Agricultural Experiment Station
Orange Pippin Cultivar ID: 1641
UK National Fruit Collection accession: 1975-035
Identification
Flesh colour: White to Cream, pale yellow
Flesh colour: White to Greenish to Greenish Yellow
Fruit size: Medium
Fruit size: Large
Fruit shape: Round
Fruit shape: Oblong-conical
Fruit shape: Oblong
Shape features (vertical view): Lop-sided, unequal sides, irregular
Shape uniformity: Uniform, in size and shape
Russet % coverage: Absent
Basin russet: Usually Russet free
Using
Uses: Eat fresh
Uses: Juice
Uses: Drying
Flavour quality: Very good
Flavour quality: Good
Flavour style: Sweet/Sharp
Flavour style: Vinous
Flavour style: Sweeter
Harvest period: Mid season
Use / keeping: 2-3 weeks
Growing
Flowering period: Mid season
Flowering group: 3
Fertility: Self-sterile
Pollinating others: Good
Vigour: Slightly large
Fruit bearing: Spur-bearer
General disease resistance: Poor
Period of origin: 1950 - 1999
Climate
Climate suitability: Temperate climates
Climate suitability: Tolerates cold winters
Disease resistance
Scab  - Some susceptibility
Mildew  - Some susceptibility
Cedar apple rust  - Some susceptibility
Fireblight  - Very susceptible
Relationships to other varieties
Parents and other ancestors of this variety:
References and further reading about this variety
Cedar-Apple Rust  
Author: Stephen Vann, University of Arkansas, Division of Agriculture (FSA7538)
Rated as susceptible - control usually needed where CAR is prevalent.
Burgundy identification photos from official fruit collections
UK National Fruit Collection
©Crown Copyright
more >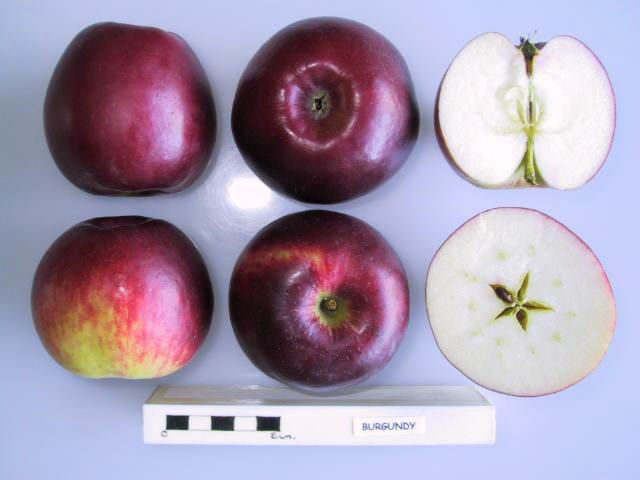 Burgundy identification photos from website visitors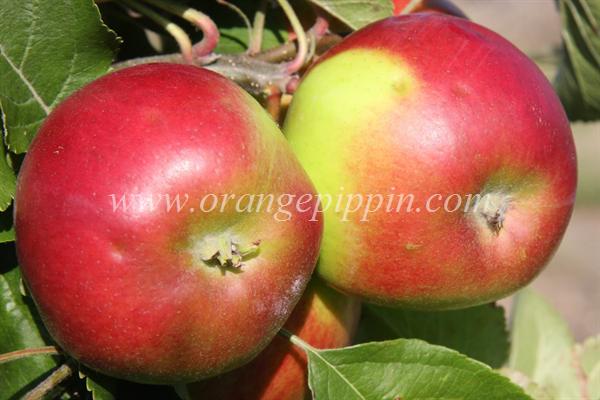 Burgundy apples


Fruit tree register
Do you have a tree of this variety in your garden or orchard? If so please register the details here and contribute to our international register of fruit trees.
The following Burgundy trees have been registered - click the name to view more details of each tree.
You can also view these trees on a map.
United States
Where to buy trees
The following fruit tree nurseries offer Burgundy apple trees for sale:
Where to buy fresh fruit
United Statesmap >