Wickson crab-apple
Malus domestica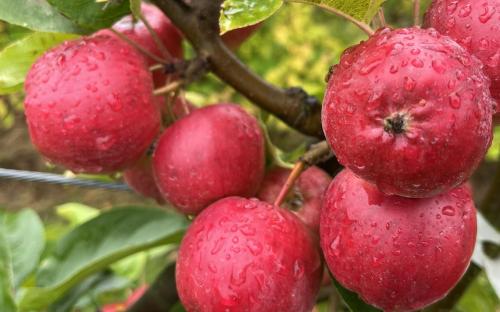 Wickson Crab was developed by Albert Etter, an apple enthusiast best-known for his work on pink-fleshed and red-fleshed apples. Wickson was the result of crossing two other crab apple varieties. Confusingly Etter refers to them as Spitzenberg crab and Newtown crab in his patent papers, but it is not thought they are related to the mainstream apples of the same names but were crabs developed by Etter himself. In this respect Etter pre-dated the modern trend for using crab-apples in breeding programmes.
Like most crab-apples Wickson is very small, and is also a hardy and problem-free tree. However that is where the resemblance to other crab-apples ends. Wickson is unusually sweet, but at the same time has a strong acid component. The result is an apple which has a very strong flavor, making it an excellent component for cider blends. (This flavor of course tends to encourage the view that Spiztzenburg and Newtown Pippin might be involved somewhere in the parentage, as these apples both have pronounced flavors).
Etter named his apple after his friend Edward J. Wickson, a leading Californian pomologist who was one of the few experts who took his work seriously at the time.
Wickson crab-apple identification images
All images copyright Orange Pippin unless otherwise stated.
USDA identification images for Wickson
The identification paintings in the USDA Pomological Watercolor Collection span the years 1886 to 1942.
Citation: U.S. Department of Agriculture Pomological Watercolor Collection. Rare and Special Collections, National Agricultural Library, Beltsville, MD 20705.
Visitor reviews
24 Dec 2020 

Keith Nevison

VIRGINIA, United States

Albemarle Ciderworks (Charlottesville, VA) now offers a single-varietal Wickson dry cider. It's the best cider I've ever tasted. https://www.albemarleciderworks.com/blog/new-cider-release-wickson-crab

09 Oct 2017 

Carl

MA, United States

The first apples (ever!, yeah!) off of any of my trees, four small, scabby red / brown / green /gold spheres, the size of golf balls. Hard, but very sweet (not being sure when to harvest, I let them sit on the tree until the first two dropped by themselves). Definitely acid and somewhat tannic, moderate juiciness. No particular flavors to compare them to, just a very apple-ly, clean taste. It was a gamble planting Wickson, never having tasted one before, but all indications were that it would be a good addition to the orchard. I think I guess right!

27 Mar 2015 

Seth

VERMONT, United States

I went to an apple tasting at Walden Heights Nursery in Walden, Vermont, and among the 100 varieties I tasted, this was a top 5! Oh my goodnesss! The intensity of the flavor reminds me of Ashmead's Kernel, though they don't taste alike. Amazing apple! This is a great apple and it tasted great grown in a zone 4!

11 Nov 2013 

Dee Mahan

DC, United States

I happened upon Wickson apples at an orchard near Navarro, CA, near Humboldt County. It is the best apple I have ever tasted. I am considering scheduling all my future trips to Northern California around apple season just to have the opportunity to purchase Wicksons directly from the growers.

15 Oct 2012 

Josh Sommers

CA, United States

Wickson is my favorite variety of apple. In my humble opinion, it is the best tasting apple I have ever had. Though I personally enjoy just eating them raw, they are particularly well suited for white-chocolate caramel apples because their tart flavor offsets the super-sweet white chocolate, and also because they are small enough that one person can easily eat the whole thing.

24 Dec 2011 

Eric Norstog

OREGON, United States

I have a small orchard with about eighty varieties of more-or-less antique types of apple on dwarfing rootstocks. Wickson Crab is one of my favorites, a vigorous and annually productive tree that, on EMLA 27, bears up to fifty pounds of apples a year. This fruit is delightful to eat fresh off the tree - juicy, very sweet, very tart, and with a complex "appley" flavor. I usually give most of the crop to a local lady who makes it into the most delicious crabapple jelly, of an amber colour, that you would ever taste. This winter I intend to put in six new trees grafted on P-2 rootstock.

13 Nov 2011 

Kevin Hauser

CALIFORNIA, United States

I've tasted Wickson in both colder climates and our hot climate, and it definately prefers a great deal of heat to achieve top quality. This is not surprising, as Humbolt County in the Sierra Nevada foothills where it originates gets very hot in the summer, sometimes hitting 115F. People are usually amused when I hand them this tiny apple, thinking it is a joke or something. But their eyes light up when they crunch into it and taste the wonderful sweet/tart balance, and nibble it down to a tiny core, sucking the last juice out of the core. The tree bears reliably and looks like Christmas decorations hanging there, ripening in mid-November here in Southern California.
Tree register
Spring blossom records for this variety
2020 season
2019 season
2018 season
2017 season
2016 season
2015 season
2011 season
Record your blossom dates in our Fruit Tree Register - more >>.
Harvest records for this variety
2020 season
2019 season
2018 season
2017 season
2015 season
Origins
Species: Malus species - Crab-apple
Parentage: Probably other unknown crab apples developed by Etter
Originates from: Humboldt County, northern California, United States
Introduced: Early 20th century
Developed by: Albert Etter
Identification
Fruit colour: Orange / Red
Flower colour: White
Leaf colour: Green
Annual cycle: Deciduous
Using
Picking season: Late
Keeping (of fruit): 2-3 weeks
Flavour quality: Very good
Cropping: Heavy
Fruit persistence: Persistent
Food uses: Juice
Food uses: Hard cider
Picking period: mid-November
Wildlife: RHS Plants for Pollinators
Growing
Gardening skill: Average
Flowering group: 2
Pollinating others: Good
Ploidy: Diploid
Vigour: Vigorous
Bearing regularity: Regular
Self-fertility: Not self-fertile
Climate
Cold hardiness (USDA): (5) -20F / -29C
Climate suitability: Temperate climates
Climate suitability: Warm climates
Summer average maximum temperatures: Cool ( 20-24C / 68-75F)
Summer average maximum temperatures: Warm (25-30C / 76-85F)
Summer average maximum temperatures: Hot (>30C / 86F)
Other qualities
Scab (Apple and Pear): Some susceptibility
Cedar apple rust: Some susceptibility
Where to buy trees
The following tree nurseries offer Wickson crab-apple trees for sale:
Where to buy fresh fruit
The following orchards grow Wickson:
United States