Coeur de Boeuf apple
Last updated 18 Nov 2012.
Another ancient French cooker, cooks to lemon coloured sweet puree
Origins
Species: Malus domestica
Parentage: Unknown
Originates from: France
Introduced: 1200s ?
Orange Pippin Cultivar ID: 1156
UK National Fruit Collection accession: 1947-111
Using
Uses: Cooking
Cooking result: Puree
Growing
Fertility: Self-sterile
Ploidy: Triploid
Pollinating others: Poor
Vigour: Slightly large
Diseases
Scab  - Some resistance
Mildew  - Very resistant
Coeur de Boeuf identification photos from official fruit collections
UK National Fruit Collection
©Crown Copyright
more >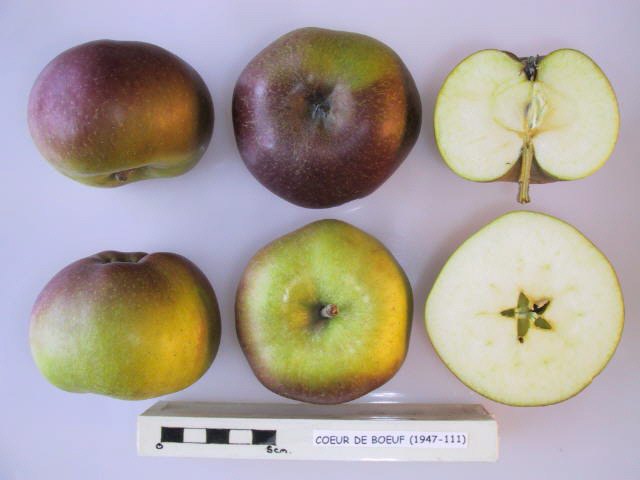 Coeur de Boeuf identification photos from website visitors
Fruit tree register
Do you have a tree of this variety in your garden or orchard? If so please register the details here and contribute to our international register of fruit trees.
The following Coeur de Boeuf trees have been registered - click the name to view more details of each tree.
You can also view these trees on a map.
United Kingdom